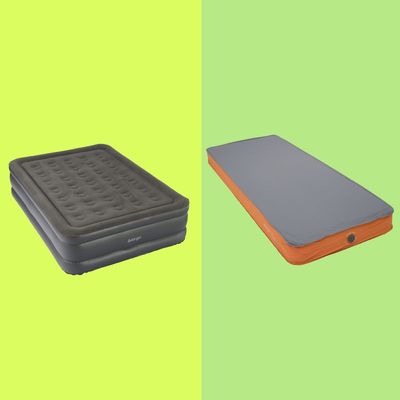 Photo-Illustration: The Strategist
It can be hard, but not impossible, to find an air bed that feels as good as your regular mattress. Whether you frequently host overnight guests or you're preparing for a big camping holiday, investing in an air bed on which people can actually sleep well is definitely worthwhile. We spoke to seven experts — including camping bloggers and store professionals — to find out the best air beds on the market.
Best overall | Best (less expensive) | Best single | Best with a headboard | Best for kids | Best portable | Best (less expensive) portable
Dimensions: Air beds come in a range of the usual sizes including single, twin, double, and so on. Across brands, though, the length and width of those sizes aren't standardised. Craig Dicken, a retail assistant at Decathlon, says it's important to check the measurements of an air bed before you buy one. For example, if an air bed has larger measurements, it's more likely to be heavier — hardly ideal if you're setting off on a trekking expedition and care most about having something portable. The height of air beds can also vary significantly — between around ten centimetres and 50 centimetres — and typically more height means more comfort. Be aware that it can also mean a higher price.
Inflation mechanism: Some air beds need to be inflated manually with an external electric foot or handheld pump. You can also buy self-inflating mattresses, which are thinner and more compact than standard air beds — ideal for frequent campers. And you'll encounter self-inflating air beds with built-in pumps. These are great for ease of use but often come at a higher price point. The best inflation mechanism for you will depend on how you plan to use your air bed and how often.
A number of our experts stressed the importance of remembering not to overinflate your air bed. Mike Attwooll, a buyer at Attwoolls, says, ideally, you should only pump an air bed up to around 80 percent capacity, increasing the volume to 100 percent by lying on it. "The problem is, if you inflate it to 100 percent and then you put your weight on it, it's putting more pressure on the seams," he says. "And this increases the probability you'll see issues later on." Remember to factor in the weather too. "If your mattress gets hot and it expands in the heat, and it's already at its maximum pounds per square inch, it can just explode," warns Dicken. Even a durable air bed benefits from extra care.
Inflation time: Wherever available, we've outlined how long it will take to blow up each air bed. A lot of our experts agreed inflation time doesn't vary significantly between air beds; this is often dependent on the type of pump you use.
Best overall air bed
191 by 140 by 46 centimetres | Built-in pump | Three minutes
Not all air beds are created equally, and four of our experts agree the Vango Blissful Double more than lives up to its name. "Vango is a well known brand in the camping community, so a lot of people will buy into the brand and what they already know," says Dicken. The Blissful uses smart pump technology that constantly monitors the air pressure inside, automatically (and silently) refilling the bed with air when it begins to drop from the chosen level of firmness. With an inflation time of three minutes, setting up this bed requires minimal effort. However it's important to note that it's mains powered, so you'll need to have a plug socket nearby for the inflation mechanism to work.
Shell Robshaw-Bryan, editor of Camping with Style, likened the height of the air bed to a regular bed at home, making it a great option for older campers, and people with mobility issues who might struggle getting up from air beds that are lower to the ground. It also carries a maximum load of 227 kilograms. While it's one of the more expensive options on this list, the Vango Blissful is a no-brainer if you want an air bed that's especially comfortable, easy to use, and durable. This bed is very low on stock at the moment, though, so act quickly if you're keen.
Best (less expensive) air bed
198 by 137 by 22 centimetres | External pump | Under five minutes
Peter Brown, a buyer at Blacks, says this double option from Coleman's durable range is an extremely popular purchase in the summer and close to Christmastime, when visitors ascend, as it's relatively inexpensive but doesn't compromise on quality. It's easy to transport, weighing just 2.2 kilograms, and easily packs into the small "Wrap 'N' Roll" carry bag provided. According to Attwooll, the bed's meant to be around 50 percent stronger and 30 percent lighter than Coleman's other ranges. This means it can take a greater weight — up to 150 kilograms — than other lightweight air beds. However, Attwooll did warn its longevity still depends on how well you look after it.
Best single air bed
200 by 90 by 50 centimetres | Built-in pump | Three minutes
Outwell has three different ranges of standard air beds: classic, excellent, and superior. While the Excellent Single is a high-quality, slightly less expensive option, the added features in the superior range really are superior. Firstly, it has a built-in pump for a convenient, easy setup. Secondly, it's 15 centimetres higher than the Excellent Single, an addition that, according to our experts, makes all the difference in terms of warmth and comfort. Nathan Hyde, the managing director at Camping World, says the closer an air bed is to the ground, the colder your night's sleep will be, as there's less space between you and the cold air rising from the ground. Hyde says they sell a lot of the superior range in the run up to Christmas because its soft flocked top, added height, and quick inflation time make it a comfortable go-to air bed for at-home use.
Best air bed with a headboard
216 by 152 by 45 centimetres | Built-in motor pump | Under five minutes
Roger Grayling, a retail assistant at Norwich Camping, says the addition of a headboard can be really relaxing, since it lets you sit upright in bed more comfortably and gives the air bed a luxurious feel. This Yawn option came highly recommended by reviewers in our previous roundup of the best air beds on Amazon. Many customers praised it for value for money and ease of use; one customer even said it's the comfiest air bed they ever slept on. As one Amazon reviewer pointed out, though, the headboard makes using fitted sheets a lot trickier because they can't go over the corners as easily, so this is something to bear in mind.
Best air bed for kids
150 by 95 by 20 centimetres | External pump | Under two minutes
This Kampa air bed has been a best seller at Camping World for over a decade for its reasonable price and fallproof sides. "If you've got a very young baby or a toddler, these raised sides are a godsend because it means they can't roll out during the night," says Hyde. The internal length is 120 centimetres with a width of 65 centimetres and depth of 15 centimetres. It has a one-way valve system that requires a pump for inflation, is made from puncture resistant materials, and has a nonslip flocked surface. While it might not have as much longevity as a standard air bed, the added security feature makes it a great worry-free option for new parents.
Best portable air bed
200 by 76 by 15 centimetres | Self-inflating | Under a minute
Portability is a defining feature when it comes to self-inflating mattresses. As Matthew Jones, the lead copywriter at WildBounds, tells me, self-inflating mattresses are much thinner than standard air beds and have a foam core for insulation. That's why campers tend to like them so much. To inflate one, you just open a small valve attached to the mat and the foam expands, sucking in the air and trapping it inside. No external pump needed. Self-inflating mattresses come in all manner of shapes, sizes, weights, and thicknesses, so the type you buy will depend on what you want to use it for.
For an option with a mattress-y feel but at a lighter weight, Grayling recommends the Vango Shangri-La range, which has mattresses ranging in height from seven to 15 centimetres (the latter of which we've recommended here). Robshaw-Bryan considers this Grande 15 "hands down the most comfortable self-inflating camping mat I've ever used." A lot of classic air beds are made using PVC material, whereas this air bed has a TPU fabric lamination. This rubberlike material is very similar to PVC, but a crucial difference is that it's more lightweight, meaning it can be rolled up into a more compact size once the deflation process is finished. Note that this isn't a full-sized double; it'll feel more like a roomy single. You can get a full double from John Lewis for £265.
Best (less expensive) portable air bed
198 by 63 by 7.5 centimetres | Self-inflating | Under five minutes
As a slightly less expensive choice, Grayling recommends Kampa's range of self-inflating mattresses. This Snuggle 7.5 option is half the height of the Shangri-La and would suit you well if you want a mattress with a firmer base.
Some more air beds we've written about:
• Mike Attwooll, buyer, Attwoolls Outdoors
• Peter Brown, equipment and sleeping buyer, JD Outdoor/Blacks
• Craig Dicken, retail assistant, Decathlon
• Roger Grayling, retail assistant, Norwich Camping & Leisure
• Nathan Hyde, managing director, Camping World
• Matthew Jones, lead copywriter, WildBounds
• Shell Robshaw-Bryan, editor, Camping With Style
The Strategist UK is designed to surface the most useful, expert recommendations for things to buy across the vast e-commerce landscape. Read about who we are and what we do here. Our editors update links when possible, but note that deals can expire and all prices are subject to change.