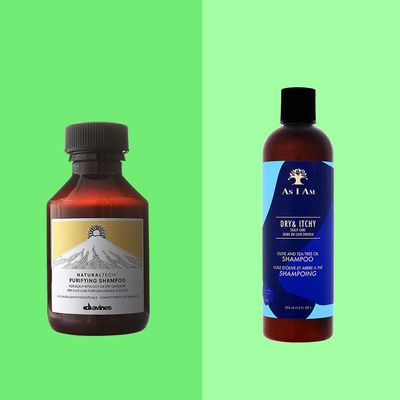 Photo-Illustration: retailer
Whether it's an occasional occurrence or a chronic condition, most of us have dealt with dandruff at some point. It affects every single hair type, from fine to thick, Caucasian to Afro and virgin to bleached. That's because it's not strictly a hair issue. "Dandruff is a scalp issue," explained trichologist Ebuni Ajiduah. "Everybody has a yeast on their skin called malasezzia, and it's usually harmless. Sometimes, it becomes overactive and starts to eat away at the natural oils on the scalp, which causes the flaking. It's just dead skin."
However, it's important to ensure you do actually have dandruff, as it can be misdiagnosed. "There's another condition that goes alongside it which presents in a similar way, which is called seborrheic dermatitis," said Ajiduah. "Dandruff is always localised to the scalp, but seborrheic dermatitis can slow up on other parts of the body too, like the face and neck." Likewise, hair-health advocate and wig designer Gina Knight noted that sometimes, "people mistake product buildup or a very dry scalp for dandruff."
If you're trying to work out which you have, Ajiduah advised looking at the frequency of outbreaks and how widespread the issue is. "A targeted shampoo will usually clear up dandruff pretty fast, but if you're continuing to have the flakiness, and those flakes appear even after you've just washed your hair and they're localised to a certain spot like the hairline, that could be seborrheic dermatitis." You can always speak to your GP or pharmacist if you're not sure which one applies to you.
Below, we've asked six hair and scalp experts, from trichologists to stylists, to tell us the best anti-dandruff shampoos from the best for budget to the best for recurring dandruff.
Best overall anti-dandruff shampoo
Two of our experts, Ajiduah and Winnie Awa, founder of hair-care e-tailer Antidote Street, suggested this one. "It has piroctone olamine, which is a great anti-dandruff ingredient," said Ajiduah, adding that aside from the anti-dandruff scalp qualities, it's also a good gentle shampoo for Afro hair. "It's specifically formulated to get rid of dandruff, but it will also help with product buildup on the scalp," explained Awa. "It has peppermint oil and caprylic acid, which have anti-fungal, anti-microbial and anti-inflammatory properties to target those problem areas," she added. Those anti-fungal qualities will help clear up dandruff, which is a yeast, while the anti-bacterial and anti-inflammatory properties will help with the greasy roots and sore scalp that often go hand in hand. Ajiduah also said that despite its potent dandruff-fighting abilities, it was gentle enough for everyday use, so if you are prone to a flaky scalp, you could use this as your regular shampoo with no ill effects. The whole range is also certified cruelty-free.
Best budget anti-dandruff shampoo
It might not be glamorous, but according to Knight and Ajiduah, Nizarol will do the trick. "It's very effective and can be prescribed by your doctor or bought over the counter," said Knight. "It contains a medicine called ketoconazole, which kills the yeast that causes severe cases of dandruff," she explained, adding that it's very much a medical product and so the smell is more clinical than other more luxury options on the market. Ajiduah agreed, saying that it treats dandruff effectively and quickly. "If you have occasional dandruff, you might just need to use a targeted shampoo every so often, which this would be good for," said Ajiduah, adding that if your scalp concerns are more chronic and you need a special shampoo for every wash, you might want to go for something with lighter scent. "It is by far one of the best products to treat and cure extreme dandruff cases," said Knight.
Best shampoo for seborrheic dermatitis
The late Philip Kingsley was a trichologist to the likes of the royal family and Audrey Hepburn, and this shampoo is one of his namesake brand's best sellers. "This is a really good gentle shampoo with a fresh, nonmedical scent," said trichologist Iain Sallis. "It's unique in that it's a great combination of active ingredients with a very aesthetically pleasing and pleasant-smelling product." He also noted that, as the name suggests, it works on lots of flaky scalp conditions, including seborrheic dermatitis. Sean Butt, salon director at Alchemy & I, said "I recommend to my clients that they let this shampoo sit on their scalp for about 30 seconds before rinsing off to really get the benefits. It gives instant relief from an itchy scalp and with continued use, a huge reduction in flakiness. It also has a lovely fresh apple aroma, and it not only treats flakes now, but helps stop them returning in future.
Best luxury anti-dandruff shampoo
This shampoo is the favourite of Neville creative director Jack Merrick-Thirlway. "As a stylist, it's important to me (and my clients!) that the product is efficacious, but also luxurious and enjoyable to use," said Merrick-Thirlway. "I've tried lots of different options with my clients, but often found they left the hair very heavy and difficult to work with, and as such, really difficult to style. The Davines Purifying Anti-Dandruff Shampoo works very quickly, in just a few uses, but also makes styling the hair really easy as it still feels soft and manageable afterwards." The shampoo can also be used as a treatment if left on the hair for a few minutes once a week. It also has antioxidant polyphenols to nourish and condition the hair.
Best vegan anti-dandruff shampoo
This shampoo has the benefit of being vegan, and also using natural extracts to treat a dandruff-prone scalp. Florence Johnson, co-founder of SIMPLYGorgeous hair salon, recommended IG Intelligent Tea Tree Shampoo, saying, "We use this at the salon, and it's the most effective one we've tried so far. It contains tea tree and peppermint oils, which are great for gently breaking down dandruff whilst also soothing the scalp." Johnson said that it was actually recommended to her by a client from the States, and that it works well to temporarily alleviate the appearance of dandruff and a sore scalp. Sulfate-free and vegan, it has a light, minty scent and leaves the hair feeling fresh and the scalp soothed.
And an expert-recommended conditioner
Our experts said that you might want to use your specialised shampoo every time you wash, or maybe just once a week depending on the severity and frequency of your flare-ups, but that if you do pick a more medicated option, you might like a lighter-scented conditioner afterwards to keep your hair feeling fresh, and Ajiduah said Trepadora Quinoa Repair Conditioner is her all-time favourite. Especially kind to curly hair, it's also good for dry, brittle hair or hair that's damaged from heat styling or colouring.
The Strategist UK is designed to surface the most useful, expert recommendations for things to buy across the vast e-commerce landscape. Read about who we are and what we do here. Our editors update links when possible, but note that deals can expire and all prices are subject to change.