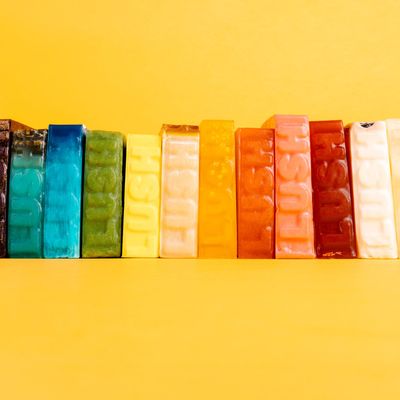 Our relationship with handwashing has changed pretty dramatically over the past two years. If you've found yourself becoming more discerning about what you choose to wash with, you're not alone. However, the popularity of high-quality bar soap was actually already growing before the pandemic struck. Since 2020, "we've definitely seen more interest as people strip back to basics with beauty routines," says Abi Buller, a writer at the strategic-foresight consultancy the Future Laboratory. According to Buller, consumers are now "prioritising long-lasting, reliable products that appeal to both hygiene and sustainability concerns."
But with big beauty brands including Aesop, Le Labo, and even Chanel releasing bar soaps, it's hard to know what to look for. "I've definitely observed a rise in the popularity of handmade bar soaps in particular," says Samantha Newell, co-founder of Yard + Parish, an ethical retailer for independent Black-owned UK businesses. "Customers are becoming more informed and want to know that what they're putting on their bodies is natural, ecofriendly, and has properties that target specific skin problems. Smelling 'good' just isn't enough anymore." We enlisted the help of 12 experts, from homeware entrepreneurs to ethically conscious bloggers, to help us choose the best bar soaps to buy for your shower, bathroom, or even your kitchen sink. Read on for the best shower-friendly and travel-appropriate bar soaps, the best ethical and vegan bar soaps, and the best bar soap to buy as a gift.
Best overall bar soap
When asked for their favourite bar soap, two of our experts chose this product from Margate-based skin-care brand Haeckels. "It's a vegan, exfoliating seaweed soap that comes in the shape of a large block," says perfumer and designer Maya Njie. "It smells of the sea, with peppercorns and coriander seeds in the mix, and it makes a shower or bath even more pleasurable." Aside from the smell, the presence of the seaweed – along with aloe vera and tea tree – actively hydrates skin, while the botanicals are natural exfoliants. "It leaves your skin thoroughly cleansed and soft," says Harriman & Co.'s Tommy Pang, who also praises the soap's eco-credentials. "It's vegan friendly, ethically produced and free from parabens, SLS, and palm oil, with 100 percent recyclable card packaging." Soaps come in two sizes, with the option of a 80g "travel size" bar or a formidable-looking 320g block to cut to size.
[Editor's note: Haeckels has recently received funding from Estée Lauder, but the brand's stance on production hasn't changed. Its products are still entirely vegan, cruelty free, and made in Margate.]
Best high street bar soap


"I like Lush because they're fairly accessible when it comes to wanting to be more sustainable," says Tolmeia Gregory, environmental activist and sustainable fashion blogger. All of Lush's soaps are ethically bought, cruelty-free, and vegetarian – Gregory even takes a container with her to the store, to eliminate waste. "I've had a solid soap from them for over six months which I use in my shower," she says. "It's still going strong and leaves me feeling squeaky clean." Gregory's favourite Lush flavours are the ones on the citrus end of the spectrum — try their intense Lemon Zest or orangey Karma bar.
Best bar soap for sensitive skin
Marcia Edwards founded her skin-care brand, Oil of Nature, after her twin daughters began suffering from dermatitis and eczema. Each item in her range is made with soothing Ghanian shea butter including her Galaxy Girls Soap. It also contains argan and jojoba oils, which combine to give the soap anti-inflammation and anti-bacterial properties (by repairing and hydrating damaged dermal tissue). We especially like that comes in a vibrant blue, lilac, and green swirling pattern. Oil of Nature's bar comes hand-selected from the 101 businesses within our Black-owned directory; you can browse more skin care from Black-owned businesses here.
Best bar soaps for the shower
While you might think of soap on a rope as a last-minute Christmas stocking filler, this artisan version from Soap Daze is far from a gimmick. "It's a new take on the classic – vegan, all-natural, and just brilliant," say Venner Store co-founders Lucie Beeston and Tiff Howick, who recommend the Lemongrass and Patchouli option. "When it's left hanging in the shower it scents the whole room with citrus." Olivia Riley, of sustainable clothing and lifestyle store Sancho's, is another fan – although she prefers Cedarwood and Grapefruit. "The warm, earthy scent of cedarwood with the stimulating and revitalising scent of grapefruit will automatically relax and revive you," she says. "If you hate soapy mess, it's a perfect zero waste alternative to a hanging plastic bottle of shower gel." All soaps are long-lasting and feature a cotton rope, plus the option to order "wrapped" or "unwrapped" – saving you £1 if you go packaging-free.
Specially designed for use in the shower with shelf-friendly sizing and a long-lasting lather, Baron's soap bars are also perfectly suitcase-sized for when you feel comfortable to travel again – they even come with the option of adding a handy travel pouch. "Baron's objective is to enable the user to travel lighter," says Tommy Pang, a keen advocate of the soaps. "They want to reduce single-use bathroom products, whilst providing a soap that will cleanse and leave the skin lightly scented." The affordable soaps come in a range of scents, from Verbena to Oud to Aloe – all are triple-milled, with responsibly sourced ingredients and recyclable packaging.
Best exfoliating bar soaps
Besma Whayeb, founder of ethical lifestyle blog Curiously Conscious, chooses Latvian brand Mádara when looking for eco-conscious cosmetics. "Mádara recently swapped out palm oil, a crop that is heavily contributing to deforestation, from all of its soaps," she says. "This one is my favourite to use in the shower. It smells so good, and the black lava sand acts as a great natural exfoliant." As well as being palm-oil-free, the bar is also gluten-free, cruelty-free, vegan-friendly and nut-free – good news for those with allergies, as many vegan bar soaps don't tick that last box.
Whether for gifting or for a little self-care, Nathalie Bond's 'Unwind' is perfectly targeted at stressed-out or hard-worked bathers. "Scented with relaxing lavender, it contains whole lavender buds to gently exfoliate," say Beeston and Howick. "It's great for hands, and gentle enough to use on your face. If you were looking to give a bar of soap as a gift, this should be it."
"The benefits of high-quality handmade soap are unmatched, and Tanaka's are fantastic," says Newell. Tanaka's soaps are undeniably good-looking – but while also being handmade, they're filled with inventive (and totally vegan) natural ingredients, too. Newell recommends the Detoxifying Bar, an "absolute gem" containing activated charcoal, bentonite clay, and tea tree oil, as well as the Healing Bar, which counts turmeric, frankincense, ginger, and poppy seeds among its ingredients.
Best African black soap


"This soap is essential for any list, as it's a West African classic that tackles different skin conditions," says Maya Njie. "It's been used for centuries and is known as a bit of a wonder product – but be sure to get the real deal." According to Njie, the "real deal" is this one from Kokoa, made authentically with charcoal cocoa ash in Ghana. The ash in the soap acts as a natural exfoliant, while ingredients like shea butter ensure the skin stays moist without overproduction of oil.
Best status-y soaps
When our sister site took bets on the next "status soap" (that isn't Aesop), the range from Binu Binu was given pretty good odds. The handmade bars by Binu Binu (Korean translation: "soap soap") are by former La Garçonne stylist Karen Kim. Their range of distinctive sculptural blocks features ingredients such as hibiscus, green tea, and charcoal.
As well as spritzing Chanel's No. 5, did you know you can bathe in it too? Chanel's embossed, oval, pale-pink bar produces a creamy lather, which leaves a lingering scent of the No. 5 perfume on the skin. We originally featured the luxury option in our roundup up of the cheapest (but nicest) gifts from the most expensive brands, and we think it would make an exceptionally lovely gift for a soap lover.
Soapsmith's soaps are named after London locations from Brick Lane to Camden. As Strategist UK Editor Ailbhe Malone's in-laws are Hackney dwellers, she gifted them the brand's Hackney soap for Christmas. It contains natural shea and coconut butters, meaning each bar produces a rich and creamy lather. Its notes of bergamot and sandalwood are designed to emulate the grassy marshes of the area, and each bar is vegan friendly and cruelty free.
The Strategist UK is designed to surface the most useful, expert recommendations for things to buy across the vast e-commerce landscape. Read about who we are and what we do here. Our editors update links when possible, but note that deals can expire and all prices are subject to change.