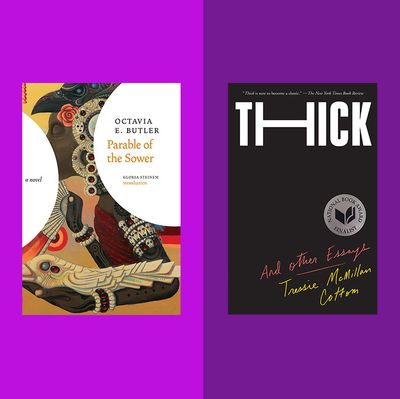 Photo: Courtesy of the publishers
A version of this story originally appeared on the Strategist U.S.
There is no single definition of Black feminism. Many of the experts we spoke to while compiling this list of books spoke about the subject from their own particular lens. Chelsea Frazier, a Black feminist ecocritic, for instance, talked about the importance of using Black feminist texts as a way to find solutions to the current environmental crisis. "Black feminist ecological ethics offer an alternative understanding of environmentalism," she said. Treva Ellison, assistant professor of Gender and Women's studies at Pomona College, on the other hand, focuses on Blackness and how it relates to gender and sexuality. While both are navigating similar spaces (and agree that Parable of the Sower is a necessary read), their specialties often pull them in completely different directions, leading to diverse ideas of what the Black feminist canon includes. Which is to say, there could be dozens — hundreds! thousands! — of "Black feminism" book lists. For this one, though, we tried to keep it simple and stick to the best books for the burgeoning Black feminist.
As always, each of the books mentioned on this list have been recommended by at least two people (many have been recommended by as many as six). Among the (many) experts consulted are Shanté Smalls, Black Studies associate professor at St. John's University; Chelsea Mikael Frazier, faculty fellow at Cornell University and founder and chief creative officer of Ask an Amazon; Nicole Dennis-Benn, author of Here Comes the Sun and Patsy; Treva Ellison, assistant professor of Gender and Women's studies at Pomona College; and Pulitzer Prize finalist Evie Shockley, professor of English at Rutgers University and author of the new black and semiautomatic.
Theory and Criticsm
Best for anyone who wants a broad overview of Black feminist scholarship (Patricia Hill Collins touches on everyone from Angela Davis to bell hooks), this text does just that. Collins interprets the intellectual theories of pioneers like bell hooks, Audre Lorde, and Angela Davis in the book, offering the first comprehensive overview of Black feminist thought. Four of our experts mentioned it, calling it an ideal introductory text. "Whenever someone I know is looking for an introduction to Black feminist thought, I send them to two resources: the #CiteBlackWomen hashtag and this book," says Bianca C. Williams, an associate professor of Anthropology, Women & Gender Studies, and Critical Psychology at the Graduate Center, CUNY, and author of The Pursuit of Happiness: Black Women, Diasporic Dreams, and the Politics of Emotional Transnationalism. Tara Conley, assistant professor of communication and media at Montclair State University, says it's "canon defining" as a who's who of Black feminist thinkers, and calls Collins the Sade of Black feminist scholarship: "She's one of very few who drop a work every decade or so, and it remain timeless."
In this anthology, recommended by five of our experts, Toni Cade Bambara compiles the early work of Black writers who would later go on to become cultural forces, like Alice Walker, Nikki Giovanni, Audre Lorde, and musician Abbey Lincoln. "It gives a necessary understanding of the intersections of racism and sexism," says Kaila Story, associate professor of Women's & Gender Studies and Pan African Studies at the University of Louisville. Ellison is particularly drawn to Francis Beal's "Triple Jeopardy," originally published in the Third World Women's Alliance zine, which draws attention to the oppressive relationship between Blackness and capitalism, and the use of gender roles as a divisive tool to distract from solidarity against racism. "The works in this collection emphasise the ways that Black women's lives and insights illuminate disjunctures between capitalism and the nation-state," they say. It offers a great snapshot of the competing demands of the Black Power and feminist movements, says Shockley, and offers a clear picture of Black women's complex position within the conversation.
Four of our experts chose Words of Fire, an anthology of essays by Black women spanning the 19th and 20th centuries. The collection includes an essay written 30 years before the end of U.S. chattel slavery, about Black womanhood and citizenship, as well as an essay by Alice Walker on the criticism of her seminal work The Color Purple. "Just about every Black feminist thinker has a piece in there," says Anwar Uhuru, assistant professor of English at Monmouth University, "from Audre Lorde to Amy Jacques Garvey to Claudia Jones." Story uses it as the basis for her Black Feminism in Action course at University of Louisville, and calls it a "a must-read for anyone who is interested in Black Feminism and how it manifested before that term was even invented."
"Playing in the Dark is one of the best applications of how Blackness is positioned in the white imagination," says Smalls, summing up the general sentiment of the three experts who recommended this book. The book, which is divided into three separate lectures, is a master class in understanding Black character construction. For Uhuru, it shaped his way of seeing people, both in real life and on the page. "Oftentimes when we think of a protagonist, we think white male or white female," he says, "and then we think of a villain we think of them as darker. Black women are labeled as loud and aggressive, while white women are labeled as delicate, polite, or genteel."
This collection of works written by Alice Walker from 1966 to 1982 charts a path for womanism, an expansion of Black feminism which encompasses a wide variety of Black expression — mother to child, between two women (both sexually and non-sexually), and people who appreciate women's culture and are committed to the survival and wholeness of others. It's a radically inclusive ideology, which is specific in its aim: liberation. Two of our experts called this a must-read. "She provides a lens through which we can see what our miseducations had hidden and what racism combined with misogyny has often erased," says Shockley, "which is the legacy of creative work that Black women in previous generations had left for us."
All five of our experts who mentioned hooks said her work is important, but can be dense reads. Yaba Blay, activist and founder of Professional Black Girl, noted that hooks' work helped her to understand feminism as a political identity and movement. Two of our experts mentioned that Sisters of the Yam, a foundational text, which, they agreed, illuminates the way Black women's emotional health is shaped by racism and sexism. "This book helped me deeply understand how my own physical, emotional, and mental health was deeply shaped by the compounding structures of racism, sexism, and capitalism," Bianca Baldridge, an assistant professor of Afro-American Studies and Sociology at University of Wisconsin says. "It helped me think through how my relationships with my family and other Black women were structured by these forces."
Published in 1999, Joan Morgan's When Chickenheads Come Home to Roost coined the phrase "hip-hop feminism," a concept that would inform the work of many of our experts. A hip-hop feminist is someone born after 1964 who approaches politics through the lens of hip-hop. Four of our experts called the work foundational. LaToya Sawyer, an assistant professor at St. John's University, says it expanded the field of Black feminism to include hip-hop culture, and to this day helps readers understand how to navigate the space where Black feminism and hip-hop meet. "The book places Black women's sexual agency and autonomy at the center of conversations on Black feminism," says Regina Duthely, an assistant professor of English at University of Puget Sound.
Fiction
Five of our experts mentioned Audre Lorde's Zami, which fictionalises her own life story into an epic tale of growing up as a lesbian in working-class Brooklyn. "Lorde decides the traditional conventions of autobiography are insufficient and really innovates," says Randi Gill-Sadler, an assistant professor of English at Lafayette College. "Zami created the genre of biomythography (a combination of myth, history, and biography)." The book was also innovative in its use of narrative as a site for wider Black feminist critique. "She uses her own life to talk about Blackness, Caribbeaness, lesbianism, and the reality of the Black working class, which has made it one of my go-to texts," says Smalls.
Set in the post civil rights–era South, The Salt Eaters focuses on a Black woman who burns out from carrying the weight of being an organiser and balancing the many roles Black women are expected to fulfill. Two of our experts, Uhuru and Dennis-Benn named this as their pick. Uhuru highlights the novel's theme of community: "Instead of going to a traditional psychologist, they call in a healer and make everybody join together to form a circle and make her whole. The book also references spirit guides and answering your ancestral call. I would consider this text, as Alexis Pauline Gumbs would say, part of our Book of Shadows."
Every panelist we spoke to mentioned Toni Morrison, whose work has shaped Black feminism and, more widely, American literature. Sula, her second novel, was brought up most frequently, with four of our experts adding it to their lists. "Sula defies the gender mandates of domesticity, marriage, and motherhood for Black women, and offers alternative ways of thinking about Black womanhood," says Gill-Sadler. "It is the novel that generated the field of Black feminist literary criticism," says Shoniqua Roach, assistant professor of African and African American Studies & Women's, Gender, and Sexuality Studies at Brandeis University, pointing to Barbara Smith's lesbian reading of Sula and Nell's relationship, published in 1977.
Of all the books mentioned, Their Eyes Were Watching God came up most frequently, recommended by six of our experts. "If you're invested in a Black feminist understanding of the world, then you have to know about what Zora Neale Hurston was doing," says Frazier, who also name-dropped Dust Tracks on a Road as a companion book to understand the depths of Hurston's research and commitment to Black people. Other experts brought up their connection to the work: "Hurston explores love and death, and God and freedom in ways that feminist theory, and even creative nonfiction attempt to do, but fail," says Conley. "I've been Janie, and it's not heroic. I'm forever grateful to Hurston for writing some of us into existence."
Alice Walker's Pulitzer Prize–winning epistolary novel was name-checked by three of our experts, who called the book powerful. It challenged the concept of freedom for Black women not long after emancipation, says Blay, in a time when freedom in many ways was an illusion. Walker uses Celie's story as an opportunity to demonstrate tenderness, vulnerability, and love between two women, while also giving voice to various forms of womanhood through characters like Shug and Sophia. Our experts also pointed to the novel's willingness to take on Black male participation in white patriarchy, and its usefulness in illustrating that narrative (which drew criticism at the time of publishing): "The role of the Black man in the novel mimics the destructive ways that white men have exerted power and they project that onto black women in real life," says Blay.
The first book in the Parable series by Octavia Butler explores climate change in the 2020s from the perspective of a young Black girl, and was recommended by five of our experts. They all mentioned Butler's practically psychic ability to predict the future. "She was talking about environmental destruction in the '90s, and everyone was saying, 'Oh, you're crazy,'" says Smalls, who, along with Frazier, also recommended the recently released graphic version of the novel, by Damian Duffy and John Jennings. "It makes these heavy themes even more accessible to a wider variety of people," says Frazier.
Contemporary
When asked which books were shaping the current conversation and would influence it for years to come, five named Eloquent Rage, a memoir by author and activist Brittney Cooper, which explores rage as a productive emotion, specifically in Black women, undoing the perception of the "angry Black woman" as destructive or "too much." "She tells her own story, but in doing so tells the story of many Black women, not just with eloquent rage, but compassionate rage," says Sawyer.
Five of our experts also recommended Thick by Tressie McMillan Cottom, a collection of essays that lays out the issues Black women face in the 21st century, along with thoughtful possibilities for resistance. "The book underscores that we are not waiting for others to validate our contributions to society or our lives and that we are doing the necessary work ourselves," says Catina Bacote, an assistant professor at St. John's University. It also has crossover energy, meaning it's both read by academics and regular readers alike. "I've had discussions about this book in college classrooms and over dinner with friends," says Duthely. [Editor's note: This product is currently out of stock on Amazon, but you can preorder the hardback version, which will be in stock on June 13th.]
The narratives of trans Black women is largely missing from historical Black feminist work, and three of our experts pointed to Janet Mock's Redefining Realness: My Path to Womanhood, Identity, Love & So Much More as a narrative shaping and guiding the conversation in our current moment. "Mock's book helps us to understand part of what some miss in terms of understanding Black womanhood and gender, which is that, trans women are women and should not be excluded because they don't have the same socialisation into womanhood as cisgender women," says Sawyer.
Two of our experts recommended Bad Feminist as a foundational contemporary text. "Roxane Gay and [Brittney] Cooper are forcing us to think about how we have projections of black womanhood, especially when she isn't 120 pounds. It also explores what happens if a woman appears a certain way, or speaks a certain way; then she's the sassy Black woman or 'Mammy' figure, and how we're still superimposing these images onto women in the 21st century," says Uhuru. Patricia Matthew, associate professor of Eenglish at Montclair State University, put it simply: "Roxane Gay is just so nimble and fearless."
Investigating common stereotypes of Black women, both historical (sapphire, jezebel, mammy), and contemporary (baby mama, nappy-headed ho, angry black woman), Terrion Williamson uses topics like reality TV and the Evangelical church as an entry point to discussing Black social life. Two of our experts recommended it as a foundational contemporary work, with Roach noting that it breaks apart the expectations about what Black feminism can and should be.
Shalk's book was chosen a must-read by two of our experts lists for its intentionality in simultaneously centring disability, Black feminism, and Black studies discourse through the lens of speculative fiction. It also challenges the notion that disability discourse and Black studies discourse exist in different spheres. "Through literature, she imagines different realities where being born disabled or developing a disability over time doesn't means that your life is inherently considered less valuable than others," says Frazier.
Both a comprehensive history of Black trans identity and an examination of the intersection of transness and Blackness, Black on Both Sides was chosen by two of our experts. "By centring Black trans people in his book on race and gender, Snorton not only teaches us an important history that is frequently erased, but demands that these lessons be included in our imagining of the feminist project of liberation," says Williams.
The Combahee River Collective, a Black lesbian feminist organisation active in the '70s and early '80s is revisited in How We Get Free, a book that contextualises the movement via interviews with the organisation's key players, Barbara Smith, Beverly Smith, and Demita Frazier, and reflects on its legacy. Two of our panelists recommended this contemporary work by Keeanga-Yamahtta Taylor, with Williams saying the interviews with Black Lives Matter co-founder Alicia Garza and other commentary make the work relative to the current moment. Williams also recommends reading "The Combahee River Collective Statement," on which the book is based, and then reading it a second time: "Every person — regardless of race, gender, sexuality, and generation — who believes in feminist theory and practice should read it. "It teaches us why Black (lesbian) women's experiences are key to building an anti-racist and feminist world," says Williams. "It also helps us to revisit the principles of Black feminism," says Sawyer, who believes it's important to recirculate those ideas for the current generation.
The Strategist UK is designed to surface the most useful, expert recommendations for things to buy across the vast e-commerce landscape. Read about who we are and what we do here. Our editors update links when possible, but note that deals can expire and all prices are subject to change.