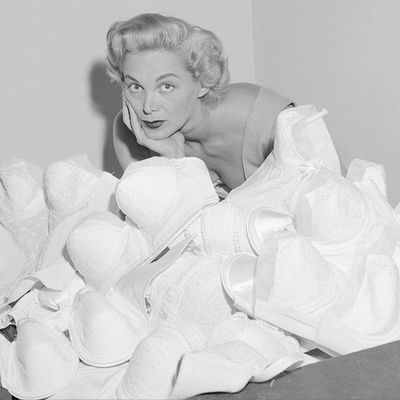 Photo: Bettmann/Contributor/Getty
Of all garments, the bra must be the most hardworking. A good bra offers crucial support and comfort, and a great bra will be stylish and sexy too. Then there's budget, appearance, and how smooth it is under clothes to think about. With so many considerations, and so many options on the market, we interviewed nine style experts and stylish women, from stylists to entrepreneurs, to discover their beloved bras. Read on for the best underwire bras, the best ethically made bras, and the best bras for bigger busts.
Best overall bra
Photo-Illustration: retailer
"Ninety-five percent of my bras come from M&S," says Vanessa Sanyauke, founder of GirlsTalkLDN, a nonprofit helping women thrive in the corporate world. She recommends the cotton-and-lace non-padded bra from the M&S Collection. "What I love is their versatility, so you can get a sexy lingerie bra that looks amazing but at the same time is comfortable. And their bras last." Holly Black, editor-at-large of art magazine Elephant agrees: "They have a huge range of styles and sizes (up to G), they fit very well and wash brilliantly. There also tends to be a variety for one look, such as a soft cup, a balcony, etc. This is great as, much like clothes, one style does not fit all."
Photo-Illustration: retailer
Black specifically likes the underwire bras from Rosie for Autograph. "Rosie for Autograph is basically an ideal staple that focuses on lace but also does formed cups, and one in between, which you can get away with under work shirts," says Black.
It is also the favourite bra of author Juno Dawson: "I have it in hot pink, jade green and black. There's a reason we know, as a species, to head to M&S for a bra and it's because they're ace. This bra makes my B cup look like a C and goes invisibly under a T-shirt. It's a solid, everyday bra that washes well … the black is still properly black after about a year."
Photo-Illustration: retailer
Meanwhile for something non-wired, fashion writer Lauren Bravo recommends the Louise Lace longline bralette as "the only non-wired bra I have ever found that supports my F-cup boobs enough to leave the house in. It washes brilliantly, gives uplift with a great natural shape, and the wide, lacy back is perfect for wearing underneath backless dresses and making it look intentional. If you're dithering between two sizes, buy the smaller one, as you need it good and fitted to offer proper support. The only downside is that it's so popular it's always out of stock."
Best (less-expensive) bra
Photo-Illustration: retailer
If you're on a budget, Sanyauke particularly recommends Primark's black T-shirt bras, "if you can get them in your size (I am a 32E/F). They are comfortable, fit for purpose and great after a few washes as well."
Radio presenter and poet Salma El-Wardany says the budget retailer is a treasure trove of options. "They do [all the] staples and are great for your strapless needs," she says. "Even though they're cheap, I've always found they wash just fine. The fancy lace ones don't last or fit as well so I would recommend paying more for lacy bras, but if you want your everyday ones – the ones we actually wear all the time because we all know no one is sitting around like a lingerie model – they are great."
"On a side note, Primark do great bodysuits," she continues. "[That's an] all-in-one lacy, 'I've got someone coming over' situation. Whenever I wear one and post it on Instagram, people are mad for it. I really rate these because they're so expensive in other shops."
Currently, Primark does not take online orders, but George at Asda offers similarly priced bras (T-shirt bras start from £5) and come highly recommended by Asda customers, earning themselves the full five stars through reviews by verified purchasers.
Best luxury bras
"It's much harder to get 'luxury' at a bigger size," says fashion stylist Grace Woodward. "Most luxury tends to be paper-fine lace and a kind of fancy cobweb of silk straps, which just doesn't work if you are above a 36C. The real luxury becomes just about a bra fitting well, not hurting or rubbing."
At Rigby and Peller, a measured fit is the name of the game. The Queen's ex-lingerie maker (the brand lost its royal warrant which it held for 57 years when the owner wrote a tell-all book about the palace's fittings) prides itself on its much-lauded fitting service, where a woman is measured by eye. Arming their customers with their "real" measurements, the brand offers bespoke, made-to-measure bras as well as off-the-shelf items such as their long-running best seller, the Deauville — a lace underwire bra with notably deep cups that give a lift to larger busts and shape them smoothly.
"It's amazing how many women don't know how a bra is actually supposed to fit and wear the wrong size," says Woodward.
Photo-Illustration: retailer
Despite being mired in scandal after scandal over their advertising and catwalk shows, several of our experts also mention Victoria's Secret. "I love the options they have. I think their designs are beautiful and you get great service when you go there," says El-Wardany. "If I'm buying expensive bras I want to be waited on hand and foot, and so do my boobs."
"Their bras are sensual, luxurious, soft, well-made and always seem to transform your body so you do, in fact, look like an angel. A Victoria's Secret one anyway, not a church one. I feel the need to stress this." El-Wardany particularly recommends the Unlined Floral Embroidered Long Line Bralette. "It has no underwire or padding, is still beautiful and delicate, and I live for the bit that goes over your ribs."
Best bra for bigger busts
Photo-Illustration: retailer
Until relatively recently, buying lingerie as a young woman with a bigger bust was no fun. If you were lucky, you might find something in your size at an M&S but such styles were often aimed at an older audience — frumpy and old-fashioned — and nothing like the latest trends your peers were playing with. Plus-size lingerie brand Elomi was launched in 2008 precisely to tackle this problem, by offering contemporary designs for fuller figures.
Plus-size model Jada Sezer has been wearing them for years. "They have a brilliant range of styles from the basics collection of different nudes to sexier lacy pieces all ranging up to a J," she says. "What I particularly love is their designs never compromise on support. I always feel lifted and supported which tends to extenuate my waist and body shape. Support and fit is key." Sezer recommends the Matilda plunge bra, which she "absolutely loves for the flattering shape, great lift and even better price point."
Best wire-free bras
Photo-Illustration: retailer
"I have a lot of complaints about bras," says Laura Snapes, deputy music editor of the Guardian. But the Sloggi "comes in proper cup sizes and does the job it's supposed to (at least, speaking as a fairly small-boobed person). It has neither lace, nor bows, and looks sexy in a sort of minimalist way." She notes that Sloggi's bras last forever — meaning that "whenever Sloggi has a sale, I'm suckered into clicking and then remember that mine are still going strong, so I can't be swayed by a jazzy new colour."
"I'm obsessed," says El-Wardany about Moons and Junes, a Denmark-based lingerie brand. "They are a female-owned, ethical company whose bras have no underwire, no padding." The range, currently six simple bras which use small-medium-large sizing rather than cup sizes, are El-Wardany's "go-to for comfortable but beautiful and sexy bras. They also do high-waisted knickers which is something we must all truly thank the gods for. Finally, underwear designed for women, by women."
Photo-Illustration: retailer
"Ethical east London brand Lara Intimates makes all their underwear from deadstock and reclaimed fabric, and even the hooks and rings are all sustainably sourced," explains Bravo. "It's also one of the most size-inclusive brands out there, going up to an I cup. Even better, their wireless bras such as the Ava are designed with real bodies in mind, so the larger sizes feature special details like foam straps and hidden slings to keep your boobs in place. All this makes them incredibly comfortable to wear — none of that 'can't wait to get home and take this thing off' feeling."
Black says that styles are limited, "but colours are constantly changing. I have a hot-pink Wren bra, but for me the real winner is the Clio, which I have in pastel pink. It follows a pattern similar to '50s bras, with stitched cups that give natural definition, and thick, nonslip straps."
"However, you need to be careful when washing these guys," Black says. "I use a delicates cycle with delicates detergent, and put them in a lingerie bag (which really is important in any case, to stop your bras getting tangled, snagged or stretched)."
Photo-Illustration: retailer
[Editor's note: The Clio bra is currently out of stock, but the Wren is still available.]
Photo-Illustration: retailer
Kira Goodey is a bespoke shoe designer whose occasionally fetish-inspired creations have been worn by Brooke Candy, Doja Cat, and Kylie Jenner. She recommends The End Lingerie.: "This company makes simple lingerie with 'eco fabrics and kinky thoughts.' Featuring lots of comfy stretch bralettes, crop tops and bodies with unconventional details like inbuilt nipple rings." Goodey recommends the bralette in black, especially for people not yet ready for something totally nipple showing. "It's both sexy and tomboyish and they use a diverse set of models and styled with a grungy depop aesthetic."
And a Strategist-recommended lingerie bag
Contributor Alison Freer writes that these lingerie bags are superior to others, for a number of reasons: "They feature a plastic zipper that obviously won't rust, and even have a flap that covers the zipper to keep it from catching, unzipping, or clinking against the inside of the machine annoyingly. The biggest ones are perfect for expensive gym clothes that need a little TLC, and the smallest size fits one bra nicely."
The Strategist UK is designed to surface the most useful, expert recommendations for things to buy across the vast e-commerce landscape. Read about who we are and what we do here. Our editors update links when possible, but note that deals can expire and all prices are subject to change.