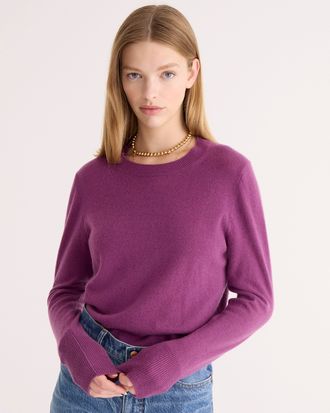 If there's one thing that the 1984 Wim Wenders film Paris, Texas will teach you, it's that wearing a bright, soft-to-the-touch jumper will build an enigmatic vibe around you without having to make much effort. Whether you're in the American Southwest like the film's heroine Nastassja Kinski, or readying for the cooler autumn and winter days, finding the right cashmere is something that's really worth taking the time to get right.
Today's cashmere has come a long way from Kinksi's sweater: Brands like Ganni use recycled cashmere fibres to create their oddball knits, and others use contemporary art as a canvas, like Claudia Skoda, who was an icon of the avant-garde Berlin art scene in the 1970s and fuses radical art into her cashmere designs. And on the British high street, brands like Marks and Spencer and Arket offer beautiful cashmere that won't break the bank.
A helpful tip for keeping your cashmere in tip-top condition: "If you have to wash it yourself, use a handwash cycle," says my dry cleaner at Blackheath Dry Cleaners. "And even with the cheaper jumpers, treat it like silk and always store in bags as moths will ruin the fibres."
So whatever your budget may be, we've polled 14 stylish women and men to help you find the best cashmere according to your needs, from stylists to authors and fashion editors. Peruse their recommendations here, from sustainable Danish cashmere at Ganni, to beloved British High Street brand Marks and Spencer.
Best Overall Cashmere Jumpers
They may be your grandma's favourite, but they're your chicest friend's, too ― Marks and Spencer's pure cashmere textured jumper was chosen by six of our experts for its winning mix of value, at no sacrifice to quality. "Cashmere jumpers were always up there as one of the most decadent essentials, and lockdown has done nothing to change my mind," says content editor Alice Cuffe. "However, given my tendency to wear them to death, I have always had a true soft spot for Marks and Spencer, their 100 percent cashmere knits are unfailingly soft but affordable enough to allow me to be a bit more playful with colour options." Berlin-based creative editor Victoria Gisborne-Land chooses Marks and Spencer jumpers for their comfort level — "It's great and cheap, I have a lot of their stuff" — while Cuffe uses the accessible price point to experiment with the household brand's menswear: "I must admit, I'm more often found in the same oversized men's V-neck cashmere jumper I picked up in M&S years ago, which holds its shape and texture perfectly."
Five of our experts mentioned Uniqlo, for the brand's comfort-over-everything approach to cashmere ― including The Water Cure novelist Sophie McIntosh and Antony Gormley Gallery liaison Elena Davidson. Both love their 100 percent cashmere relaxed-fit crewneck jumper, with Elena rating it for price. "Uniqlo might not be particularly glamorous, but they do what they do well and I think it's the best under £100 option for cashmere out there," she says. "I still regularly wear a dusty-pink round-neck jumper I bought six years ago that I pair with my Acne scarf for lockdown walks, or with jeans to work ― it's supersoft and long-lasting." Several of our experts said Uniqlo is a good entry level to cashmere, which is why they're the favourite of Sophie McIntosh: "[Uniqlo] were actually my first experience of cashmere, which I was slightly intimidated by! I have been pretty much living in one of their soft grey polo necks." This jumper is out of stock at the moment, but Uniqlo's 3D knit crewneck jumpers for women and men are available, going for £109.90 and £129.90, respectively.
Best Cashmere Crewnecks
COS came highly recommended for the durability of their silky cashmere knits. "My favorite cashmere is from COS, I bought it in 2014 and it still looks new," says Inan Isik, founder of the namesake sustainable plus-size fashion brand. Based in Copenhagen, Denmark, where a typical spring day is 12 degrees Celsius, Isik rates COS cashmere as "very convenient for Copenhagen weather." It's also come in handy in the launch of her own label ― "My favourite COS jumper is a crewneck, long-sleeve, dark navy jumper with a tight fit," which has been perfect for running her rapidly growing business from home. "I wear it under a blazer with a pair of jeans or a wool tailored pant and it looks good." Over the last six months, COS has branched out into recycled cashmere, coming in three styles, the oversized, a cropped jumper, and a jumper dress, with more lines being added in autumn 2021, including loungewear separates, in case you want to make a luxurious affair of sweatsuits.
Over on our sister site, both fashion blogger Titilola Sogunro and Strategist writer Chloe Anello endorsed this J.Crew cashmere crewneck. Sogunro is a fan of both the wide colour and size range: It offers a choice of 25 shades in sizes XX-Small to 3X-Large. Anello — who used to work at J.Crew — remarked on the durability of the crewnecks, with both of hers having lasted for over four years. Plus, all J.Crew cashmere sweaters are certified to the Good Cashmere Standard®, meaning that the cashmere is sourced responsibly (taking into account the welfare of cashmere goats and the treatment of farmers).
The White Company's cashmere rib-detail crewneck jumper is one of the brand's best sellers for a reason, with both Gisborne-Land and Berlin–based curator Carlota Ibañez Silvestre rating it highly for its round-neck style. Silvestre calls it her "favourite everyday cashmere. It's fitted, so when I'm at the gallery I can wear it for private views or meetings and it looks as smart as any top," she says. As the rib-detail jumper is no longer available, we recommend this crewneck style instead.
After she borrowed a British friend's Boden cashmere jumper, Silvestre was hooked on their cool knits. The brand used to sell a black roll-neck jumper with "a very The Row vibe," she says. "I wear a lot of dark colours and paired with a black slip they look much more expensive than they are." Another plus for Boden's cashmere is that it's machine washable and is entirely sourced from Mongolia, a region known for its long and fine cashmere-strand quality. Silvestre's pick is no longer available at Boden, but we like this similar style (which is available to shop now.)
Best (More Expensive) Cashmere Jumpers
Joseph's cashmere jumpers were a firm winner for a simple crewneck style that's more Chris Evans than Ned Flanders. "I love the plain old cashmere men's crewnecks from Joseph," says Emma Davidson, fashion features director at Dazed and Confused magazine. "I found my first one in a secondhand shop on Brick Lane when I moved to London a decade ago and I still wear it to death." Joseph's pure cashmere sweater has been in their collection since 2008, but was reworked for autumn 2020 with an update that includes knit ribbing on the cuffs and hem.
Marni creative director Francesco Risso's substance-over-style approach to cashmere has not gone unnoticed by stylist Lewis Munro. He uses the brand in both his editorial styling work and for his own enjoyment. "Some of the styles are also available for men," which means he didn't "have to miss out on staying cosy during lockdown."
As part of their "responsible" circular economy pledge, Ganni have launched sustainable cashmere that's made from 50 percent recycled cashmere fibres in Italy. "I love that Ganni does recycled cashmere," says Gisborne-Land. "Ganni clothes tend to make me smile, which is a good attribute for anything one chooses to wear, I guess." In their "responsible" line, which includes dresses and bottoms, Ganni combines a wool and cashmere mix, all upcycled, which is a win for Gisborne-Land: "I have a few things that are using recycled cashmere, which I think is a good direction to be going." Their jewel-embellished pullover with snap buttons is made entirely from recycled fibres, which cuts by half the CO2 emissions usually used to make virgin wool looms.
Tefkros Sophocleous Christou loves that Barrie cashmere has been made in Scotland using craft techniques handed down from generation to generation since 1903. "They are definitely an investment piece but it's a luxury item that feels very down to earth, as oxymoronic as that may sound." Head of experience at luxury fine jewelers Hemmerle, Christou feels that its "ethical perspective of recycling yarn also feels especially relevant to our times." Whilst this brand is incredibly expensive, Christou thinks it's worth it. He also loves that a lot of its pieces are gender neutral, rating in particular their cashmere round-neck pullover, which, paired with low-key separates, he calls a "dream outfit."
"I am currently coveting the beautiful knitwear of Genevieve Sweeney." says McIntosh. "They are pieces made to be worn and treasured forever, and I really admire her commitment to slow, sustainable fashion, with an emphasis on supporting traditional British industries and manufacturing."
Best Cashmere Turtlenecks and Roll Necks
"There's something at Arket to suit everyone's tastes, and their cashmere range is no exception," says writer Caroline Beirne. Passionate about sustainable fashion, Arket's jumper is made from 75 percent recycled cashmere and 25 percent responsible wool. "It is sustainable, on trend, luxury, and wearable all at the same time. Perfect to throw over loungewear around the house or to top off a 'walk in the park' outfit."
The director of the International Library of Fashion Research, Elise By Olsen has an eye for form and silhouette over trends, and likes Salie66 for its focus on "high-quality fabrics, classic silhouettes and subtle details." Salie66's collections are all made by hand by craftsmen in family-run mills in the north of Italy. "I'm excited about the fact that this is a brand with strong focus on timelessness and functionality, yet elegantly executed and presented," she says. Working throughout the pandemic on projects for the library as well as releasing the latest edition of Wallet magazine, which she publishes, Elise has swaddled herself in "their luscious, soft cashmere sweaters and turtlenecks, both in grey and black, which has kept me warm — and stylish — through the cold temperatures in Oslo".
1990s Acne was a big hit, with four experts endorsing its instantly recognisable cashmere knits, including Silvestre, Hans, and curator, designer and scenographer Matylda Krzykowski. "I have this old Acne one with a half turtleneck in a light-chocolate colour that is simply something else," says the curator, known to her friends and colleagues for dressing in monochrome colours. "I wish I had the bottoms so I could dress in a whole outfit: dressed in milk chocolate." Acne's jumpers scored high for Matylda for their mix of "straight lines, timeless appearance, and attempt at modern uniforming which speaks to me." Luckily, luxury consignment site The Real Real has lots of old Acne around the £80-150 mark and Acne Studios also produce a steady stream of new, '90s-style cashmere'.'' Hans likes its unisex sweater: "It's made 100 percent from the good stuff."
The Strategist UK is designed to surface the most useful, expert recommendations for things to buy across the vast e-commerce landscape. Read about who we are and what we do here. Our editors update links when possible, but note that deals can expire and all prices are subject to change.