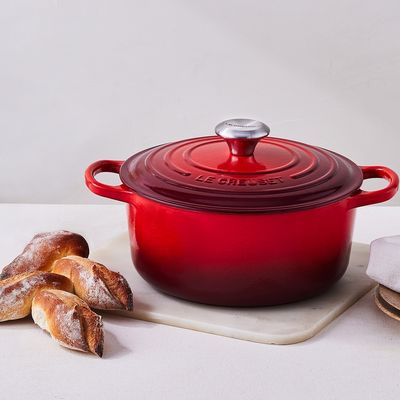 A cast-iron pot is one of the hardest-working pieces in your kitchen. I use mine for slow-cooked stews, searing steaks, and even stir fries. It's in use so often that it never leaves my hob — there's just no point putting it away. "Cast iron is a really great and versatile material to cook with," says Kristin Lohse, a purchasing and buying assistant at Sous Chef. "It heats up slowly and is great at retaining heat. The thickness of the pans heats food evenly. And the more you use it, the better it will become." I spoke to nine chefs, who all use cast iron in both their home and work kitchens, to find the very best options. I also went through the Strategist archives for best-selling options, expert-recommended picks, and other useful alternatives.
Best overall | Best (less expensive) | Best non-enamelled | Best shallow | Best (less expensive) shallow | Best extra small | Best recycled | Best with skillet lid | Best (less expensive) with skillet lid | Best for baking
Enamelled versus non-enamelled: Some pots are finished with a layer of enamel on the inside, protecting the iron from rusting after continued exposure to moisture. You'll need to glug in more oil when cooking with them to stop your food sticking, while you'll often need to season non-enamelled pots. That's where you rub oil onto the cast-iron surface in addition to what was first baked on, as a protective layer. I personally find enamelled pans a lot easier to use, but we're including both here.
Size and volume: Five and a half litres is considered the standard size, but we'll list all available sizes each pot comes in.
Best overall cast-iron pot
Enamelled | 1.8–8.1 litres
When you think of cast iron, you likely think of Le Creuset, and for good reason. Six of our nine chefs recommended it as the best on the market, including James Cochran, the owner and head chef at 12:51, and Paul Leonard, the head chef at the Michelin-starred Forest Side in Cumbria. "They are not cheap," notes Leonard, "but they are super-durable. Case in point: We have had one of their cast-iron casserole dishes in our family for over 20 years." Michelin-star chef Adam Byatt loves the casserole dish but warns against heating it up too quickly. "If you heat the pan too high with no fat in the pan, the ceramic will chip," he says.
When Strategist editor Maxine Builder tested numerous Le Creuset alternatives, she said the original retained heat best and heated up the most efficiently. "You shouldn't feel like a chump if you've shelled out over $350 on the Le Creuset … They've fine-tuned all the small details," she wrote. She also noted that the Le Creuset comes in a load of colours with an aesthetic that's hard to replicate. "It feels like an objet, something you can proudly leave on your kitchen stove," which wasn't always the case for cheaper alternatives. Le Creuset comes highly reviewed on Amazon, John Lewis, and Selfridges, too, and its cast irons are regularly on sale.
Best (less expensive) cast-iron pot
Enamelled | 3.3 litres
I own this dish, first recommended to me by set designer Sophie Robinson. She's responsible for the art direction on shows including Masterchef and The Great British Bake-Off and has worked on multiple shows with Mary Berry. When she works jobs where the budget won't stretch to Le Creuset, her affordable dupe comes from Sainsbury's. "It's lighter duty, and they cost a fraction. But whereas a Le Creuset might last 50 years, this one would likely last about five — that's the trade-off."
Mine has held up nicely over the last two years. While toasting spices did stain it slightly, the enamelled surface redistributes heat evenly. The capacity is also perfect — this 3.3-litre option does about four portions of food. If you're looking for a model before working up to a Le Creuset, I'd recommend it.
Best non-enamelled cast-iron pot
Non-enamelled | 0.25L – 12L
Staub's cocotte (featured in our Strategist 100 round-up of the best gifts), differs from Le Creuset in a couple of ways: It has an uncoated, matte-black interior and self-basting spikes (or "picots") on the roof of the lid. Those spikes gather moisture from steam and drip back into the food, stopping it drying out. It has a broader range of sizes too.
Staub comes recommended by two chefs I spoke to. Alan Rosenthal, the author of Foolproof One-Pot, noted that, as well as being considered a "more stylish" alternative to the Le Creuset, it has a tighter-fitting lid. "This makes it perfect for a pilaf or grain dish cooked in the oven." Marwa Alkhalaf, the chef patron at Nutshell, tells us this was her preferred model for making traditional Iranian food at home. "The dark interior of the Staub means I don't have to worry about staining the interior with spices," she says. "Also a well-seasoned Staub casserole is perfect for making tahdig (crispy bottom rice)."
Best shallow cast-iron pot
Enamelled | 2–3.2 litres
Given we think Le Creuset makes the best cast irons, it's no surprise its shallow pots are best in class too. This is highly rated on Amazon with over 2,200 reviews, 92 percent of which are five stars. Many reviewers found the shallower cast irons were perfect when space was at a premium, and they also double up as sauté pans. (Being smaller, they work out as much better value too.) Reviewers noted the shallow design was just as good for soups and stews, but we noticed daal, paella, and curries being cooked most often by reviewers. They also come in the same vivid colour spectrum — perfect if you're buying an additional cast iron and want to colour match.
Best (less expensive) shallow cast-iron pot
Enamelled | 3 litres
For a fraction of the price, you could start off with this three-litre shallow cast-iron from John Lewis. While it only comes in white and this duck-egg-blue, it's one of the best rated on its website with 112 reviews and an average rating of 4.8 out of 5 stars. One customer said that, despite not being Le Creuset, it was robust enough to be used on the barbeque, while another said the shallow depth was perfect for shakshuka and tagines. I noticed a lot of the reviewers commenting on the heaviness of this cast iron — many cheaper models are made from thinner materials to offset cost, so this stuck out as impressive.
Best extra-small cast-iron pot
Enamelled | 0.25 litres
You don't always want a cast iron for a massive meal. Staub does the smallest cast iron we found, at just 0.25 litres in size and 10 centimetres in diameter (to make exactly one portion of food, Staub say). These are available in Staub's trademark colourways such as Granite, Cherry, Grenadine, and Basil — and this comes well reviewed on Amazon with 880 reviews in total, 78 percent of which are five stars. One reader said the neat size was perfect for making porridge in the aga, while another customer said these were a good option for making rice.
Best recycled cast-iron pot
Enamelled | 1.8–8.8 litres
Ioannis Grammenos, the executive chef at Heliot Steak House, told us about Chasseur, a French cookware brand that makes cast-iron dishes. "I really like how wide and deep Chasseur ones are," he said, adding that they were adept at making roasts and stews as well as dishes cooked on the hob like risotto. "The nonstick coating is second to none, which is essential for cooking traditional slow-roasted Greek vegetable dishes." Chasseur pots come with a limited lifetime guarantee, covering only material and manufacturing defects, and are made of 80 percent recycled materials. They also feature the same dark interior as the Staub, and each piece is handcrafted from an individual mould.
Best cast-iron casserole pot with skillet lid
Non-enamelled | 1.7 litres and 4.6 litres
These are also known as a multicocotte, and we had to decide between two equally priced brands to choose one: Morso and Skeppshult. The former eked ahead, recommended by more experts. Jorjon Colazo, the head chef at Aquavit London, says it's "good for simmering dishes, roasting a whole chicken, joints of meat, or baking bread" and is compatible with induction hobs. Rosenthal recommended it, too: "I developed a recipe for Boston baked beans using the skillet as a lid," he says. "But the skillet can also go in the oven on its own, so you can bake dishes too."
Best (less expensive) cast-iron pot with skillet lid
Non-enamelled | 3 litres
Kichly, like Vogue or Lodge, makes inexpensive kitchen items, and we first heard about its cast-iron pans from Nyasha Sakutukwa, who runs Munch Club. He bought the brand's cast-iron skillet up on a whim and told us "it transformed the way I cooked steak." I did some snooping and found it sells a cast iron and skillet set for under £30. This is similar in design to the Skeppshult and Morso pans in that the skillet doubles as a casserole dish lid, but there is one difference — both the dish and skillet have a longer handle.
Best cast-iron pot for baking
Non-enamelled | 4.7 litres
You can bake bread in all the pots featured here, but this Lodge pot has over 11,000 reviews, many from impressed bakers (both amateur and professional). One reviewer said the trick was to cook it upside down, using the skillet lid as the "base" and the cast-iron as a dome on top of the bread, mimicking a proper bread oven. You can then remove the dome at the end for a golden crust. Several reviewers said they preferred this to an enamelled cast-iron for baking, seeing a better rise in their sourdough and springier loaves overall, in part because the cast-iron traps steam.
• Marwa Alkhalaf, chef patron at Nutshell
• Maxine Builder, Strategist editor
• Adam Byatt, head chef and proprietor at Trinity
• James Cochran, owner and head chef at 12:51
• Jorjon Colazo, head chef at Aquavit
• LondonIoannis Grammenos, executive chef at Heliot Steak House
• Paul Leonard, head chef at Forest Side
• Kristin Lohse, purchasing and buying assistant at Sous Chef
• Sophie Robinson, set designer and art director
• Alan Rosenthal, author of Foolproof One-Pot
• Nyasha Sakutukwa, founder of Munch Club
• Zhenya Tsenzharyk, Strategist contributor
The Strategist UK is designed to surface the most useful, expert recommendations for things to buy across the vast e-commerce landscape. Read about who we are and what we do here. Our editors update links when possible, but note that deals can expire and all prices are subject to change.