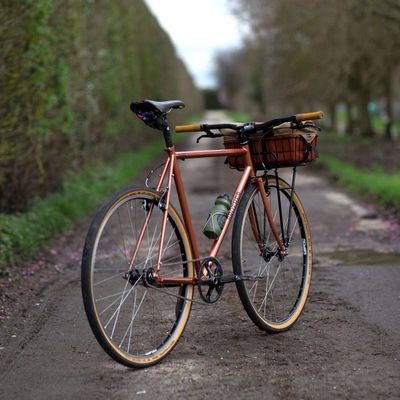 Whether it's for cruising through parks or commuting to the office, bikes have become a pandemic essential. And with some social-distancing measures predicted to roll into next year, the need for a safe and reliable mode of transport will remain a top priority, especially when the nation's home-working era draws to a close.
Before you rush to order a new set of wheels, there are a few things to consider. "The fit of your bike is really important," says Lucy Noy, store manager at Leisure Lakes Bikes (Preston Station branch). "You don't want a bike that's too small or big for you, because it won't be as efficient and you're likely to get injuries. You're particularly prone to injuries if your bike is too small, which makes you arch over the front and prevents you getting the right leg extension."
Noy recommends riders go into a store to be measured for their bike (usually height, inside leg and ape index, which is the ratio of arm span and body size). "Bikes now often come in sizes small, medium, and large, rather than centimetres, but all bikes have their own size guides for their specific models — staff at a good bike shop will be able size you up pretty quickly," she says. "If you can't go into a store, measure your height and inside leg, and then call a bike shop and they will talk you through the rest — we regularly do that for customers."
When you're on the road, Mani Arthur, founder of Black Cyclists Network, has sage advice: "Own the road," he says. "Cyclists often ride in the gutter, but that's a dangerous place to be, because if you come across a parked car — which there often is — you'll be forced out into traffic without much warning." Arthur, who is crowdfunding for Britain's first Black, Asian and minority-ethnic cycle race team, says riders should "make their actions predictable — notice dangers and react to them well before they arrive. Don't wait until the last moment." Nervous cyclists would be wise to have a lesson with a qualified cycling teacher: Bikeability has a list of courses, while London riders should seek out Cycle Confident, which offers cycling lessons and maintenance classes in 19 boroughs.
The type of bike you buy should depend on where you will be riding it. If you're only covering tarmac, a city bike will do the job, but if you're hitting trails at the weekend, a hybrid or gravel bike is better. We asked 11 experts, including independent bike shop owners, athletes, and club riders, for their bike recommendations for all terrains. Read on to find out which they rated the best for commuting, including the best for beginners and the best fold-up options.
Best for beginners
If you're new to cycling and looking for a safe, dependable, low-cost bike with a warranty and technical support from a team of knowledgeable bike mechanics, then the Pinnacle from Evan's Cycles is your steed. Recommended by three of our experts, there are several styles in the range, including hybrid, gravel and e-bikes.
Sophie Whitworth, a triathlon coach and ambassador for physio brand Meglio, who rides up to 300 miles a week, and Clare Turpin, founder of Contur activewear, and amateur cyclist, both recommended the Pinnacle Laterite, £430. This pure road bike, Whitworth says, "rides smoothly over tarmac, and its lightweight frame makes it good for carting up and down stairs." There are several versions of the Pinnacle for men and women, and while the biggest difference is frame size, Turpin likes the women's model "because the seat is moulded for a female body, and even after hours in the saddle I don't get sore." Turpin also noted the Laterite's easy dismount and light weight aluminium frame.
Dave Sheppard, Evan's Cycles' bike-buying manager, singled out the Pinnacle Neon 3 Hybrid, £620, as the best in the range. Sheppard notes its reliable and flawless gears, which are "versatile enough to tackle fast and flat commutes or a hilly one".
If your place of work is part of Evan's Ride to Work scheme, you qualify for £30 of free cycling accessories and two free bike services. [Editor's note: This product is currently out of stock.]
Best cheapest bike
The Carrera range, sold exclusively by Halfords in the UK, is known for its reliability, adaptability, and cheap price point. Claire Turpin used her Subway 1 hybrid bike to train for a charity ride between Manchester and Blackpool last year and now rides 30 miles a week on it. "There are men's and women's versions of the Carrera, which I prefer to a unisex bike," says Turpin. "The differences for women are small but important: The top bar is slightly lower than men's, which makes it easier to get on and off gracefully. Also, women's saddles — the most important thing for me — are usually wider, with lots of padding." Turpin finds the upright position more comfortable than standard road bikes, and the thicker tyres offer stability, plus the option to go off-road and along the river at the weekend. "It's cheap, but it does what I need it to do — the aluminium alloy frame is still lightweight enough for me to carry, and the hydraulic brakes are excellent," she says. "The best addition I made was a rear mudguard, which prevents that awful spray line up the back." Halfords is part of the Cyle2Work scheme.
Best folding bike
"There are cheaper styles than the 2 Speed, but I think it's worth paying extra for lighter folding bikes because you're likely to carry them around a lot, especially up and down stairs," says triathlon coach Sophie Whitworth. Mani Arthur, founder of Black Cyclists Network, praises the Brompton's "accessibility and flexibility — you can ride it or fold it up in 20 seconds and carry it like a suitcase." Bromptons are notoriously hard to chain up (and there are few options for storing a lock on the bike), but Arthur dismisses the concern: "All bikes are open to theft — never think you can safely lock your bike up anywhere, unless it's in an indoor secure space with CCTV." Mara Hafezi, a personal trainer and Ironman competitor, only took up cycling a few years ago, but her Brompton has become essential for her London commute. "Unlike other bikes, public-transport restrictions don't apply to folding bikes, which is handy if you're out socialising and want to cycle to work and take public transport home" she says. Hafezi also points out their strong resale value. Brompton model names refer to their functions: The first letter describes the handlebar, the number is the number of gears, and the third character refers to whether it has mudguards and racks. (The S2L, for example, has an S-type handlebar to promote a sporty, forward riding position, two gears, and no mudguards.) Brompton is offering free home delivery during the pandemic, but if you want to use a Cycle to Work scheme, you will need to buy it via a dealer. Due to Brompton's compact size and smaller tyres, Mani Arthur advises new owners to practise on their bike locally first. "Adjust the seat low enough that both feet can be planted on the floor," he says. "Once you're comfortable riding around like that, raise the seat and practise again before you start commuting." [Editor's note: This product is currently out of stock.]
Best frame set
Brother Cycles is a small, independent bike shop in Kent, run by brothers Will and James Meyer. Their wheelhouse is the frame set, which includes the frame, fork, and often the headset, and then riders buy additional components to complete their dream bike. According to Louis van Kleeff, activations manager for cycling wear brand Rapha, Brother's Allday frame set is one of the best on the market. "It's a simple, low-maintenance single-speed, fixed-gear frame, making it perfect for flatter cities," says van Kleeff, who cycles 300 kilometres a week in Cambridge, where he lives, and regularly takes part in audaxes, long-distance cycling events that must be completed within a set time frame. van Kleeff estimates you will need to spend an additional £300 to £400 on parts such as wheels and handlebars to complete the bike and you will need a mechanic to build it (Brother has stockists around the UK who can help with build and repairs). "It means you can build your bike exactly as you want," says van Kleeff. "It's like a Swiss Army knife — with the help of a mechanic, your bike is able turn its hand to anything, from a swoopy, upright city bike with a rack to a courier-esque track machine." Versatility is the hallmark of the Allday: It has the option of running cantilever, V-brake, or regular caliper brakes, there are bosses for two water bottles, mudguards and front and rear racks, and the frame comes in five unisex sizes and three colours (copper arrives in September). All frame sets come with a three-year guarantee "against manufacturing and materials faults or defects." Note: Brother Cycles isn't part of a Cycle to Work scheme, but some of its stockists are (check the stockists page for details).
Best for long distance
"Ask any bike nerd for a bike recommendation and we're likely to think spending over £1,000 on a bike is totally reasonable," says Gail Brown, physiotherapist and long-distance cyclist who came third in last year's 4,200-kilometre Transcontinental Bike Race. "But bikes for commuting don't need to be flashy; in fact, it's better if they're not, because they get a lot of wear and tear." So, which steed would Brown suggest for long-distance commuting? "I've had lots of bikes over the years, but one of the most reliable was this Comet Step Through," she says. "I rode it thousands of miles, took it cycle touring in the Balkans, and now my mum rides it." Brown rates British brand Ridgeback as a whole, but she singles out the Comet Step Through because it "isn't too expensive, has a nice range of gears and the option of a step-through frame, which allows easier mount and dismount for people who might not have great flexibility." The bike, which has a durable, sturdy aluminium frame and chromoly (alloy steel) fork, comes in four sizes, with fittings for a rear rack and mudguards. It's out of stock on Ridgeback's website but available in stores (search the stockists page for your local dealer). To buy Ridgeback through a Cycle to Work scheme, you will need to find your local stockist and match it to your employer's chosen scheme.
Best city bike
A utility bike, or city bike, is essentially a bike made for zipping along busy urban roads. They should be light but solid, with the option for additional components that make city cycling easier (like pannier racks or a basket). At East London's AS Cycles, Raleigh's Pioneer Crossbar is one of their best-sellers. "Raleigh goes back generations, and they specialize in quality, affordable bikes," says the shop's owner, Sham Vesamia. "The Pioneer is perfectly suited to city life, with tarmac-friendly tyres and a strong yet lightweight aluminium frame that really stands up to rigours of road commuting." According to Vesamia, the Pioneer's smooth ride — even over potholed roads — makes it a popular choice for inner-city riders, and the relaxed riding position and grippy handles make it comfy over long distances. And those important additional components we mentioned? The Pioneer has an aluminium kickstand and mounts for front and rear mudguards and a rear pannier rack, all of which can be bought from Raleigh. Available in four sizes, the bike is sold fully assembled, and while it's currently out of stock online, AS Cycles has it in-store (which also has a workshop for custom builds, services, and repairs), and Raleigh's website has a list of UK-wide bricks-and-mortar dealers (many of which will be part of a Cycle to Work scheme and have on-site workshops).
Best hybrid bike
Hybrid bikes combine the agility of a road with the sturdiness of a mountain bike — ideal for those who want to pedal to work and hit muddy trails on their days off. For that, Sophie Whitworth looks to American brand Felt Bicycles. "Its bikes are attractive, unfussy, and have clean design, with limited branding and clutter," says Whitworth, who rides 200 to 500 kilometres a week. "The Verza Speed is a flat-bar hybrid that combines a lightweight aluminium frame with slick yet wide tyres and disc brakes. It can also be customised to add panniers on the back — which I always use for storing my work clothing and showering kit." There are four Verza Speed models, with the most current, the Verza Speed 50, launched this year with additional gearing and available in six sizes. Whitworth rates the Verza Speed's price point, which is on par with midrange bikes at a big retailer and reasonable for a brand so revered by athletes; she also notes its quality, which she says is far superior to a typical "off-the-peg bike." The Verza is sold out online, but there is a list of UK stockists on its website who can order and build the bike for you. To buy Felt Bicycles through a Cycle to Work scheme, you will need to match a dealer with your specific scheme (stockist list on website). [Editor's note: This product is currently out of stock.]
Best for competitive racers (women)
Charlie Brown has a "normal office job" in London, which involves commuting through busy city streets, but she's also a triathlete and Ironman competitor, which means she regularly sets off on 100-kilometre-plus training rides. For both tasks, you'll find her on her Avail Advanced 1 from Liv, the women-focused cycling brand from Taiwanese bike manufacturer Giant. Brown bought her model three years ago after trying it out in the brand's St Paul's branch. "I thought it was so comfy but also powerful," she says. "It's a halfway house between an aggressive racing bike and a standard road bike." The bike has a carbon frame, powerful disc brakes, and a seat post that was originally designed for cyclocross athletes to help absorb shocks and vibration. Brown has put the Avail through its paces, using it for commuting, training, and racing, including Ironman, sportive, and the 24-hour Red Bull Timelaps cycling challenge. Last weekend, she rode it from London to Windsor. "It really stands up to the rigours of commuting and endurance riding, while also being a really comfortable ride," she says. The bike comes in three sizes, and is available for pick up or delivery within three days. It's worth noting that while you can add bottle cages to the frame, there are no fittings for panniers. Liv is part of Giant's Cycle to Work scheme.
Best for competitive racers (unisex)
Leisure Lakes Bikes is a family-run bike shop with 11 branches around the country. Lucy Noy, manager of its Preston Station branch, has competed in triathlons and the 150-mile Coast to Coast and rides around 50 miles in a "normal" week. Noy is a devoted customer of Trek, a US bike-maker she calls "top of the tree in the cycling industry." Her tip? The Domane AL3, "a top-spec bike for a new rider wanting a low-maintenance endurance road bike that would make a good starter for triathlon." The model comes in men's and women's styles, and there's a frame set option. "Trek bikes have IsoSpeed, a seat tube tech that dampens vibrations, making it good on potholes, uneven roads, and rough canal paths," says Noy. "It has the geometry of a race bike, with drop handlebars and the option for a more aerodynamic position when racing." Leisure Lakes accepts Cycle to Work scheme vouchers.
Best gravel bike
In simple terms, a gravel bike is a cross between a road bike and a cyclocross bike. They are an American import, originally made for long, winding roads but, according to Louis Van Cleef, activations manager for Rapha and Audax competitor, "they are tanks. They will roll through anything." Helpful, then, for commuters covering bumpy, unforgiving terrain en route to the office and heading off-road at the weekends. Van Cleef singles out the Croix De Fer 10 gravel bike by Genesis, a British bike brand originally part of the Ridgeback stable. "I'm a big fan of utility, and I believe in buying a bike which won't restrict you to only the task at hand, commuting," says Van Cleef. "This is a do-it-all bike that could take you much further than work and back. The steel frame makes it comfortable on pothole-y A-roads, and wide tyre clearance makes it sure-footed on wet city roads and gravelly bridleways." Although, the heavy steel frame means this is not a bike for fast climbs. The bike has attachment points for racks, mudguards, and bottles and is available in five sizes (all out of stock online, but Genesis's website has a list of UK stockists). Genesis itself isn't part of a Cycle to Work scheme, but lots of its stockists are.
Best electric bikes
Sham Vesamia, owner of AS Cycles in London, recommends prospective e-bikers look at Cambridge-based Quella's Varsity collection. Originally a pedal-only range, the company launched an electric model last year, and it is now one of AS Cycles most popular e-bike purchases. "It has the same vintage, retro look as Quella's original Varsity bike, but it also comes with a lightweight electric motor pedal-assist system that recharges while you ride (although you'll need to plug in for three hours for a full recharge, which will last up to 70 miles depending on how hard it's working)," says Vesamia. "It offers the opportunity to ride single-speed but allows you to control how much effort you exert." Quella accepts vouchers from Cyclescheme, Bike to Work, Halfords Cycle2Work and NHS Bikes.
Best tricycle
Get Cycling, a social enterprise in York founded by Jim McGurn, has an inclusive range of bikes, including recumbents, tricycles, and hand cycles, along with a repairs shop and delivers all over the UK. McGurn has been running the business since 2008, building and selling a large range of bikes for people with disabilities and balance issues. For tricycles, McGurn singles out the Tri-1 by British bike maker Pashley (£765). "It's the best tricycle," he says. "It's the lightest tricycle we've come across, never goes wrong, has lots of gears, and it folds enough to get into the boot of a medium-sized car." The small wheels give it good central gravity, it's very stable, and there's a fixed-wheel version, which is good for people with leg mobility issues. Get Cycling can deliver within four weeks.
And some cycle kit you shouldn't be without …
Anyone who's cycled after dark will tell you how important it is to be visible. "You should always have lights on the handlebars, rear lights on the seat post, and you could also fit helmet lights," says Lucy Noy. "Brightness is important: You want 600 lumens–plus for country rides, 300 to 400 lumens for inner-city roads. Reflective kit will also increase visibility." For helmets, Noy recommends Specialized's Align, which offers "mid-ventilation and mid-coverage," or its Centro, which has an inbuilt light and features MIPS, a technology that protects against multidirectional impact. To ensure the safety of your bike, Noy recommends locking it up with a Kryptonite U lock through the front wheel, a cable through the frame and rear wheel, and connecting it all together.
While many bike shops offer maintenance and repairs services, according to Noy, every cyclist should be able to change a tyre. "Even if you have a bike that costs thousands, with top-quality components, you need to learn the basics of looking after it," she says. "Get a saddle bag with a multitool, inner tubes, pump and tyre levers, and watch some YouTube videos on how to change a tyre. It will save you a lot of hassle when you have problems out on the road." Noy recommends Park Tools' range of tools and Toepeak's saddle bags, which come in different sizes.
The Strategist UK is designed to surface the most useful, expert recommendations for things to buy across the vast e-commerce landscape. Read about who we are and what we do here. Our editors update links when possible, but note that deals can expire and all prices are subject to change.