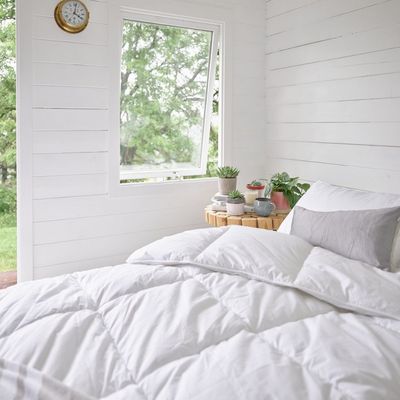 Photo: Fine Bedding Company
Picking out a duvet cover is pretty easy if you know what style you like. But when it comes to buying a new duvet, the parameters are less clear, with tog level, allergens, and personal preference to consider. Much like a good-quality mattress, a duvet should be an investment, lasting between five and ten years before being replaced. Vanessa Agyemang, interior designer and founder of design studio Copper Dust, says that "when choosing the right duvet, there are a few different things to bear in mind, from classic feather to hollow fibre," since "they each provide a different night's sleep depending on your requirements." To find the best possible duvet for you, we spoke to five other experts, including interior designers and influencers, and also cross-checked Amazon reviews.
Best overall | Best down | Best (less expensive) down | Best down-alternative | Best ethically made | Best hypoallergenic | Best (less expensive) hypoallergenic | Best luxury
Filling: The make or break. Knowing whether to choose down-filled, feather-filled, a mixture of the two, or a duvet made from synthetic materials will ultimately depend on your needs. As Agyemang says, feather duvets "can last up to a decade" and "provide a snug, cosy feel," but she personally prefers to "stick to synthetics" to avoid allergens.
Shell: A cotton cover tends to feel the most breathable, soft and immune to dreaded static and flyaways. Most of the duvet options here are encased in cotton covers, but microfibre shells have their place too. They can be cooling and breathable. A primary duvet, versus one less frequently used by guests, could benefit from a natural-fibre shell.
Weight: Here, we get slightly technical. Tog levels relate to how much the duvet can retain heat while also being breathable. A higher tog-level number denotes a warmer duvet, and vice versa. As you may already know, a lower tog works in warmer weather — some people might swap out a "summer" duvet for a "winter" duvet when temperatures drop. Lighter duvets also tend to suit children, who generally get warmer more quickly than adults. Some duvets here come in a range of tog levels, and some can be purchased as two separate duvets that you'd button together in winter for the highest tog. We've let you know when that applies.
Best overall duvet
Photo: Retailer
Goose down and feather | Cotton sateen | 2.5 – 13.5 tog
For Robyn Dooley from interiors platform Nook and Find, this Hungarian goose- down duvet comes up tops. She says that the quality of Scooms' duvets is "second to none: supersoft, super-versatile, and super-design." Married couple Jonathan and Emily Atwood founded the brand in a bid to make sustainably sourced bedroom products, paying particular attention to hypoallergenic options (Emily is allergic to dust). This duvet comes in a range of tog levels with a house mite anti-allergen certification, and can be popped in the washing machine at 40C. Those factors make it a solid option for most sleepers, and it's especially cooling if you tend to run hot.
Best down duvet
Goose down and feather | Cotton | 13.5 tog
Jasmin Robertson, home renovation content creator, says she loves "a big, soft, voluminous duvet that wraps around you like a cosy-warm hug, but without feeling too heavy." To her, the best option has "got to be down filled." As we've mentioned, down-filled duvets tend to have that plush, swish-hotel feeling, making them great for winter months. This duvet from M&S uses Hungarian goose down, the various supplier details of which you can read through on the brand's site. "We've had our M&S duvet for a while and it's still a joy to sink into each night," says Robertson.
Best (less expensive) down duvet
Duck down and feather | Cotton | 13.5 tog
For a cheaper alternative, Agyemang recommends M&S's duck-feather and down duvet. She finds that "feather duvets tend to be lighter in weight and can last up to a decade — they retain heat and provide a snug, cosy feel."
Best down-alternative duvet
Recycled polyester | Cotton | 10.5 tog
The down-filled duvets we've featured here all pass ethical production standards in the U.K. But you still might not want your duvet filled with any kind of animal product, whether for ethical reasons or to spare your allergies kicking off. Agyemang suggests this vegan down duvet; its filling is made up of fibres from recycled plastic bottles. "Using sustainably sourced cotton" with a 233-thread count on its cover, "you still get that luxe feeling when asleep." And though the Fine Bedding Company positions this as a spring/autumn duvet, that downlike feel means it should still keep hot sleepers warm in slightly colder temperatures too. If you're not a fan of animal by-products in your bedding, you can sleep well at night "doing your part to make our planet a better place," adds Agyemang.
Best ethically made duvet
Bamboo and microfibre blend | Bamboo | 10.5 tog
"If you'd rather ditch down and opt for a vegan-friendly alternative, I'm a fan of 100 percent ecofriendly bamboo fibre, which is luxuriously soft and light," says lifestyle blogger Kate Baxter. She and interior designer Eva Sonaike recommended the Panda Cloud Duvet, made from 50 percent microfibre and 50 percent bamboo. For Baxter, the duvet "is particularly suitable for people with sensitive skin and allergies, as bamboo is uninhabitable for fungi and dust mites" — that means your duvet would be naturally hypoallergenic.
Sonaike has bought the feather-free duvet for her children before: "It's really lightweight but still keeps them warm during the cold winter nights" and comes in a handy reusable bamboo bag. Reviewers on Amazon are keen on it too, where five-star ratings make up 79 percent of more than 400 reviews. As one reviewer, who likes a heavier duvet, wrote: "Even though it gives perfect warmth, it never feels 'sweaty.'"
Best hypoallergenic duvet
Alpaca wool | Cotton | 7 to 10 tog
Made from white alpaca wool, this hypoallergenic duvet from Devon Duvets comes highly recommended by Duncan and Charlotte Campbell-Rey, interior designers and founders of creative consultancy Campbell-Rey. "This adorable British company makes 100 percent natural-product alpaca duvets, handcrafted by seamstresses in their Devon workshops," they tell the Strategist UK. "Alpaca fibre is naturally hypoallergenic and has a lovely way of keeping the perfect temperature when sleeping." Because alpaca wool isn't used as often as other materials for duvets, tog comparisons aren't precise, but Devon Duvets estimates that its 400gsm duvet (gsm standing for grams of wool per square metre) translates to around a 7 to 10 tog value.
Best (less expensive) hypoallergenic duvet
Microfibre | Cotton percale | 4.5 - 13.5 tog
Also hypoallergenic, this King of Cotton duvet similarly offers the option of two separate duvets, to easily switch between the summer and winter months. However, you can also simply get the lightweight 4.5-tog duvet for summer, the "standard" 10.5 tog for autumn, or the 13.5 tog for winter. Interior designer Shareen Kapoor calls this "a lovely microfibre duvet that is a great price," adding that they use King of Cotton "for most of our bedding and towels, as they offer great prices and have fabulous products." King of Cotton promises that all of its feather and down products conform to Oeko-Tex's certification standards, which guarantees the absence of any chemical or other harmful substances, and the company also visits all of its suppliers in person to witness their production practices themselves.
Best luxury duvet
Goose down and feather | Cotton | 4.5 - 10.5 tog
If you're in a position to spend a bit more, Kapoor recommends this Fine Bedding option, "my favourite to specify for clients." As she says, "for a truly indulgent night's sleep, this goose-down duvet is luxurious yet lightweight even in winter." Though the price is a little higher than some of the others we've included here, this machine washable duvet has a ten-year guarantee, so it's a sound long-term investment. There is a 4.5-tog option, but given what we've been told by our experts about higher tog levels often equalling a snugger, more luxurious feel, we'd advise going with the 10.5-tog, spring/autumn choice. Fine Bedding has been awarded the Global Recycled Standard, which ensures that all of its products meet a criteria for sustainability, and the down and feathers the company uses will only ever be from animal by-products.
The Strategist UK is designed to surface the most useful, expert recommendations for things to buy across the vast e-commerce landscape. Read about who we are and what we do here. Our editors update links when possible, but note that deals can expire and all prices are subject to change.