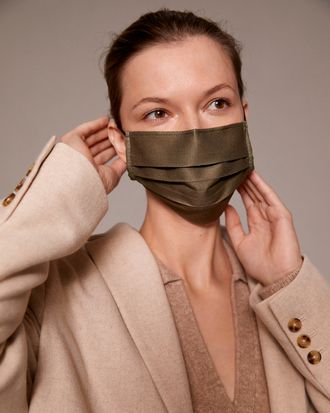 Lockdown restrictions may have eased considerably across the U.K, but mask-wearing in enclosed spaces remains mandatory. This means a mask is required on public transport, in supermarkets, and when visiting hospitals, as well as outdoors in spaces where social distancing is not possible. This also includes entering and leaving restaurants or pubs — even if you are dining outside (in fact, most venues have their own policies, so it's worth checking in advance).
The current government advice is to wear a face covering before entering any of these places and to keep it on until you leave unless there's a reasonable excuse for removing it. The government also advises you to wash your hands regularly, clean your surroundings regularly (particularly surfaces that are touched frequently), and cover your mouth when you cough and sneeze.
When choosing the right face mask, it helps to understand why we wear them in the first place. "Face masks work by reducing the spread of droplets that are contaminated with the virus," Dr Diana Gall told the Strategist UK. "Wearing a nonmedical face mask prevents you from spreading the virus unknowingly to other people, rather than protecting yourself from the virus entering your body."
There is an overwhelming amount of choice when it comes to masks, but, according to consultant dermatologist Dr Kristina Semkova, "function must definitely come over fashion" when it comes to selecting the right one for you." Rory Donnelly, a clinical research director at Copper Clothing, who make copper-infused antimicrobial products, says "some face masks may be fashionable, but they often don't protect you effectively."
What to look for in a mask
Experts told us that the most important things to look for are fit and fabric. "Your mask should be the right size and fit for the face. It shouldn't be too tight, in order to avoid friction," says Semkova. Gall says the mask must be wide enough to cover the nose, mouth, and below the chin, and should be snug without gaps, while Donnelly recommends one that "extends from your face in a cone shape, so as not to touch your face." He added that "the flame test" is a good way to check for fit. "If you can blow a candle or a lighter in front of you with your face covering on, it does not fit properly," he said.
If you are unsure what size you need — or shopping online is making it hard to tell — Donnelly suggests looking for one with extra features. "Adjustable ear loops can help you get the best fit, whatever your head shape," he says.
In terms of fabric, researchers from Northwestern and Cambridge Universities studied 20 different materials, including cotton jersey, denim, felted wool, and quilting cotton in order to determine the effectiveness when used in face masks. They concluded that "most of the fabrics commonly used for non-clinical face masks are effective at filtering ultrafine particles," but noted that masks "made of multiple layers of fabric were more effective." This means, when looking for a fabric face mask, focusing on multi-layered ones is best — three layers is ideal, but two-layered masks with a pocket for an extra filter would also be good.
Experts told the Strategist UK that high-quality cotton was the best option. "The material that touches your face is the most important — so make sure it's natural, non-chemical and non-irritant," says Donnelly. Semkova, who has seen a surge in patients coming in with "mask acne," also suggested "cotton and/or silk" masks, but stressed that polyester is one worth avoiding due to being "non-breathable."
In January 2021, the Centers for Disease Control conducted a study into the effectiveness of double masking and found that layering two masks "could improve the fit of these masks and reduce the receiver's exposure" when tested against droplet particles of a similar size to those thought to transmit SARS-CoV-2 (the virus that causes COVID-19). The study noted that whatever mask you wear, it's important to make sure it fits snugly: "The effectiveness of cloth and medical procedure masks can be improved by ensuring that they are well fitted to the contours of the face to prevent leakage of air around the masks' edges."
While the study found that "[t]he receiver's exposure was maximally reduced (>95%) when the source and receiver were fitted with modified medical procedure masks," there has been no research done into double masking in the U.K. England's deputy chief medical officer, Professor Jonathan Van-Tam, told ITV News in February, "I think it's a matter of personal preference," regarding double masking, adding that he has not seen any data of its being more efficient.
But Dr Julian W. Tang, an honorary associate professor and clinical virologist at the University of Leicester, told the Strategist UK that "generally, more layers are better than fewer layers" when it comes to masking. "Masks generally fail by allowing leakage around the sides, rather than directly through the fabric itself," he said. "If wearing masks which are looser fitting around the sides, tuck the sides in." The CDC study suggests doing this by "knotting the ear loops of a medical procedure mask where they attach to the mask's edges and then tucking in and flattening the extra material close to the face."
Dr Tang added that "denser weave material is better" when it comes to buying a face mask, particularly double- or triple-layered options, "but you still need to feel comfortable breathing through them."
How to clean your mask
Cleaning your masks is crucial in order to maintain good hygiene. Machine wash your face mask after every use (Semkova suggests using a fragrance-free detergent, and skipping the fabric softener, in order to avoid irritating the skin). "Masks accumulate dirt, oil and make-up — we've all seen it! — as well as bacteria from your nose and mouth, which transfer to the face, causing a breeding ground for 'maskne' and other skin problems," she says.
It's also important to consider having multiple masks, rather than just one. Semkova said while re-using masks throughout the day "should be okay" as the mask protects other people and not the wearer, "ideally, masks should be replaced for each outing, as they need to be removed in a way that will not expose the wearer to the outer side of the mask, which can happen if you're putting it in your pocket or handling it manually throughout the day."
This also makes it easier to have a system in place where you always have a clean mask available (rather than your only mask being in the washing machine). Gall recommends "Soaking them in hot, soapy water, or putting them in the washing machine as soon as you get home, and dry them on high heat."
She also says to wash your hands before applying a new and clean face mask, as well as before removing it. "Just avoid touching the front of the mask, in case there are any germs there."
The best face masks to buy online
Editors' note: We'll be updating this post frequently with new places to buy, so if you don't see an option you like, check in later for more.
Kids' fabric masks available to buy online
Some Strategist-recommended mask accessories
The Strategist UK is designed to surface the most useful, expert recommendations for things to buy across the vast e-commerce landscape. Read about who we are and what we do here. Our editors update links when possible, but note that deals can expire and all prices are subject to change.