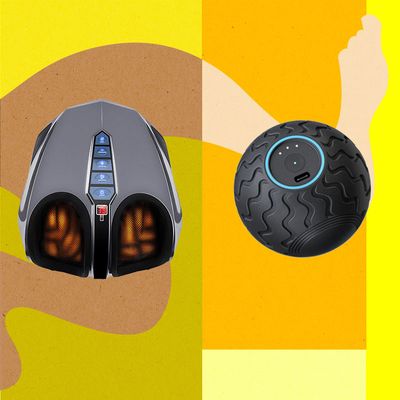 Illustration: Chaimae Khouldi; Photos: Retailers
While a foot massager is often seen as a tool used for relaxation purposes, there is an abundance of options — from manual massage rollers to high compression boots — that not only provide soothing stimulation but have features that, if used consistently, can aid your foot health and general well-being. "For me, I look at the feet as scaffolding for your entire body," says Henna Patel, owner of Henna Patel Podiatry. "They're the foundation — they carry you and your body weight, so they help with health, well-being, and posture; if your feet are in good health, the quality of your life is brilliant, but if you've got a foot condition and it's painful, it can be debilitating."
It's important to note for those with bunions or arthritis or for people wanting to get regular checkups for their foot health, scheduling an appointment with a podiatrist is the best solution. Dina Gohil, CEO of DG Podiatrist, stressed that podiatry is not just about helping the appearance of your feet; podiatrists also provide treatments that help to improve the functioning and strength of the feet, which, in turn, reduces foot pain and aids overall mobility.
And while foot massagers are not a substitute for podiatry, they are a great investment if you're looking for a way to improve your foot health at home — or if you want a device to help you de-stress after a busy day at work. Gohil noted the benefits of using a foot massager on a regular basis: They can help reduce edema (swelling) in the foot and ankle caused by water retention, relieve tension in the muscles, reduce cortisol levels, stimulate blood flow, and improve flexibility — to name a few. We spoke to eight experts, including health practitioners, therapists, and podiatrists, about the best foot massagers for all purposes, from relaxation to recovery. Read on for their recommendations, including the best manual, electric, and spa options.
Best overall foot massager
Three of our experts recommended a wooden massage roller as an extremely effective yet inexpensive massager. The arched design of the TheraFlow follows the natural curvature of the feet and features two different types of acupressure nubs, which allows for a deep-kneading massage. Patel says this option is particularly good because it's spaced apart in such a way that you can target pains in specific areas of the feet. Junaid Ahmed, a podiatrist at Feet for Life, says a wooden roller is great if you don't want anything too aggressive as, unlike the electric options, you have complete control over how much pressure you're placing on the feet.
A few of our experts especially recommended this massager for people with plantar fasciitis — chronic heel pain and inflammation of the soft tissue in the feet. "One of the symptoms of plantar fasciitis is pain first thing in the morning; symptoms often get progressively better in the day as you're walking on it because the muscles seize up a little in the night and become quite tight, so when you wake up in the morning, you get this inflammatory response around that area," says Ahmed. Using a foot massager before bedtime and during the day helps to loosen the fascial bands, and this, according to Ahmed, has helped some of his patients alleviate symptoms of plantar fasciitis. Again, while this is not a replacement for podiatry, using a wooden massage roller for just ten minutes a day can help boost circulation, increase blood flow to the heart, and relax the muscles in your feet; all of which can help aid your overall physical and mental well-being.
Best shiatsu foot massagers
Shiatsu massagers target pressure points in your feet, mimicking the hand and finger pressing motions of a professional masseuse. Patel referred to the Miko massager as an "all-singing all-dancing" option; it has a heat function and five adjustable pressure settings you can use for light or deep kneading massage, depending on your preference. Shiatsu techniques are good for muscle stiffness as they stretch and knead the muscles in your foot, which can especially be helpful for people who are constantly moving. Podiatrist Steven Thomas says the heat function increases blood flow to the foot area, which improves circulation. This makes the foot and ankle feel more flexible, which can help to prevent injuries and speed up recovery time after intense bouts of movement. As a point of consideration, while the Miko massager claims to be suitable for people with up to size 12 feet, Ahmed mentioned that one of his patients with slightly larger feet found it wasn't as comfortable
If you're looking for a less expensive Shiatsu option, two of our experts recommended the Nekteck foot massager. It has six massage heads and 18 massager nodes, and Patel says if you want a "boost" or a "pick me up," it's a nice massager to own. Gohil agreed, praising the Nekteck as a good compact option, especially for the lower price point. Like the Miko massager, the infrared heating function helps to relieve sore and tired muscles. However, unlike the manual options, it doesn't have specific trigger points, so the Nektek isn't the best option for someone struggling with plantar fasciitis.
Best portable foot massagers
Reflexologist Andrea Hurst says the Fitness Mad foot roller is a massager suitable for everyone; from fitness enthusiasts and athletes to grandparents. It's a gentle option if, like the TheraFlow, you want a massager where you can control exactly how much pressure you're placing on your feet. While using the roller, our experts recommended avoiding the heel and ball of your foot; instead, you should place the massager under the arch of your foot, press down lightly, and slowly roll your feet across the nodes to release muscle tension — then if you want a slightly deeper massage, you can start to press down harder. Christophe Champs, a consultant in podiatry and biomechanics at PODO Clinic & Workshop, describes this as a "fantastic tool," however he cautions clients against using it excessively. "There is a risk when you make something very affordable, people will get it and think it's easy to master because it's £12, so basically you can't injure yourself — clearly you can," says Champs. "I've seen in the past people injure themselves with the foot roller, so I tell my patients to use it three times a day for five to ten minutes, and to do it sitting — not standing — because then you're not putting too much pressure on it." It's an easy-to-use, compact option you can easily tuck into your carry-on before a holiday or use while you're lounging on the sofa.
For a slightly more luxurious option, Hurst recommends the Wave Solo vibrating massage ball. This pocket-size massager has an ergonomic shape that can be used anywhere on the body; a quality choice if you're looking for an all-purpose portable massager. The ball has pinpointed vibration therapy for focused areas and, according to Hurst, it's great for reducing tension in the feet and improving movement more generally. Hurst says, "It works deep in hard-to-reach areas, so you can use it to put a nice amount of pressure into the arches of the feet — it's really lovely and soothing." It also has quiet roll technology, which mutes the sound and reverberations, making it powerful but quiet; a feature that could prove useful if you want to massage your feet before bed but don't want to disturb your partner while they're sleeping.
Best spa foot massager
This foot spa was recommended by complementary health practitioner Nadia Bush, who uses it at home. "A foot spa is really good because sometimes it's hard, especially for elderly people, to get their feet up and massage them with their hands," says Bush. "The soaking of the feet into hot water and the vibrations from the massager improve circulation in the feet and relaxes you. Plus, you can put in things like essential oils in there as well, for relaxation, sleep, stress, or athlete's foot." This particular model has a removable pumice stone that you can use to exfoliate the soles of your feet before soaking them in the water, a feature Bush says helps make the skin underneath the foot extra smooth. Ahmed mentioned that a few of his patients favour an at-home spa for relaxation purposes. "Although it's not going to remove calluses or dead skin as such, immersing your feet in water with a bit of tea-tree oil is quite nice to do anyway and can help improve circulation and alleviate certain symptoms for people with throbbing pain in their feet or ingrown toenails." While foot spas don't target specific pressure points, the water element adds a sense of luxury to the massager, making them a great gift for friends who deserve a little TLC.
Best foot massager for athletes
For an option that targets your toes, instep, sole, ankle, heel, calf, and thigh, Champs recommends the MyoPump by MyoMaster. Compression therapy boots are especially good for reducing DOMS; delayed-onset muscle soreness caused after intense workouts, which is why they're favoured by some athletes and trainers. The MyoPump has four inflation chambers that target different sections of the leg. It also has an isolation treatment for each section, so you can target individual muscle groups. According to Champs, the pulse compression rapidly increases blood flow and circulation, so using the MyoPump for 15 minutes at the end of a training day can really help accelerate muscle recovery after strenuous exercise. "Athlete's recovery is the biggest part of training — it helps to make any race feel easier," says Champs, who notes it could also be a good choice for people who work out three to four times a week and want to reduce their chance of injury.
Junaid Ahmed, podiatrist at Feet for Life
Jaqui Ayre, therapist at Regis Salons
Nadia Bush, complementary health practitioner, Complexion Medispa
Christophe Champs, consultant in podiatry and biomechanics at PODO Clinic & Workshop
Dina Gohil, CEO of DG Podiatrist
Andrea Hurst, health and well-being visionary, master practitioner, international celebrity therapist
Heena Patel, podiatrist and owner of Heena Patel Podiatry
Steven Thomas, the London Podiatrist
The Strategist UK is designed to surface the most useful, expert recommendations for things to buy across the vast e-commerce landscape. Read about who we are and what we do here. Our editors update links when possible, but note that deals can expire and all prices are subject to change.