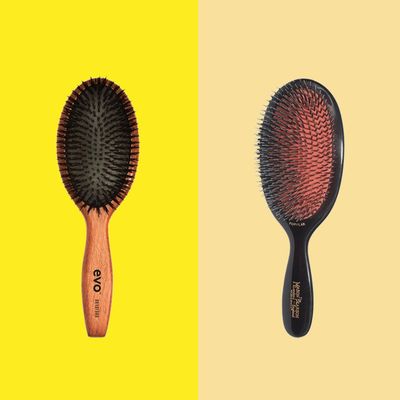 Photo-Illustration: The Strategist
It's deceptively simple. A good hairbrush strikes a defining line between "just okay" hair and hair that takes on advertisement-like bounce and texture. I have thirsty hair somewhere between a 2C and 3A curl pattern, which cries out for hydration and a brush to smooth my waves. After months of trial and error, I found one that works (of which more later). The type of brush you'll want will depend on your hair type and styling goals, too, whether those entail blow-drying it bone straight or detangling wet hair after a shower. The right brush can even help exfoliate and invigorate your scalp — or just cut down on your blow-drying time, leaving you with less fried hair overall. For the best brushes to suit different needs, we spoke to a panel of hair-care professional and salon owners and included expertise from Strategist contributors.
Best overall | Best (less expensive) | Best for detangling straight, wet hair | Best for detangling fine, wet hair | Best for detangling curly and kinky hair | Best for natural hair | Best for styling long hair | Best for blowouts and waves | Best for heat styling | Best for damaged hair | Best finishing
Bristle material: Any good hairbrush will feature bristles or teeth that glide through your hair, detangling minus damage, and smoothing down flyaways. Generally, natural materials such as boar bristles or wood will be softest on straighter hair textures. Strategist associate editor Jenna Milliner-Waddell notes, though, that you'll want to pay attention to flexible bristles to detangle kinky, natural hair. Ones that are "dense enough to comb through all the hair but are spread out enough to avoid damage," she writes. How you brush your hair matters, too. "Always start by brushing the ends first then move up the strands. This will prevent breakage," says Jennifer MacDougall, a New York–based beauty expert who has worked as a lead hairstylist on Project Runway. "Start from the underneath first, clip the top up, and gently brush in sections."
Heat resistance: Even if you rarely reach for heated curlers or tongs, you don't want to be left clutching a melting hairbrush. We've highlighted where brushes will, and won't, stand up to use with heat tools.
Price: You may be keeping a closer eye on your spending at the moment. To see what suits your budget, I've grouped each brush into these price ranges: £15 or less (£), £15 to to £45 (££), more than £45 (£££).
Best overall hairbrush
Boar bristles, nylon pins | Heat resistant | £££
An unsurprising yet undeniable choice. According to three of the experts we spoke to, the cult brand's boar-bristle-and-nylon brush still deserves the hype. "The Mason Pearson has hundreds of tiny boar-bristles, which are softer and more gentle for brushing through your hair," says Sara Jane Booth, the salon owner of Bassia Bassia in New York. Those bristles help move the hair's natural oils from the scalp down the hair shaft, while the nylon bristles create less static.
MacDougall is also a fan of the Mason Pearson and, like Booth, praised the brush's ability to "stimulate and exfoliate the scalp." Clyde Elezi, the creative director and founder of the Drawing Room New York, recommends the brush as well. He cites it as an example of a natural-bristle paddle brush, useful for those with long hair thanks to a larger head size that reaches more strands than a smaller brush might. "The Mason Pearson brush helps to smooth the cuticle while distributing hair's natural oils evenly," Elezi says. The brush has also appeared in many a "What I Can't Live Without," including Charlotte Tilbury's and Jane Seymour's — who, we should note, both have great hair.
Best (less expensive) hairbrush
Nylon pins | Heat resistant | ££
Booth also recommends this all-rounder if you haven't got a Mason Pearson to hand. Unlike a boar-bristle brush, wet brushes have bristles with smooth plastic tips, which are less likely to break wet hair, when the strands are at their weakest. "It's a combination of a wet brush with slightly stiffer and longer bristles and an everyday detangling or ponytail brush" at a good price point. It works well on wet, coarse hair without being flimsily flung across the room at the first sign of a tangle. And it's ideal if you're slicking back a ponytail, especially if you're using product to lay it (washing it out of the brush is easy).
Best brush for detangling straight, wet hair
Plastic bristles | Heat resistant | £
Wet brushes are a bit like Kleenex or Tippex: a specific brand name we tend to use interchangeably with the name of a whole category of product. Here, the term "wet brush" refers both to this style of plastic-bristle brush as well as the original name-brand Wet Brush. Masami Hosono, the founder and creative director of Vacancy Project, says they use wet brushes at her salon to detangle wet hair before starting a haircut. MacDougall seconded Hosono's recommendation of the wet brush for detangling, and Strategist contributor Alice Gregory is a fan, too. In her ode to the wet brush, she writes, "I even bring the one I keep at home with me when I go to get my haircut, lest they're not equipped for the job — anything else seems masochistic."
Best brush for detangling fine, wet hair
Synthetic bristles | To use wet | £
For another post-shower detangling option, try the Tangle Teezer, which comes recommended by Booth. While Booth says the brush works for "any hair type," she told us that if you have hair on the finer side that's prone to tangling when wet, this is the brush for you. "Your hair is the most fragile when wet, and all my fine-haired clients seemed to rip through their tangles with paddle brushes when their hair was wet, likely causing a lot of unnecessary breakage," Booth says. "The Tangle Teezer's teeth are so small and flexible, which helps to brush out tangles slower without ripping through your hair." Unlike the Wet Brush, the bristles on the Tangle Teezer are varied in height so that the longer "teeth" detangle hair while the shorter ones smooth hair at the base. It comes both as a palm-size handheld brush — the original Tangle Teezer — or in an updated version that has a handle. "I suggest getting the style with the handle instead of the one without because the original is really slippery and uncomfortable to hold in your hand," says Booth.
Best brush for detangling curly and kinky hair
Nylon pins | Heat resistant | £
The base of this seven-row Denman brush curves slightly, which stylist Koni Bennett likes across the Denman range because it "gives your hair a little bit of bounce." Celebrity stylist Ro Morgan enjoys how the brush is designed with "flexible bristles that are widely spaced apart enough to prevent damage to hair from breaking." For Booth, that spacing out of the styling brush's plastic bristles are "great for combing out wet curly hair, leaving your curls more individually defined and less frizzy." You'll get a more defined look in curls than with the hundreds of bristles on a brush like a Mason Pearson — they'd blend the curls together for a soft, puffier look. The brush also features an anti-static rubber pad and should be used on wet hair (keep a spray bottle to hand to top up, if you need to).
Best brush for natural hair
Wood bristles | Heat resistant | £
When it comes to detangling and styling natural, kinky hair, "the wider the teeth of the comb, the better," according to Alyson Oruwariye, stylist at C-Suite Salon. Her recommendation is technically a wooden comb from Healthy Hair Studio for use "after the hair has been washed, to comb products through. The structure is wide enough to not cause any snags or tears in the hair, and it distributes moisturisers well throughout." The comb's natural materials combat static and friction, justifying the price point, in her view.
Best brush for styling long hair
Synthetic bristles | Heat resistant | ££
"A paddle brush is great for thick hair and long hair as it glides through the hair more easily" and covers a larger area, says MacDougall. According to Elezi, this Label.M brush combines "detangle, vent, and paddle" brush properties "that help in blow-drying long hair flawlessly smooth while adding natural movement and body." Heat should flow easily when applied, and water shouldn't get trapped in the brush, which wouldn't necessarily happen with a cushioned head. The brush is also ceramic coated, which Elezi says makes it "fast heating," adds shine, and cuts down blow-drying time — leaving less time for the heat to damage your hair.
Best brush for blowouts and waves
Nylon bristles | Heat resistant | ££
If you want to create waves in your hair, Elezi suggests using a round ceramic brush, for the reasons above. "This type of brush can be used to achieve either slick straight look or bouncy waves and add extra volume as well," he says. Elezi says his salon's "absolute favourite" is the round ceramic brush from Tigi. According to the salon's site, the brush works particularly well for those with medium to long hair and for those with thick hair. The Tigi Pro brush isn't available in the UK, but this Morracannoil brush is a good alternative.
Best brush for heat styling
Boar bristles, polyamide pins | Heat resistant | £££
For general heat styling, MacDougall recommends a similar brush from YS Park "for adding volume, lift, and a little bit of a bounce." She loves its wooden handle, "which is nice for when you're cleaning it — it's easier to get styling products off it." And the combination of longer and shorter teeth help to pick up every strand when brushing without wrapping hair too tightly.
Best brush for damaged hair
Synthetic rubber | Heat resistant | ££
You can nestle the knob of this handleless brush between your fingers, effectively turning it into an extension of your hand. That should make detangling process as easy as running your fingers through your hair. The flexible bristles help, too — they move 360 degrees to fully contour to the shape of your head. Celebrity stylist Myss Monique likes this brush because the design lends itself to easy detangling and scalp massaging. "We tend to forget how scalp health is just as essential when taking care of natural hair," she says. "The delicate bristles on the Manta brush allow you to exfoliate the scalp while washing your hair and evenly distribute conditioners."
Best finishing brush
Photo: Evo
Boar bristles, nylon pins | Heat resistant | ££
When looking for a trusty hairbrush to tame fly-aways — something my basic plastic one just couldn't do — I stumbled across Australian brand Evo's Bradford bristle pin brush. The Evo glides effortlessly through dry or colour-treated hair, flattening fly-aways. I found myself reaching for it daily, including on days when I planned to use hair straighteners. Jen Ball, a co-owner of Laundry, uses the Evo brush to smooth out finished styled hair and to tame her own hair and reduce frizz before she goes to bed. "Plus it looks good!"
• Jen Ball, stylist at salon Laundry
• Koni Bennett, TRESemmé lead hair stylist
• Sara Jane Booth, hair colourist and Bassia Bassia salon owner
• Clyde Elezi, creative director and founder of Drawing Room New York
• Alice Gregory, Strategist contributor
• Masami Hosono, Vacancy Project hair-salon owner
• Jennifer MacDougall, beauty and style expert
• Jenna Milliner-Waddell, Strategist associate editor
• Myss Monique, celebrity stylist
• Ro Morgan, celebrity stylist
• Alyson Oruwariye, stylist at C-Suite Salon
The Strategist UK is designed to surface the most useful, expert recommendations for things to buy across the vast e-commerce landscape. Read about who we are and what we do here. Our editors update links when possible, but note that deals can expire and all prices are subject to change.