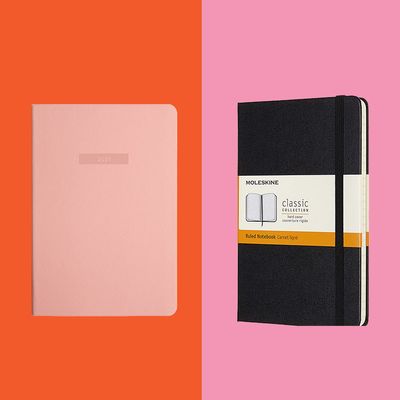 Photo-Illustration: retailers
Bullet journaling may not be as ubiquitous as in 2016, but for the organised (and the frazzled), planners, diaries, and notebooks with a focus on effectively tracking your goals remain popular. Whether it's for staying on top of work meetings, social activities, or exercise habits, productivity journals can help to lay out an effective schedule without everything becoming too overwhelming, and many of them also integrate suggestions for better planning, budgeting, achieving life and work goals, and more.
Some may prefer the freedom of a bullet journal's simple dotted pages, whereas others might like to be prompted to write down their day's objectives, reflections, and to-do lists. There's a lot out there — so we asked 12 cool people (including an author, a tarot reader, and a fashion designer) to recommend their favourite journals that they use to track, plan, and process. Read on for their pick of the best bullet journals, notebooks, planners, and diaries.
Best overall journal
When you hear "productivity journal", it's likely that your mind will go to "bullet journaling", the organisation and planning method that took off on Instagram and Pinterest in the late 2010s. Amy Jones, author of The To-Do List and Other Debacles: Lessons in Life, Love and Losing My Mind, calls bullet journaling "the only thing that's ever worked for me, because it's the only thing I could adapt to make it exactly what I needed". Jones recognises that scrolling through pages of other people's bullet journals — or "incredibly intimidating works of art" — for inspiration may put you off, so she recommends "starting simple" with creator of the method Ryder Carroll's official guide, alongside the official Leuchtturm1917 notebook. With nothing except dotted pages inside, the notebook leaves you to design your own bullet-journal layout to suit your needs, which may well change as you get used to the method. After spending years "trying to find the right planner to best manage my time and my work", Jones says, "I'm currently on my fifth, each one adapting to what I need at that time, and I have no intention of stopping".
Jessica Morgan, journalist and deputy editor at The Face, also recommends the classic bullet journal. "I use the bullet-journal method for both productivity and mindfulness", she adds, "and this Leuchtturm1917 A5 notebook allows me to do both seamlessly. It's super minimalistic and gives me enough space to be creative; whether that's designing my own pages with headers, boxes, and doodles, or keeping track of my to-do list in a simple way. I've been using these notebooks for years now and have collected quite the rainbow collection of colours; there are so many pages, and a really nifty pocket at the back of the book to keep stickers, tabs, and anything else for safekeeping".
Best notebooks
Artist Josie Man recommends the classic Moleskine notebook, which has a dotted-pages option for those wanting to bullet journal alongside ruled, squared, or plain. Man tells the Strategist UK that "the pages are so satisfying to write on, it makes me want to keep on writing". "Writing in my journal helps me to release emotions and give gratitude for what I have in my life", she adds. "The freedom of a Moleskine allows me to explore my feelings openly". The Moleskine journal comes in lots of different colours and sizes, meaning that separate books could be used for different purposes, with freedom to design your own layout. "I try to journal every day", Man continues, "and the key words are 'I am enough.' I'll keep writing until I feel like it's ingrained in me for the day ahead. Those three words are so powerful!"
Daisy Jones, journalist and author of All the Things She Said: Everything I Know About Modern Lesbian and Bi Culture, recommends the Papier Tigre A5 Notebook, which mixes calendar pages and bullet-journal-style dotted pages. "I love that there are different pages for different things", Daisy tells the Strategist UK. "There's a calendar in there, numbered pages, dotted pages. So instead of having one book for plans and another for abstract ideas, it's blended into one". Made from recycled paper, the aesthetically pleasing notebook also features a ruler down one side of the front page, a detail Daisy loves: "The aesthetic of this journal is unmatched", she says. "It's like what everyone wanted their school/college stationery to look like, as opposed to the grainy exercise books that they actually were". There are 96 pages to work with here, so this is ideal for those looking for a pocket-size journal which will do the job of a bullet journal, a calendar, and a general notebook. Daisy is also a fan of the smaller size, adding that this is "a massive plus for me — it's A5, meaning you can slip it into your bag without feeling like you're lumbering around your life's work".
For Chelsey Pippin, Strategist UK contributor, writer and founder of Pip Cards Tarot, using a traveller's notebook "completely changed my life" — "I'm not joking", she adds. "I used to be a chronic journal buyer always looking for the right system, which usually just led me to feeling overwhelmed and becoming a chronic journal abandoner". Pippin loves the reusable leather cover, which feels like "an old friend that I don't have to break in every time I start a new idea"; she buys standard-size in-fills like these ones from Etsy, meaning the journal can be used again and again. "I can fit up to five inserts in the notebook, so I have separate but connected places for work to-dos, writing ideas, grocery lists, morning and evening journaling", she explains. The notebook also holds up to eight inserts, allowing journalers to create as many sections for planning as they see fit. Pippin appreciates how the simple design, long-use factor, and malleable nature of the planner allows her to focus on what's important, telling the Strategist UK, "When I remove the perfectionism I associate with fancy new notebooks, journaling just becomes another manageable habit in my day".
Best diaries and planners
If you're after a diary that gives you prompts to stay on track of your plans and hobbies, but still want to adapt it to your own organisational style, this undated Papier planner finds a balance between the two.
Zoë Phillimore, a content specialist and journalist, loves this planner "because it's great for keeping you in check regarding your goals, whether they're career-orientated or more personal". "There are sections to brainstorm and think about your big goals", she adds, "and then places where you can break them down into smaller steps to keep you motivated". For each week there's a weekly overview, space to jot down the week's priorities, to-do lists, and habit trackers, alongside a meal planner and shopping list pages. Within each week are also daily pages, where you can hone in on specific goals, plans, and habits for each day; Phillimore says that it's "everything I want all in one place". She also loves that the 16-week diary isn't dated, "so you can pick it up when it suits you without feeling too guilty about having wasted pages if you've not filled it in for a while". "Lastly", she adds, "the colourway is fab — my favourite colour clash, and it's easy to find in your bag. And you can personalise it too!"
Strategist UK writer Rachael Griffiths is also a fan. She purchased the Papier daily planner to help get organised for the new year. Of the planner, Griffiths says "it's a great place to keep track of all of your plans and thoughts without them becoming jumbled". She opted for a personalisation — having her initials printed on the diaries cover — which felt "very fancy".
Niketa Tripp, founder of branding and design studio Studio Iris, recommends the MiGoals week-view A5 diary, noting that the layout is ideal for organising her work: "I'm a brand and web designer and have a lot of different tasks each week so I really love the layout of the week view; it's perfect for what I need and I really like the feature of the habits tracker". She adds, "I love that you set your goals at the beginning of the year, giving you the chance to write it all down. Throughout the year there are check-ins too, which is a great asset, as the year goes by so fast it's good to look back and see where you are at". Other features include budgeting pages, a bonus section of pages for note-taking and doodling, and the diary comes in several different colours.
UK-based company Dailygreatness offers plenty of different journals and planners based on specific individual needs, from a "wellness journal" to a "yoga planner", but its original, undated 90-day planner and journal is a good starting point. It comes recommended by Elle B. Mambetov, CEO and fashion designer of Elle B. Zhou, who says, "When I was first starting out, rebuilding what was lost, I turned to the Dailygreatness journals to help me hone in on my vision. It helped me feel motivated at times when I was unable to motivate myself, as well as helped me organize my thoughts and really understand what my dreams are". This travel-size planner features 13 undated weeks, meaning you can start using the journal at any point in the year, with six daily pages and a weekly review and planner for the seventh day. With a focus on motivation and achieving personal and professional goals, each day will prompt you to answer questions about what you achieved and what you hope to achieve the next day, as well as an hour-by-hour planner and a section for reminders. For Mambetov, the spotlight on productivity and personal intentions was a huge bonus for her work: "It helped me map out a road that was achievable".
Aysha Bell, yoga teacher and founder of Aysha Bell Wellness, loves the Clear Habit Journal, which has helped her "keep a good routine; and as the name states, keeping a check on habits and creating new ones". The journal, created in collaboration with entrepreneur and author of Atomic Habits: Tiny Changes, Remarkable Results, James Clear, encourages productivity with dedicated pages to keep on top of habits, as well as "one line per day" pages, where you can write down a goal or affirmation for each day. Other pages are dotted to facilitate bullet journaling, with small markings for dividing pages into halves or thirds. Bell tells the Strategist UK that the Clear Habit Journal is great for "anyone trying to introduce new things into their lives"; those wanting to read Clear's book before starting their new journal can get it included for a low price, with a further option of a pen-and-journal combo. "It's also really beautifully laid out", Bell continues, adding that "it's actually been a lifesaver".
When Rosie Percy — Strategist UK Senior Audience-Development Manager — ran out of pages in her weekly planner, she immediately set out to find a replacement. The planner has daily windows to stay on top of tasks with an attached deadline as well as a bullet point to-do list to keep track of other items (which Percy says can be "satisfyingly ticked off"). Percy says the planner has made "day-to-day work life less overwhelming and more manageable especially during the stress of the pandemic".
Best app for journaling
If you prefer your planning to be digital, illustrator Violet Clair recommends the Evernote app: a device-friendly way of organising that allows you to "have different themed notebooks and have separate notes within each". Clair initially uses the Notes app on her iPhone "whenever an idea comes to me — the pages are filled with stream-of-consciousness-style writing". She then organises her plans on Evernote, which lets its users make notes to saved web pages, record audio in meetings, and sync with unlimited devices. For "organising bigger ideas", Clair loves the Trello app, which consists of different "cards" to track different hobbies and to-do lists.
The Strategist UK is designed to surface the most useful, expert recommendations for things to buy across the vast e-commerce landscape. Read about who we are and what we do here. Our editors update links when possible, but note that deals can expire and all prices are subject to change.