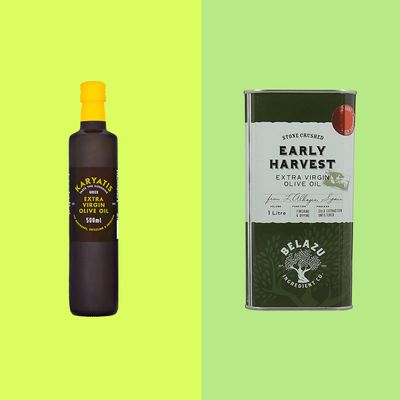 Photo-Illustration: The Strategist; Photos: Retailers
If you like to cook at home, olive oil is probably something you use every day. But it can be hard to know what to look for when you're browsing the supermarket shelves. Oils vary wildly in taste, aroma, and viscosity, not to mention price. And though most varieties look alike, not every oil is suited for every dish or cooking method — what works best in a pesto might not be the best oil for marinating short ribs. Meanwhile, vegetable oils (such as peanut, grape-seed, and sunflower) have a high smoke point, making them ideal for pan-searing and stir-frying, olive oils are generally more delicate, and are commonly used in order to impart flavour and richness at the start or end of the cooking process. Terms like "cold-pressed," "unrefined," and "extra-virgin" only complicate matters even further.
Over the last couple of years, my own interest in olive oil has gone up considerably as I've spent more time cooking at home. Choosing a nice bottle with an interesting profile is no different for me than looking for a particularly fruity red or a barrel-aged sour beer. In fact, I've often taken to gifting a nice-looking bottle to a friend instead of bringing over wine — not just because it's a nonalcoholic alternative, but because people seemed genuinely excited to try an olive oil they wouldn't have thought to buy for themselves.
I spoke to four experts, including chefs and food-industry professionals, and asked for their recommendations for the best olive oils. Unlike wines, which can be kept uncorked for years, the flavour of oil is affected by heat, light, and air, according to the chefs we spoke to, so use it while it's freshest (if you're committed to saving it, opt for oil in ceramic bottles, rather than glass, to keep as much light out). We were particularly keen to recommend oils that were easy to find, that you could buy again with relative ease, whether that means picking them up in your local delis or ordering a bottle on Amazon. I also weighed up my favourites and went through the Strategist archives to find more standout options.
Best overall olive oil | Best (less expensive) olive oil | Best blended olive oil | Best olive oil for cooking | Best bulk olive oil
Flavour profile. Olive oil is revered for the rich taste it lends dishes, so we were looking for oils that came recommended for their flavour profiles. Generally these fall into two categories: peppery/spicy oils, which are robust enough to pair with rich cuts of meat and hearty greens, and grassy/fruity oils, whose aromas pair well with chicken, white fish, and in pesto. Much like grapes and wine, the flavour is down to the kinds of olives used, which will depend on the country of origin.
Quality certification. Olive oil labels can be complicated, so we want to break down any jargon in order to help you understand what you're paying for. The main kinds of olive oil are extra-virgin, (commonly abbreviated as EVOO), virgin, and "blended," also known as ordinary olive oil. According to the International Olive Association, in order to qualify as EVOO, an oil must have no defects and must be unrefined (meaning it has not been treated with chemicals or heat). Virgin olive oils, meanwhile, may have defects but must remain unrefined, and blended oils are — you guessed it — a mix of vegetable oils with olive oils (which makes them both cheaper and easier to cook with at high heats).
We'll be avoiding terms such as "cold-pressed" — this refers to an olive oil that is made without heat treatment — but this is already the case for EVOO and virgin-certified oils, so we don't consider it a helpful metric; all EVOOs are by design cold-pressed. We'll also be looking at PDO/DOP certifications, which are given to companies that grow, produce, and bottle their olive oils in a designated area (it stands for "Protected Designation of Origin" or "Denominazione di Origine Protetta" in Italy). "Single-origin" is also a term used when only one variety of olive is used in an oil — this typically indicates higher quality. Finally, we'll be looking for both filtered and unfiltered oils — the differences are largely down to personal taste. Unfiltered olive oil is like natural wine — it is cloudier, has a more raw taste, and will have sediment, which will reduce the shelf life. Filtered olive oils will be cleaner tasting and have a slightly longer shelf life.
Value: Olive oils vary wildly in price, but we're looking for good value options that taste great while not costing the Earth. This means, for example, disqualifying EVOOs like the striking lime-green Laudemio Frescobaldi, from Tuscany, as we think the £40 price tag is a little steep given the clear glass bottle, which won't protect the oil from light particularly well. We'll be considering value as it relates to quality, availability, and volume, too — such as 3L or 5L oils you can order online.
Best overall olive oil
Extra-virgin | Light flavour | Good value
This olive oil is the best-selling variety on the Strategist; it's appeared in our most-bought for a total of four months. It is an "early harvest" EVOO that can be used for both cooking and finishing dishes, according to Joshua Pattison, founder of Camden Market's Bill & Beak. Pattison said it was one of his go-to options for "dressing dishes and dipping ridiculous amounts of bread into." The "early harvest" refers to the fact this kind of olive is picked earlier than usual — October or November rather than December or January (the exact time will depend on the altitude of the region in question). This earlier harvest (which is sometimes referred to as "premium quality" olive oil) produces a fresh and vibrant taste, and is also the reason for the oil's golden colour, due to the olive not having ripened fully.
I ordered a bottle for myself after seeing the olive oil in our most-bought, and I really enjoyed it — it's very buttery, with an almost banana-like aroma to it, and it's cheap enough that I don't find myself rationing it (unlike pricier oils I've bought, such as Frantoio Muraglia). It is milder-tasting than I expected — making it good for anything that requires a generous glog of oil. Ioannis Grammenos, Executive Chef at the Heliot Steak House, told us it was excellent for marinating food. The olives are grown in Andalucia, Spain, and Belazu list this as a "product of Spain" — suggesting the oil is actually processed elsewhere. Despite that, it is a single-origin olive oil, meaning they come from only one source, and despite being unfiltered, I noticed a smooth taste and no sediment — the oil didn't separate, either, after a week or so at room temperature.
Best (less-expensive) olive oil
Extra-virgin | Peppery and grassy| Single origin
This Greek EVOO came highly recommended by Panayis Manuelides, founder of Greek and Mediterranean fine-food producer Odysea, who called it "a good choice for all-round use" and considered it "without a doubt the best value option in the U.K." We were impressed at both the availability — it's available on Amazon, Sainsburys, and Ocado — as well as the price. This is a bottle of oil you could easily gift as a stocking filler or bundle with a Greek cookbook for a birthday present. I was impressed at the quality for the price —this oil is sourced and produced from Peloponnese, the southern tip of mainland Greece, making it single-origin.
Best blended olive oil


Blended | Buttery 
Filippo Berio is one of the best-known olive-oil brands, it's been around since 1867. Though they do an EVOO which is highly rated, we think the Karyatis oil beats it for affordability and quality. However, Filippo Berio's regular olive oil is a fantastic blended option. The oil is a blend of refined and virgin oils, and the fact it's been refined this way means it has a higher smoke point than EVOOs (which don't like contact with high heat so much). Even with heat applied, it still imparts flavour despite being refined (it's a good option for baking, which most extra-virgin olive oils aren't suited for). It's not got the most impactful flavour profile, but the versatility and sheer availability is commendable. When I dunked some crusty bread in a puddle of this oil, it tasted buttery and rich, though not full of the grassy notes you get in extra-virgin varieties. The bottle is not made from dark glass, but this is less important given it's not an extra-virgin. One thing worth noting is that, as a blended oil, Filippo Berio sources its olives from across the Mediterranean — including Spain, Greece, and Tunisia — and the oil is packed and produced in Italy.
Best olive oil for cooking
Extra-virgin | Peppery and acidic
Ben Tish, a food writer and former head chef at Norma, says stronger flavour profiles hold up to cooking with high heat. He recommends this Seggiano oil, which "works extremely well with the smoky and carbon flavour from a grill" as well as with dishes featuring rich or fatty cuts of meat, like a ragù. He described the flavour as acidic and green, with strong fruit and grass aromas, and a peppery piquant note. The oil is made in southeast Sicily, and features Tonda Iblea olives, which are known for their tomato-like aroma. This olive oil was awarded DOP status as the product is locally produced and packaged.
Extra-virgin | Single origin | Good value
If you want to bulk-buy your olive oil, you could look at brands that come in 3L and 5L tins. This Cretan Culture olive oil is the best-rated large-volume tin — it has 1,500 reviews on Amazon, 79 percent of which are five stars. Cretan Culture's EVOO is made with single-origin olives, specifically the Cretan Koroneiki, which come from a family orchard in Heraklion, Crete, and are known for a mild, buttery taste with hints of pepper. Reviewers noted that the mellow flavour meant it was a good cooking oil, as it didn't impart too much taste onto other dishes, but added a richness to stir fries and roasted vegetables.
Some more olive oils we've written about:
Ioannis Grammenos, executive chef at Heliot Steak House
Panayis Manuelides, founder of Odysea
Joshua Pattison, founder of Bill & Beak
Ben Tish, chef and food writer
The Strategist UK is designed to surface the most useful, expert recommendations for things to buy across the vast e-commerce landscape. Read about who we are and what we do here. Our editors update links when possible, but note that deals can expire and all prices are subject to change.