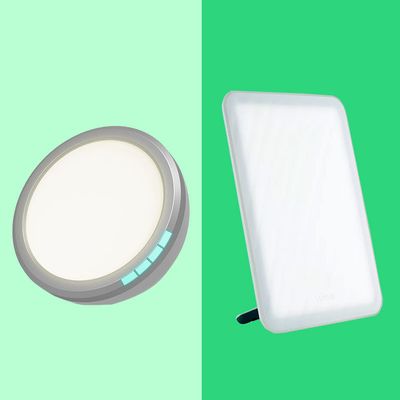 Photo-Illustration: The Strategist; Photos: Retailers
The dark days of winter may make you feel a bit gloomy — with cravings for comfort food and sleep — but if your seasonal symptoms are bad enough to interfere with your life, then you could be among the 3 in every 100 people in the UK who have seasonal affective disorder (SAD), according to the Royal College of Psychiatrists. SAD is a type of depression that comes and goes at a particular time of year. For most people who are affected, symptoms — including persistent low mood, lethargy, irritability, finding it hard to get out of bed, craving carbohydrates, and weight gain — come on in the winter and alleviate during the summer (although for some people, symptoms set in during the summer and clear up come winter).
If you think you might have SAD, you should speak to your GP or a therapist, advises counsellor and psychotherapist Lindsay George. The symptoms are very similar to depression, so it is important to get a proper diagnosis before starting treatment, which often includes a combination of lifestyle changes (including regular exercise and eating a balanced diet); talking treatments such as cognitive behavioural therapy, counselling, or psychotherapy; and antidepressant medication.
Some people with SAD may also wish to try light therapy, which involves sitting facing a special lamp designed to mimic sunlight. It's thought these bright lights may improve symptoms by encouraging the brain to increase the production of the hormone serotonin, which affects your mood, while also reducing the production of another hormone called melatonin, which makes you sleepy.
However, the National Institute for Health and Care Excellence (NICE) cautions that the evidence for light therapy is as yet "uncertain," as "only small, inconclusive trials have been carried out." So if you are considering trying a SAD lamp, you should do so alongside support from your therapist or GP, who will also be able to advise you whether there is any reason exposure to very bright light may not be suitable for you (for instance, if you have certain eye conditions or are taking medication that increases your sensitivity to light).
Light therapy is not usually available on the NHS, so if you want to try it, you'll need to buy a SAD lamp. To find out what you should be looking for, we spoke to five mental-health experts, including psychotherapists and psychiatrists, who say some of their clients have benefited from light therapy alongside talking treatments. "These lights really can help the person with their moods," says Glenda Roberts, BACP accredited psychotherapist. "They can uplift them, help them to feel light again and invigorated."
What should you look for in a SAD light?
As doctors and therapists, many of the experts did not want to endorse specific products, but they did provide guidance on the criteria a good SAD therapy light needs to meet. "Look for lightboxes with an intensity of 10,000 lux — this means it's at a level of brightness that's been recommended by doctors," says Fatmata Kamara, specialist nurse adviser for Bupa UK. "You'll also know whether the light has a medical classification by looking at the packaging — somewhere on the box it will say that it's been registered with the Medicines & Healthcare products Regulatory Agency (MHRA)."
To register with the MHRA, medical devices must be safe to use and meet certain standards. Light-therapy products may be marked as a Class I or Class IIa medical device. The classification takes into account the potential risks associated with medical devices, so products will be considered Class I if the user experiences minimal duration of light exposure (as with a sunrise alarm clock), or as Class IIa if users will be exposed to the bright light for longer.
"To make a product a 'Class II medical device,' the company should go through a certain registration and product validation process, so these devices usually have a higher price range," says Dr Olga Runcie, consultant psychiatrist at BMI Albyn Hospital. Dr Runcie and Kamara both advise choosing a lamp that emits a bright white light and one that doesn't emit UV radiation. Dr Runcie adds that "it is important to note that as these devices are free from UV light, they do not boost vitamin D level (people commonly assume that they do)."
But aside from that, which SAD light will be right for you comes down to personal preference. Lindsay George advises thinking carefully about how the light will fit into your lifestyle and home. Do you want one that can be moved from room to room or even popped in your bag and taken to work? Would you like it to have a timer? A sunrise function so it gradually warms up to full intensity? Roberts suggests you ideally research and trial three different lamps to "get a sense of what feels right for you" as "there's no one product that will be suited to everyone." So check out returns policies and ask suppliers about the option to try a product before buying. Always read the information leaflets included with your light, as they will detail how to use it as well as how long to use it for, which varies from model to model.
One last thing to note: If you (or the person you are buying this product for) suffer from SAD, you may be eligible to claim back or be discounted the cost of VAT on these lamps.
Best overall SAD lamp
Best portable SAD lamps
Best desktop SAD light
Best large SAD light
Best multi-function SAD light
Best wall-mounted SAD light
Best sunrise alarm clocks
The Strategist UK is designed to surface the most useful, expert recommendations for things to buy across the vast e-commerce landscape. Read about who we are and what we do here. Our editors update links when possible, but note that deals can expire and all prices are subject to change.