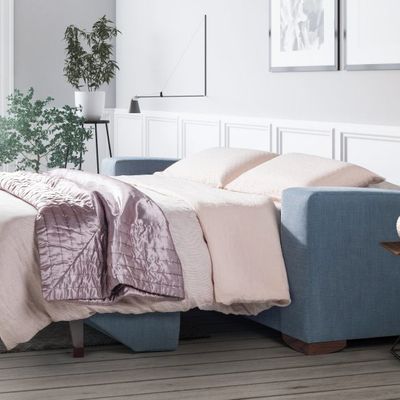 Photo: CreativaStudio/Getty Images/iStockphoto
When buying a sofa bed, it's hard to know which to prioritise: the sofa or the bed. On the one hand, a sofa that doesn't look good will disrupt any well-decorated room. But on the other, opt for something that doesn't prioritise comfort and you may be condemning your guests to a bad night's sleep.
"When I think of sofa beds of the past, it invokes memories of a boxy-shaped sofa with a pull-out mattress on a rickety and squeaky frame," says Shareen Kapoor, director of Shareen Kapoor Interiors. "They weren't always comfortable, and styles and colour options used to be limited. But the sofa beds of today are sleek and stylish, allowing you both the space your room needs and the comfort factor for a good night's sleep." We approached nine experts across the board, from furniture bloggers to interior designers, and asked them to recommend the best sofa beds on the market. They came up with this list of options — including everything from the best single sofa bed to the best electronic sofa bed to the best sofa bed with built-in storage.
Best overall sofa bed
Made was the most popular sofa-bed manufacturer among our nine experts, with its Haru sofa specifically getting two recommendations for its combination of style, size, and reasonable pricing. "I love the retro-inspired design and plush velvet," says homeware designer Eva Sonaike. "It can brighten up any room and fits a wide range of design styles." Rachel Newcombe, editor of Fresh Design Blog, endorses the sofa for its convenience. "It's easy to unfold and put back together again," she says. "And if you're really short on space, they even do the same design as a single sofa bed." Another plus point of the Haru is its impressive range of colours. Newcombe's favourite is "gorgeous" Butter Yellow, while Sonaike opts for Flame Orange Velvet.
Dolapo Oni, managing director of property development firm CityGate, is another fan of Made — he recommends its Barrow sofa bed not only for its "gorgeous, luxurious" seafoam colouring, but for its impressive levels of comfort. "It's a nice, compact but well-apportioned sofa, so it feels substantial in a small space," he says. "But the great thing about it is the mattress, which is firm but comfortable." Quilted lumbar-support cushions mean it's just as comfy for sitting as it is for sleeping. [Editor's note: This product is currently out of stock.]
Best "click-clack" sofa bed
Many modern sofa beds are fitted with a "click-clack" mechanism — named for the sound made when converting the piece from sofa to bed in a single movement, with the back folding down. Click-clack sofa beds tend to be the most convenient, as they lock easily, and quickly, without the threat of slipping. Kapoor's favourite click-clack piece is this one from Mano Mano, which is currently on sale. "For the small price point, you can make a huge impact with this Deco-inspired sofa bed," she says. "It's easy to use as it clicks into place quickly with little effort, it's perfect for tight spaces, and it's a striking statement piece."
Best more expensive sofa bed
"Often with sofa beds, you either have to compromise on the comfort of either the sofa or the bed, but with this corner chaise sofa, you really do get the best of both," says Simeon Thompson, director of Clapham's JSJ Design. "The generous duck-feather-filled cushions make for cosy and soft seating, while the pocket sprung mattress will definitely go down well with your guests." It comes with 44 different upholstery options and three different options of feet, meaning you can customise it to match your chosen space.
Best designed sofa bed
"Sleeper sofas are typically so run-of-the-mill, built to serve a function," says Tor Sauder, one half of the creative duo behind Brooklyn-based design studio Nune. That's why she's a fan of the Madison sofa bed from homeware retailer Nest. "This kind of design detail is rare — we like the arm detail with the fabric wrapping up and over the arm," she says. "Sleepers are also commonly quite chunky, so we like the more delicate lines, including the single seat cushion."
Best small sofa bed
For those looking to maximise space, Loaf's innovative "Cloud" love seat–sofa bed combo is a good bet. With its plump, feather-wrapped foam seat cushions, it lives up to its name. "I love the soft shape," Eva Sonaike says. "It's so cosy and comfortable, perfect to snuggle up to watch a movie on a rainy Sunday." The seat folds out into a single-mattress bed, making it a perfect choice for rooms without space for a sofa — but if you're looking for something that seats more than one, Loaf's Kipster Sofa Bed is also compact enough for small rooms. "It's super sweet," says Tor Sauder. "You could imagine it being used in a seaside cottage."
Best big sofa bed
At the other end of the spectrum, this sleepover-friendly sofa bed from M Sofas boasts a near-unrivalled 160 cm by 245 cm sleeping space — that's almost as big as your average king-size bed. "It can comfortably sleep two people without them being side by side, which is pretty unique if you ask me," says Alimah Sitta, founder of Four Corners Interiors. For its size, it's also surprisingly cheap — even at full price, it's much cheaper than many smaller sofas on the market.
Best futon sofa bed
If you're a futon fan, this smooth-looking "double duty" option from West Elm is based on the brand's already best-selling Andes sofa. Vanessa Agyemang, designer and founder of Copper Dust London, says it's perfect for those looking for a stripped-back Scandinavian aesthetic. "The clean, minimal design with the light upholstery is a winner for a modern contemporary home," she says.
Best sofa bed for an office
"We recently used this sofa bed in a project in Girona," says Bryan O'Sullivan, of Bryan O'Sullivan Studio. "We put it in the client's office for when they have extra people over to stay, and it's actually surprisingly comfortable." With a wide range of work-friendly colours and fabrics, the Lukas will fit right into any home office — the Contract Chair Company actually specialises in hotel and restaurant furniture, meaning its sofas are professionally rated and boutique hotel–worthy.
Best sofa bed with storage
Sofa beds can be useful space-savers — not just in terms of floor space, but in terms of storage space, too. This one, from John Lewis & Partners, features ample hidden storage in its conveniently moveable chaise section. "You can store bedding and pillows inside, ready for your guests to use," says Rachel Newcombe. "What's more, the detachable chaise section makes it super flexible for fitting into your space." Newcombe is also a fan of the sofa's attention to comfort. "The mattress is made from foam, so it's supportive for sleeping," she says. "And you can choose from a fantastic range of different fabrics."
Best electronic sofa bed
"What I love about this sofa bed is the electric mechanism," says Shareen Kapoor. "It's so easy to use: You just press the button and it opens into a comfortable bed, ready for sleep." The E-Motion comes with a full-size bed mattress, as well as a range of customisable options — from the choice of a firmer or softer seat to the option of extra storage within the sofa's arms. Kapoor's choice? The Linwood Lana, in Sea Green.
The Strategist UK is designed to surface the most useful, expert recommendations for things to buy across the vast e-commerce landscape. Read about who we are and what we do here. Our editors update links when possible, but note that deals can expire and all prices are subject to change.