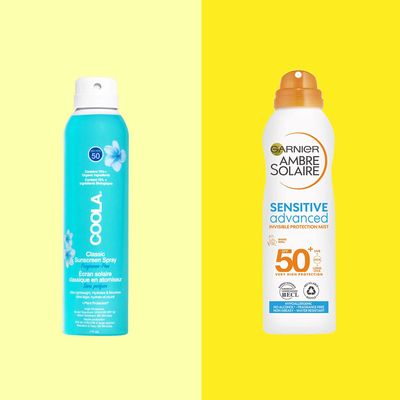 Photo-Illustration: The Strategist; Photos: Retailers
Applying sunscreen is often the low point of a summer's day out. Everyone should wear it, and yet different skin types, sensitivities, and activity levels can make picking the right one tricky. Plus, all too often it's sticky, chalky, or unpleasantly scented, making application an experience to be endured and not enjoyed. So, we asked ten experts, from athletes to beauty editors, for their favourite body suncreams, from the best for sports to the best for sensitive skin.
Best overall
This lightweight, non-greasy option is the favourite of beauty editor Ava Welsing-Kitcher. "It feels like a body lotion and it smells heavenly. Being mixed-race, some SPFs can leave a white cast but this adds a really lovely sheen to my skin", she said, adding that she often finds sunscreen for the body unpleasantly greasy. "But as soon as I tried this, I realised it's too delightful not to use." Beauty editor Cassie Steer agreed, saying, "Despite being a beauty editor, I've often shirked body lotion due to the gloopiness and faff.
However, Caudalie Milky Sun Spray hits the spot texture-wise; it's lightweight and silky rather than sticky, and it has a lovely soft frangipani scent that immediately makes me feel nostalgic." The other big selling point of the SPF is its green credentials. As Steer explained: "It doesn't contain any of the offending chemicals thought to harm coral." Welsing-Kitcher noted that the packaging is also biodegradable. The Caudalie spray is currently out of stock. For a vetted spray alternative, try this Sun Bum classic. It costs less than £20 a bottle, is reef safe, and packs in a bunch of moisturising ingredients alongside its sun-protective properties.
Best suncream spray
If you want a rapid option, it doesn't get much faster than a mist. Refinery29 beauty editor Jacqueline Kilikita said, "I'm lazy and rubbing in sunscreen feels like such a chore, but this spray is seriously smart and takes the faff out of staying safe in the sun. The continuous mist covers limbs in seconds and absorbs almost instantly, so you won't get stuck in your clothes." Makeup artist Shareen Gerald agreed, saying "It's so hassle-free and gives you complete UV protection. There's a few scent options, but my favourite is the Guava Mango. It smells like a holiday in a can. It feels really refreshing and it's so easy to apply. Because it's a super-fine mist, it's basically invisible and doesn't go chalky on my dark skin." If Guava Mango isn't for you, there's also Tropical Coconut, Pina Colada, which are all-natural scents, but there's also an Unscented option if you prefer. Like Caudalie, it's reef-safe, and it also has Omegas 3 & 6 to hydrate the skin.
Best budget suncream
This affordable option is the top choice for conservation expert Katie Fidzcuk-Sterry, who spends long days outdoors and has sensitive skin. "I found this product years ago after doing the rounds of various 'sensitive' suncreams and it's the one of the only ones that ticks all the boxes for me. I'm outside the majority of the working week from Spring to Autumn, so I need something with high protection that won't aggravate my eczema. Garnier Ambre Solaire Sensitive Advance Dry Mist Spray SPF 50 has broad-spectrum protection, is totally sweat resistant and doesn't irritate my skin." She also likes that the spray applicator makes it quick and easy to re-apply, from any angle. Fidczuk-Sterry said it's also non-greasy, no matter how many times she reapplies, noting, "I get through a lot of sunscreen being so pale and being outdoors all day, so I need something cheap, and this is just perfect."
Best suncream for sport
If you're going to be working up a sweat, you need something especially long-lasting. "I've been using Nivea Sun Protect & Moisture Spray SPF30 for about five years," said Kate Maxey, a personal trainer and athlete who's played hockey for England. She said she's tried cheap and expensive ones over the years, but always comes back to Nivea. "I often get prickly heat when it's really hot, and this doesn't aggravate it or make it worse. I'm always super active so I need a lotion that won't immediately sweat off." The other benefit Maxey mentioned is the superior texture: "It's not greasy at all and it's very quick to absorb into my skin, so I spend less time on application and more time having fun!"
Best suncream for sensitive skin
Sensitive skin has an especially hard time in the sun, from prickly heat to eczema and allergies. Lots of sunscreens, especially scented ones, can prove problematic, but beauty blogger Lex Gilles said she's found the perfect one in Vichy Solar Protective Water. "It's really easy to apply, doesn't feel sticky or heavy on the skin, and crucially, it doesn't irritate my sensitive skin." While you might equate heavyweight protection with a heavyweight texture, Vichy Solar Protective Water manages to combine SPF50 with a very light feel. Gilles explained, "It goes on exactly like water, so it actually feels really nice to apply which is rare. It totally avoids that horrible smothering heavy feeling that some high factor sunscreens have!"
Best suncream for dry skin
Sunscreen and dry skin can be a difficult combination, as some of the preservatives or filters found in SPF can exacerbate dryness. "I love the Institut Estederm Sun Care Oil because it's alcohol-free, and alcohol can be very drying," explained Gerald. The oil also has Vitamin E and rice bran extract to lock in moisture, and is also free from potentially irritating silicones. Despite being an oil, Gerald says it's not at all greasy, saying "The texture is wonderful — extremely nourishing but also not tacky, so you can put clothes on straight away and you'll be fine. It's one of my favourites every summer."
Best multi-use suncream
Did you know your hair needs sun protection, too? Especially lightened or heat-treated hair, which is already weakened and so more vulnerable to sun damage. "The lightweight formula of La Roche Posay Anthelios Protective Oil SPF 50+ isn't the slightest bit sticky, and it's easy to rub on," said Stylist Senior Beauty Writer Hanna Ibraheem. "I always use a handful through the lengths of my hair as well as my body. Despite being an oil, it doesn't feel greasy, just hydrating and soothing." A friend of Ibraheem's recommended this to her before a two week beach holiday a few years ago, and she's not looked back since. She also said that she spent her childhood applying sunscreen, as so many left "a powdery white cast on my skin and were impossible to spread. There are so many different kinds of SPF now and they're so much more suitable for deeper skin tones, too."
This La-Roche Posay oil SPF is currently out of stock, but another French brand's moisturising SPF for hair would work — that's below.
Best tattoo-preserving sunscreen
This spray was brought to our attention by tattoo artist Mira Miriah, whose client roster includes celebrities like Ariana Grande and Ilana Glazer. According to Miriah, the best thing you can do for your tattoos "is avoid the sun," but if they are getting exposed to sunlight, slathering them with a "water-resistant, mineral-based, and fragrance-free sunscreen" is essential. Tattooist Em North agrees: "I can't stress enough — protect your tattoos from the sun or they will fade. I've seen it happen on my own body."
Some Strategist-recommended facial suncreams
Photo: retailer
"It's my favourite sunscreen," says aesthetician and founder of the Black Skin Directory, Dija Ayodele. "It's a highly moisturising gel texture that doesn't irritate the skin, even after something like a chemical peel. I've gone through several bottles since I tried it last year. I only wish the size was larger!" The clear formula ensures no grey or white tones, even on darker skin tones, and the gel consistency means any make-up you apply afterwards won't slip or slide off.
Neutrogena Ultra Sheer SPF50+ is the product of choice for internationally-ranked triathlete, Sophie Corbidge. "I've been using this nonstop for four years. It's really easily absorbed without feeling sticky or like your face is really coated with something." Corbidge said the consistency sits perfectly between thin and watery and thick and paste-like, "It's the ideal level of spread-able without being greasy, maybe a little thicker than a normal moisturiser, but that makes it easy to see where you've applied, then it absorbs quickly." And crucially, Corbidge says it's super long-lasting and withstands her tough, four-hour swim and cycle sessions. [Editor's note: Cordige's choice is currently unavailable, but we suggest the SPF45 version.]
The Strategist UK is designed to surface the most useful, expert recommendations for things to buy across the vast e-commerce landscape. Read about who we are and what we do here. Our editors update links when possible, but note that deals can expire and all prices are subject to change.