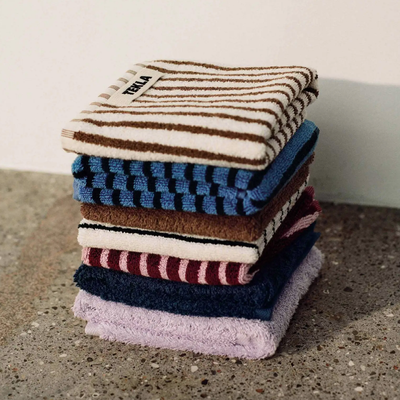 A good-quality towel adds a layer of luxury to the briefest shower or soak in a tub. But, as with linen, there are sizes, colours, and thread counts to consider as well as different styles depending on your needs (shower? Gym? Beach?). We spoke to ten experts — including interior designers, bloggers, and the founders of a creative consultancy — to find the towels worth investing in. We also cross-checked reader reviews across Amazon, H&M Home, John Lewis, and Made. We're confident we've found some of the best towels out there, from the best hand towels and towel sets to the luxurious ones primed for a splurge.
Best overall | Best (less expensive) | Best splurge-worthy | Best Egyptian cotton | Best extra thick | Best hand | Best environmentally friendly hand | Best set | Best patterned | Best hammam style
Absorbency: The most important quality of a towel is its ability to absorb water from your body while staying plush and not getting soggy. Absorbency is measured by GSM, or grams of fabric per square metre. The higher the GSM, the thicker, softer, and more absorbent the towel is going to be.
Material: The kind of towel you'll take to the gym or beach will be different from the ones you use to dry off after a bath. Egyptian cotton has longer fibres, making it soft, plush, and particularly thirsty. Turkish-cotton fibres are shorter, which means they're lighter and faster drying than Egyptian-cotton towels (if not quite as absorbent). Then there's Supima cotton, which has extra-long fibres but doesn't feel quite as plush.
Best overall
Photo: The White Company
500 GSM | 100 percent cotton
Four experts we spoke to loved the "plush, hard-wearing" towels from the White Company, including Alex Stedman, editor of the Frugality, John Robertson, editor of the Everyday Man, and Jess Hardy, founder of the ethical leather-goods brand HDY. "Quality-wise, you get what you pay for," notes Stedman, who said every time they come out of the wash, they feel brand new. "They're hard-wearing and — most importantly — soft to touch," added Robertson. Hardy notes that while these towels aren't cheap, the White Company run frequent sales. And though these towels are "massive and supersoft", she adds that they don't take an age to dry.
Stedman says the towels are made from strong "low twist" cotton. "I have charcoal chunky ribbed ones, and I've never looked back." The White Company lists this as "HydroCotton", which I found out is made by creating a "hollow" core in the yarn fibres. This helps wick away moisture, and the cotton contains a tiny (i.e., not even one percent) amount of polyester to treat it.
Best (less expensive) towels
Photo: John Lewis
600 GSM | 100 percent cotton
When I replenished my towels earlier this year, I knew I needed to go and give any potential candidate the "squeeze test" in person. I'd budgeted for a couple of "luxury" towels, but after feeling these everyday Egyptian-cotton ones from John Lewis, I ended up buying four instead. Their 600 GSM makes them thick and plush, and seven months in, they haven't succumbed to starchiness after being washed in the rock-hard water of my part of London. They're also a solid gym staple thanks to a natural peppermint treatment that Robertson says "helps them to remain odour free".
Best splurge-worthy towels
Photo: retailer
600 GSM | 100 percent cotton
Four of our experts spoke highly of Tekla, the Copenhagen-based, sustainable homewares label started by Charlie Hedin. (Hedin's formidable style credentials include working for Acne as well as the cult footwear brand Eytys, which he co-founded.) These are 600 GSM, bang in the middle between the White Company's Egyptian-cotton range and its more affordable ones, and they are made with 100 percent cotton. They are pricey — a standard bath towel is £55, with a bath sheet going up to £85 — in lush colours that help Charlotte Rey and Duncan Campbell of design partnership Campbell-Rey deem them "the coolest towels around". (There's a reason they're in both our Strategist 100 and Nonobvious Wedding Registry guides.)
Similarly, Jordan Cluroe and Russell Whitehead — interior designers, co-founders of 2LG Studio, and co-authors of Making Living Lovely — recommend Tekla to clients because of the towels' "clean, crisp colours and fantastic quality".
Laura Reilly of the newsletter Magasin owns the bath sheets in Racing Green, a white towel with thin dark-green stripes, and likes to feature them prominently in her linen storage "in open shelving in public view". She says they have "a great bounciness, almost like a marshmallow".
Best Egyptian-cotton towels
Photo: The White Company
700 GSM | 100 percent cotton
Robertson specifically likes the White Company's Luxury Egyptian Cotton Bath Towels, made of a soft, thick cotton terry. "The classic white design is absolutely timeless," he says, and versatile enough for any décor style. They're slightly more expensive than the HydroCotton option but not by much.
Best extra-thick towels
Photo: Marks & Spencers
800 GSM | 100 percent Egyptian cotton
When our US colleagues recommended an 820 GSM Brooklinen towel in their own guide, we knew we had to find a UK alternative. Instead, we found a load of 800 GSM options at the always reliable Marks & Spencer. Compared with John Lewis, M&S offers less in the way of colours, but the colours it does sell are classic — pale blues and greens as well as some neutrals. This is a well-reviewed towel set with over 300 reviews, two-thirds of which are five stars. Customers praised the thick, absorbent material, though the most common complaint was the lack of colour options. This might be the best thick set if you're stocking an already neutral bathroom as the towels will likely complement what you already have.
Best hand towel
Photo: H&M
600 GSM | 100 percent cotton
Stedman recommends H&M Home for towels because it has "a really great selection of great colours and cool prints. Pretty much all my hand towels are from here". These are also where I bought all of mine when I moved into my flat four years ago. The range of colours include shades such as Pistachio and Burnt Orange, which can complement your existing colour scheme or, if you err more maximalist, will make nice clashing accents. These are the towels that Robertson, of the Everyday Man, says he always has in his bag. According to him, "John Lewis do some fantastic homewares, and these cotton towels are no exception." For him, these 100 percent cotton towels are ideal for use at the gym because they're "finished with an innovative natural peppermint treatment that helps to keep them fresher and cleaner for longer". John Lewis claims this peppermint treatment is antimicrobial, which is great if you need to transport the towel in a sweaty gym bag. And Robertson reassures anyone who might not be keen on mint that the towels are foremost for practicality: "Don't freak out that these are scented; they're not. The treatment simply helps them to remain odour free." They're midweight at 580 GSM and come in a range of sizes, so they would be suitable for use in the bathroom as well.
Best environmentally friendly hand towel
Photo: H&M
Unconfirmed GSM | 100 percent cotton
We wanted to also highlight these waffled hand towels from H&M Home's environmentally friendly "Conscious" range. They're an incredibly good value for money — a hand towel costs less than a pint. H&M hasn't disclosed the GSM of these towels, but all the towels with a GSM listed have a GSM of 600. We've asked H&M to confirm this and will update the post when we know more.
Best towel set
650 GSM | 100 percent cotton base, 100 percent linen border
If you're looking to stock up on a set of bath towels on a tighter budget, Isabel Doraisamy recommends the sets from MADE (the exact set recommended has since sold out, but we've found a suitable replacement).
The towels come with a 100 percent linen border and are a hefty 650 GSM. The set comes with two hand towels and two bath towels, so it would be ideal for when guests are staying. Doraisamy says Made's towels are "really reasonably priced and unique in design". She likes that you don't have to sacrifice elegance for price as the towels "come in a range of neutral colours that all have a contrasting (and very satisfying) coloured trimming".
Best patterned towel
Photo: End.
700 GSM | 100 percent cotton
Dusen Dusen came recommended by several experts, and we previously named it as having the best towel set. Since then, however, supply-chain issues have made ordering from the Spanish company incredibly difficult (a £130 set of towels would have cost an extra £86 in VAT), and the sets are hard to find in the UK. Still, the maximalist towels came recommended by a host of in-the-know people, including Russell, Jordan, Rey, and critic Alexandra Lange, so we have declared these the best patterned towels. Russell said that after using these towels while staying with friends, they "couldn't stop thinking about them" and ordered some for themselves.
The towels are covered in richly coloured stripes on both sides, which gives them a distinctive, reversible contrast. They come in complementary blends of warm and cool tones or in a monochromatic geometric print. The towels are nicely thick at 700 GSM and made from 100 percent terry cotton; in Russell's words, they "really make you feel special".
Best hammam-style towel
Photo: ebbflowcornwall
Unconfirmed GSM | 100 percent cotton
​​Turkish towels (also known as hammam or peshtemal towels) are a lightweight, fast-drying alternative to thick cotton towels. Two of our experts were big fans — especially when they're outdoors or on the go. "For holidays, I only use hammam towels," said Stedman. "They're affordable and don't take up much room in your luggage." Hardy had a similarly glowing review: "They're light to carry, don't pick up sand, and dry quickly." She added that, unlike conventional towels, they are incredibly versatile for outings: "You can double it up as a picnic rug for the park." (When recommending Turkish towels in the past, we've been told you can use them as tablecloths, bedspreads, and sarongs too.) Because of their fast-drying quality, these would be a great bath-towel option for people who shower twice daily.
While Stedman recommended John Lewis's hammam towels, these are now discontinued. Hardy said she's always on the lookout for hammam towels with "more authentic, neutral tones". She pointed us to the Logan Hammam towel, which you can find in boutiques or via sites such as Trouva.
Some other towels we've written about:
Jordan Cluroe, interior designer, co-founder of 2LG Studio, and co-author of Making Living Lovely
Duncan Campbell, co-founder of Campbell-Rey
Isabel Doraisamy, designer
Jess Hardy, founder of HDY
Alexandra Lange, design critic
Laura Reilly, editor of newsletter Magasin
Charlotte Rey, co-founder of Campbell-Rey
John Robertson, editor of the Everyday Man
Alex Stedman, editor of the Frugality
Russell Whitehead, interior designer, co-founder of 2LG Studio, and co-author of Making Living Lovely
The Strategist UK is designed to surface the most useful, expert recommendations for things to buy across the vast e-commerce landscape. Read about who we are and what we do here. Our editors update links when possible, but note that deals can expire and all prices are subject to change.