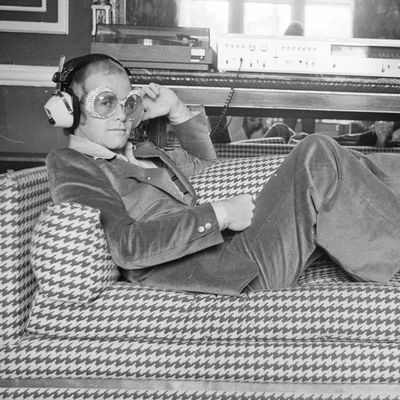 Photo: D. Morrison/Getty Images
Beyond style and general "sound quality", it's often difficult to understand what sets the truly great wireless earphones apart from the merely okay — and to know which pairs are worth splashing out on when prices can often soar into the hundreds of pounds.
We asked seven experts for their opinions. Ranging from sound engineers, DJs, beatboxers, and hearing-loss specialists, our experts tended to agree on some specific criteria. They stressed the importance of a strong, reliable Bluetooth connection, good handling of bass and treble, and, in higher-end headphones, the ability to adjust audio presets to suit both the needs of your ears and the environment you're listening in. Below, the best wireless headphones on the market right now, both in-ear and wraparound, across a range of prices. These include the best options for battery life and the best for those hard of hearing, as well as plenty of pairs with a range of sound-hacking benefits for self-proclaimed audiophiles.
Best overall wireless headphones
Apple's in-ears are one of the few headphones which received three separate thumbs-ups from our experts. Their fans include Yaniv Fridel, the head producer and composer at Soho Sonic Studios, although not necessarily for the reasons you'd think. "You can find similar or better sound quality in even cheaper earpods", he explains. "But we [audio professionals] like a natural and balanced frequency response without any low-end boosting and extra sparkle in the highs, which the AirPods definitely provide. The mid-range frequencies are very clear, which helps when listening to vocals or podcasts, while the treble is a little shaped and rounded in the edge to avoid harshness but still maintain excitement". The award-winning beatboxer and live-looping pioneer Beardyman agrees. "They really are in an entirely different league to Apple's earlier bundled earphones", he says. "They deliver whopping amounts of well-balanced bass, and they're clear enough that you can use them as your primary listening headphones and not miss the more expensive alternatives". [Editor's note: If you find AirPods don't fit your ears, you may want to try AirPods Pro].
Best wireless headphones on a budget
On the headphone market, wireless is often synonymous with expensive, especially when even Apple are releasing their newest AirPods at an RRP of almost £250. That's why Taotronics's SoundLiberty 77s are such a revelation, seeing as they retail for less than £40 without too big a drop in quality. "They offer quite a good sound for an earbud of their price", says Fridel. "They're very well designed and comfortable to wear, they rarely need to be adjusted, and they offer a great balance between the low and mid-high frequencies". Fridel also praises their reliable Bluetooth connection, the dependable five-hour battery life, and a compact charging case, which means you're never likely to run out of charge on the move. You can even use each earbud independently without affecting the other's battery life, a neat little quirk for an inexpensive product. [Editor's note: The SoundLiberty 77s are currently out of stock, but we've found these SoundLiberty79s, a later model from the same brand.]
Best wireless headphones for sound quality


Sony's offerings monopolised our experts' recommendations more than any other manufacturer, with this specific product coming up time and time again. According to Obi and Uche Ebele, better known as the production duo Da Beatfreakz, this set really excels in sound quality: "Even though these headphones are made for noise-cancelling, they still receive great quality sound". These sentiments are echoed by Brian d'Souza (a.k.a. DJ Auntie Flo), the managing director and founder of bespoke-playlist curation platform Open Ear Music. "They provide a spacious, open sound that delivers strong separation between instruments", he says. "They make vocals sound direct and focused, too, for that 'in the room with the band' experience".
Best noise-cancelling wireless headphones
When it comes to noise cancellation, Bose are the front-runners in their field — that's why three of our experts chose these as the cream of the crop when it comes to blocking out background noise. "A lot of headphones say they cancel noise, but these headphones block all outside noise", say the Ebele brothers. Charlie Powell, a DJ and presenter at Kiss FM, admires them for their crisp sound quality, their "easy-to-use" touch controls, and their light, comfortable fit.
Best wireless headphones for audiophiles


While Sony and Bose both got a lot of love from the professionals, nothing whipped our in-the-know experts into quite as much of a frenzy as the Nuraphone. Described by manufacturers Nura as "the only headphone to automatically learn and adapt to your unique hearing", the Nuraphone is most popular for its audio adaptability — something which isn't lost on a sound geek like Beardyman, who describes them as both "a revelation" and "nuts". "I've never heard anything like them", he explains. "They're designed by an audiologist, and they calibrate to your ear canal and eardrum by sending a series of audio pings into your ear during the setup process. This allows them to fit a unique listening profile to your uniquely damaged and weird-shaped inner ear". Mike Avgeros, studio manager at Soho Sonic, says they offer specifics that only a true audiophile could dream of — like "a detailed frequency range expanding from 20 Hz to 20K Hz" and "background noise-cancellation which makes you feel like you're the only person in the world". His only criticism? "It would be great to have more colour options".
Best-designed wireless headphones


Scandi speaker manufacturers Bang & Olufsen are well known for their aesthetically pleasing electronics, so it's no surprise that a pair of their own-brand headphones are possibly the nicest looking on the market. They're not just a pretty headset, however, as d'Souza attests. "Not only are they gorgeous to look at, but the sound quality is amazing", he says. "Noise cancelling comes as standard, and the soundstage is wide, open, and precise. The bass tones are satisfyingly deep, the mid-tones are crystal clear, and the high frequencies are crisp and energetic". You can choose from a selection of colours, including Natural, Clay, or Pine.
Best wireless headphones for those hard of hearing


"Most wireless headphones are suitable for mild hearing loss — however, there are specially designed amplified wireless headphones for moderate to severe hearing loss", says Kevin Taylor, product technologist at Action on Hearing Loss. "These provide a louder volume and have features to improve clarity of speech. Amplified wireless headphones are ideally suited for TV listening because the volume level of the headphone can be set independently from the TV loudspeaker, which is particularly important for mixed hearing and hearing-loss households". Taylor recommends the Geemarc CL7400 both for their versatility and adaptability when it comes to TVs, PCs, and smartphones but also for their 125dB SPL volume boost ("much louder than non-amplified wireless headphones") and the possibility of adjusting the treble, the mono, and even the volume separately in each individual headphone ("ideal for those with hearing loss in one ear"). But Taylor warns that "amplified wireless headphones are not suitable for people with normal hearing", due to their high sound levels.
The Strategist UK is designed to surface the most useful, expert recommendations for things to buy across the vast e-commerce landscape. Read about who we are and what we do here. Our editors update links when possible, but note that deals can expire and all prices are subject to change.