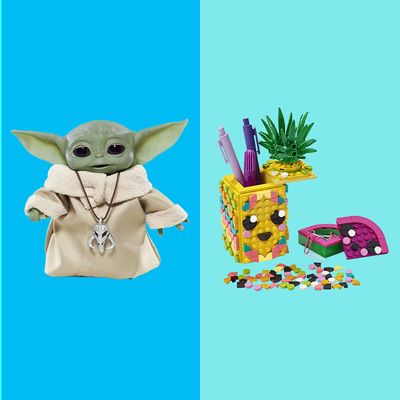 Photo: Courtesy the vendors
Holiday shopping may feel a little different this year. Parents are unlikely to be battling the crowds on the high street, but that doesn't mean there won't still be a scrabble to buy the hottest toys before they sell out online. So to help avoid disappointment on Christmas Day (or a festive birthday), we've spoken to ten experts — including trend forecasters, play psychologists, and parenting editors — to investigate which toys are going to be at the top of kids' gift lists this year, (Santa, take note). Plus, we've also got gift guides for younger kids, including 6-month olds, 1-year-olds, 2-year-olds, 3-year-olds, 4-year-olds, and 5-year-olds. Read on to find out which toys you should prioritise shopping for this year.
This year's hottest overall toy
This cute animatronic toy may prove difficult to get hold of this Christmas due to high demand, according to Rachael Simpson-Jones, editor of trade magazine Toy World, and Joanna Feeley, founder and CEO of Trend Bible. "You don't need to be a Star Wars fan. You don't even need to have seen The Mandalorian to see his appeal," explains Simpson-Jones. Hasbro's The Child Animatronic edition was originally made available for preorder in the U.S. back in February but sold out less than a day after it was listed on Disney's online store. It is now available for preorder on Amazon U.K., but demand is set to increase even further in the coming months, according to Feeley, who says, "Once there's a second season on Disney+, it will go absolutely wild."
This toy is also predicted to be a best seller by Sonia Whiteley-Guest, strategic business consultant and founder of All About the Doll, and Uju Asika, blogger, digital consultant, and author of Bringing Up Race, who channeled Yoda when she said, "For words, too cute it is." Feeley adds that, throughout the coronavirus pandemic, Trend Bible has noticed "a desire for children to have their toys become little friends, probably as a result of them being isolated," and so she thinks this animatronic toy "will have extra resonance this Christmas, as it can comfort and reassure children through these strange times." [Editor's note: This toy is available for preorder.]
This year's hottest LEGO
LEGO is the toy most children (between ages 3 and 12) look forward to owning, according to Kids Insights' 2020 data. "It is extremely popular across all age groups, and that has grown again throughout lockdown," says Sarah Riding, research and trends director at Kids Insights. Tinuke Bernard, a blogger who founded Circus Mums, believes this is because "people have been at home and have got back into slower-paced projects, so LEGO has been a must-have." Riding predicts that the Super Mario range, in particular, will be in high demand this December, due to the canny combination of two long-standing brands, which taps into a trend for nostalgia that both Feeley and Simpson-Jones have noticed emerging. "I think a lot of parents who are fans of LEGO are going to see an added opportunity to bond with their kids over a shared love of Super Mario with this toy," adds Simpson-Jones. "It's a good opportunity for a shared play experience." For parents whose kids are into gaming, this set also potentially provides another benefit, as Asika explains: It is "a great way to get them off their devices!"
Simpson-Jones thinks the success of the LEGO Super Mario range also comes from the fact that "it covers a lot of price points, so it's accessible for all kinds of budgets, from pocket money all the way up to the big-ticket items." These Minifigures are a good option for stocking fillers.
This year's hottest collectible toy


"L.O.L. Surprise! is a brand that can do no wrong and still seems to be captivating children," says Bernard. "Christmas after Christmas, this brand is found either in stockings or wrapped up under the tree, and I don't see why this year would be any different," adds Simpson-Jones. This prediction is backed up by data from market-research group NPD, as its global toys-industry analyst Frédérique Tutt explains: "L.O.L. Surprise! remains the No. 1 toy brand in 2020 (year to date: week 33). Constant refreshes and new iterations explain its continued popularity." The O.M.G. Series 3 dolls are one of the latest offerings from the brand. They come with 20 surprises to unpack, and the packaging can be used as a dressing room.
The success of the L.O.L. Surprise! dolls has been bolstered by the release of higher-value play sets, says Simpson-Jones: "The playhouse they released last year was well over £100, but it was massively successful." This year, it is a miniature glamper van that is causing excitement among young fans, according to 8-year-old twins Hannah and Stephanie Yeboah, stars of the SHY Toys YouTube channel. "It's so realistic and there is so much to it," says Hannah. Feeley agrees that it "looks incredible." "We've had so much talk about 'staycations' this summer, and we're seeing children take those experiences and replicate them in the world of play," she adds.
There is one other play set that Hannah and Stephanie are eagerly awaiting and which their dad says currently holds the top spot on their Christmas lists. "I can't wait to get the L.O.L. Hair Salon," says Hannah. "It has so many surprises and has hair you can wash and style. I can't wait to try the colours and glitter on my own hair." [Editor's note: This product is sold out, but you can sign up to be alerted when it's back in stock.]
This year's hottest console toy
PlayStation is the console brand that comes in highest on Kids Insights' list of toys that most kids ages 3 through 12 look forward to owning. As more information is released about the latest Sony offering, Riding says she expects to see the PS5 at the top of children's wish lists: "Playstation is always something children are talking about with their friends." Elliott Rae, founder and editor-in-chief of Music Football Fatherhood, says the "unanimous view" among his team of parenting journalists is that this new console release will be popular this festive season. He adds that popular games to play on the PS5 will be FIFA and Fortnite. [Editor's note: This item is available for pre-order.]
Fortnite: The Last Laugh Bundle PS5 Game Preorder
This year's hottest Barbie


Tutt says that "dolls are poised for a strong Christmas" and cites Barbie Reveal as one to watch out for. The Barbie brand is currently holding strong in the third spot (after LEGO and L.O.L. Surprise!) in the Kids Insights list of the toys that most 3- to 12-year-old children look forward to owning. "Barbie is a brand that continuously innovates, and now they've got the Colour Reveal doll, which plays on the whole surprise element that continues to be really popular with children," says Riding. Each tube contains a pastel-coloured Barbie doll that has to be dipped in water to reveal her features.
This year's hottest Beyblade
These battling spinning tops first took over playgrounds in 2003, and their popularity still shows little sign of waning, according to Natalie Duvall, head of events at Dope Black Mums and founder of March Muses Christmas decorations. She says, "My 9-year-old nephew is obsessed with Beyblades. It keeps him entertained for hours, and there's always a new version to buy." Beyblades are also popular across the pond, with this set featuring on Walmart's predictions for the top toys for Christmas 2020.
This year's hottest card game


Tutt says that during lockdown, "classic games," such as Dobble, have proven to be popular with families looking for new ways to play together, "and as a result, the games and puzzles category records a 34 percent increase so far this year." Riding also mentioned that Dobble is a game kids tend to talk about with their friends. Play psychologist and Good Play Guide founder Amanda Gummer thinks the card game's success hinges on the fact it is "very accessible to children of all ages." "It's incredibly simple to set up and it is skill based, but it's not biased towards the older generation," she explains. "Sometimes you get a very observant kid who can wipe the floor with everybody."
In this take on the classic card game, players must find matching Hogwarts imagery, including house crests and mystical creatures.
This year's hottest board game
Monopoly is another classic game that has seen a resurgence in popularity during lockdown, according to Tutt, Feeley, and Riding. In fact, Monopoly saw a 42 percent increase in use between May and July this year according to Kids Insights' data. Tutt mentioned that NPD "believes that lighthearted games for kids, parents, and kidults will continue to do well" in the run-up to the holidays. So Monopoly Sore Losers, which was released in August, could prove popular with people looking for a new spin on an old favourite. It turns the traditional game play on its head, with things like paying rent, going to jail, and even going bankrupt actually helping players to win.
This year's hottest craft toy


LEGO has branched into another area that is seeing growth in the toy industry: arts and crafts. A wise move, as Feeley says she expects people will be spending more than usual on crafts this Christmas. "We're starting to see a blurring of lines between what is craft and what is a toy, with items like LEGO Dots, so I think that is something definitely to watch," she says. LEGO Dots launched in January, with a second drop of products launched in the summer. Whiteley-Guest says these are a "brilliant innovation from LEGO, encouraging imaginative play," as they "can be used to create so many things," from home-décor items to jewellery.
This year's hottest Tik Tok–inspired toy
Argos has reported a 12 percent increase in orders for kids' vlogging equipment on its website this year, and Tutt and Simpson-Jones both expect TikTok to have a big influence on toy trends this festive season. Whiteley-Guest envisions this camera being popular, as she says it "is a safer way to encourage kids to make their creative videos [rather than filming on phones]. It allows kids to shoot in green-screen too, creating the future special-effect experts."
This year's hottest STEM toy


John Lewis's toy buyers predict that this big-eyed robot will be a best seller this year. According to the press office, the department store has seen a 106 percent increase in electronic-toy sales, with parents looking for toys that will help their children further their learning through play. Gummer thinks this coding robot is a standout in the STEM-toy category because "it is really easy to learn how to use." "Parents can sometimes get put off by technology, because coding can feel a bit like another language. But this is a really straightforward introduction to coding and programmes, which also encourages imaginative play," she says. "Also, it's not screen based, which I think parents quite like, as with remote schooling, many kids have been on screens even more than they normally would have been."
This year's hottest preschool toy


Little CBeebies fans will instantly recognise this iconic spotty bag, which features a button that plays different sounds and phrases from Mr Tumble's show and comes with an "I'm a Shining Star" badge and a Makaton Find and Seek card game. "Kids love putting things in and out of bags, and this toy allows them to roleplay going to school or nursery — and, obviously, there's more anxieties around school at the moment," says Gummer. "So it's nice for them to have something that can make it feel fun."
The Strategist UK is designed to surface the most useful, expert recommendations for things to buy across the vast e-commerce landscape. Read about who we are and what we do here. Our editors update links when possible, but note that deals can expire and all prices are subject to change.