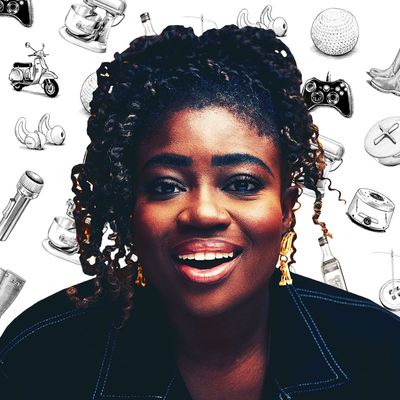 Photo: Courtesy of 4th Floor Creative
If you're like us, you've probably wondered what famous people add to their carts. Not the JAR brooch and Louis XV chair, but the stain-remover pen and the tongue-cleaner. We asked Radio 1 presenter (and Strictly Come Dancing contestant) Clara Amfo — whose podcast, This City, has just returned for a second season — about the lip balm, red-velvet cake, and "fly-girl jewelery" she can't live without.
I can't leave the house without my hoops. My producer, Leanne, actually bought me such a sweet gift the other day — it's a print that says "Put your hoops in, and remember who you are." I get my earrings from a lot of places, but one of my favorite jewelry designers is this amazing woman called Melody Ehsani — she's actually married to Flea, from the Red Hot Chili Peppers, although obviously that doesn't define her. They are a very cool couple. She's based in L.A. and makes what I call fly-girl jewelry. It's very hip-hop-inspired jewelry that I would want to wear if I was in a music video.
Last year, we did a special episode of the Live Lounge with Taylor Swift, so I got to go to New York. I had like, an hour free, so I literally legged it to Soho, to Melody's shop. I bought half the flipping store. Working in radio (and recording a podcast), I have to differentiate between "work hoops" and "non-work hoops" because sometimes the width is so large they make my headphones come off my ears. I usually wear flatter hoops for work, and then when my headphones go off, we go large. [Editor's note: This cost does not include shipping.]
When it's my birthday, people know this is the cake to get me. It's just so good, the frosting is so bouncy and moist. The one on Wardour Street is quite near the Radio 1 offices, but there's also one in Islington, and one on Frying Pan Alley in East London, where I live. They even have one on High Street Kensington, where I record my podcast. Trust me, babe, I'm very aware of all the branches in London. It got to a point where I was visiting the bakery more than once a week — the staff would see me coming and be like, "Hi again!"
I buy my studs in bulk off eBay because I lose them all the time. Once a week, I'm scrambling around my flat looking for my nose stud, and once a fortnight I stand on one that's on my floor, which is always painful, so I like to keep a few spare in my purse. If I turn any bag upside down, I guarantee a random nose stud will fall out. I got my nose pierced when I was about 19, and they did it the correct way — which is with a needle, instead of a gun — and it was the worst pain I can remember. But I'd feel naked without my nose stud — whether I'm presenting a red carpet, Top of the Pops, or doing Strictly, this thing never leaves my face (on purpose, anyway).
I am not someone who can skip breakfast: I need all three meals. So I have porridge every morning, with Alpro Coconut Milk, and a pinch of cinnamon. I also have a little bit of golden syrup with it, even though I'm not supposed to — I should be cutting sugar out as part of my Strictly training. But … YOLO. Life is too short.
I love a spicy, floral, musky scent. I don't like anything super girly. I'm that person that douses themselves in their favourite scent. I like to waft in it, and I to be able to smell it on my clothes. I was quite naughty because I started wearing this after noticing my best friend wearing it. I got a sniff, and I was obsessed — before then I wore Dior Panther. But once I smelled this, I was like, nope, this is me. Apparently David Beckham wears it, too.
Honestly, this is the only lip balm that I've consistently used for the last 12 years. Some lip balms actually make my lips drier, but this is the only one that works. I have the classic tin, as well as the squeezy tube, and although I stuck to the classic version, I have the cherry and pineapple flavours, too. I'm obsessed with skin moisture in general. My catchphrase is: "You'll never catch me ashy in these streets." I've always got some creams, some balms, some pot of something else, because the thought of having unmoisturised skin? I just can't deal with that.
I wear a lot of trainers, but these are my current favourites. I have been wearing the Nike x Sacai collaboration trainers for a few years, and I have them in three colourways — black and white, pink and green, and yellow and green. I just love the shape of them, and they go really well with both a trouser or a dress, and they're just an effortless statement trainer. [Editor's note: The next Nike x Sacai trainer drops on 6 November.]
This speaker booms really loudly, and I take it everywhere with me. I have it in my dressing room when I'm getting ready for a job, and I have it in the studio for Strictly rehearsals. I rarely do anything in silence; even when I read I usually have some kind of acoustic/study/chill playlist on in the background. If I listen to songs, I'll end up singing along and I'll get distracted. I'm always listening to podcasts, too. The battery life on this is really good, too, but I charge it every night, just in case. The artist I listen to the most right now is probably H.E.R, she was amazing on Saturday Night Live. I just think she's fantastic.
The Strategist UK is designed to surface the most useful, expert recommendations for things to buy across the vast e-commerce landscape. Read about who we are and what we do here. Our editors update links when possible, but note that deals can expire and all prices are subject to change.