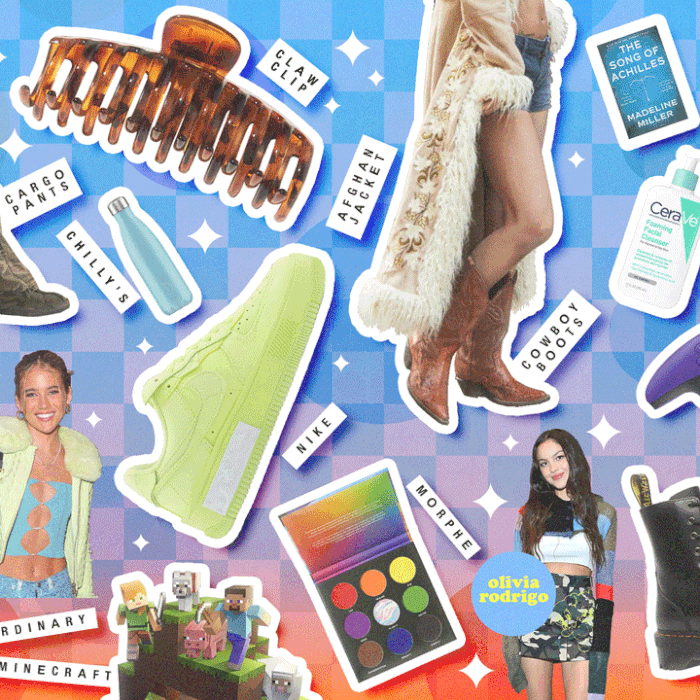 Over the past few months, we've been polling teens across the country about what they spend their money on. Two years ago, as the pandemic was beginning, the majority of secondary-school kids we spoke to were preparing for their GCSEs; now they're about to leave school (and maybe move away to university). So, as well as asking about the loungewear brands they turn to and the games-console waitlists they endured, we were interested in how two years, a pandemic, and intermittent lockdowns have influenced the way they spend their money. We were also keen to see if the emergence of TikTok has changed the way they spend (spoiler alert: It has).
From our pool of 100-plus teens (67 percent identified as female, 15 percent male, 12 percent nonbinary, and 5 percent didn't specify), we gained 16 key insights. Whether you're looking for some gift inspiration or are just curious, read on to discover their thoughts on which timeless items they consider cool, the skin care they stock up on, and the best piercing to get.
1.
The
most
popular
clothes
store
was
H&M
…
H&M narrowly beat Primark to this top spot, with teens referencing their range of good-quality, affordable basics. A respondent named Lucy said she puts together a go-to outfit with a simple brown button-down crop from the brand.
Behind the two leaders, ASOS and Urban Outfitters were runners-up, and we kept hearing about these low-rise cargo trousers. Musician Jacob attributes Urban's allure to its ability to juggle "nail-on-the-head trend spotting" with producing pieces that "feel edgy" and not generic" and have more of "a vintage vibe" than other high-street shops.
2.
…
but
for
secondhand
shopping,
Depop
rules
Just as with the teens polled on our sister site in 2019 and 2021, Depop was a top resale site for our cohort.
"I'll put in some of the brands I like — Thrasher, Carhartt, Santa Cruz — then I set the price limit to £20 (everything I've ever bought from Depop, apart from a winter coat, has cost me less than £20)." — Jacob
3.
Pandora's
bracelets
retain
their
charm
Thirty percent of teens named Pandora as their favourite jewellery brand. Its classic heart-clasp bracelet came up often, beloved for how you could personalise each added charm. A respondent named Ella told us about the strawberry charm she'd been gifted along with a pair of Harry Styles tickets for her birthday. She was one of a few who said they received jewellery as gifts instead of shopping for it; 3 percent of our teens said they didn't wear jewellery at all. Behind Pandora came handmade jewellery from independent sellers on Etsy.
4.
It's
worth
sticking
your
name
down
on
the
PS5
waitlist
Sony Playstation just edged ahead of PCs, the Xbox, and the Nintendo Switch as far as gaming systems go. As for a favourite game, the results were, again, split pretty evenly: Minecraft was the favourite with Animal Crossing, Mario Kart, and Call of Duty just behind, each with a similar amount of praise. The consensus was that the Switch is the best for IRL-socialising (according to Rishi, whose uni flat never fails to whip out the Mario Kart after a night out), whereas the PS and Xbox were more suited to solo gaming.
5.
Two
shoe
styles
from
Nike
and
Converse
rose
to
the
top
When we asked about a favourite brand for trainers, Converse and Nike split the vote evenly. The most popular style of Converse was the Chuck Taylor, with the Air Force 1 the favourite from Nike. Interestingly enough, these were the two most popular choices back in our first ever Teen Poll over on our sister site in 2019. And an honourable mention must go to Vans' checkerboard slip-on, which kept coming up in our interviews, too.
6.
A
particular
Nike
style
was
also
worth
saving
up
for
When we asked teens about the one item everyone at school obsessed over, a small majority said Nike Air Jordans. One respondent, Lauren, says that while she's been saving to buy a pair, it's not necessarily the money that's the issue. "They're hard to get your hands on," she says. "You have to enter a raffle just to get the chance to buy them, and then they sell out in minutes." North Face puffers, claw clips and aughts outfits were mentioned a fair bit, too.
7.
In
the
activewear
category,
Nike
and
Adidas
(unsurprisingly)
dominated
Although there was some love for pieces from Girlfriend Collective, GymShark, and Lululemon.
8.
Primark
was
the
favourite
place
to
shop
for
jeans
Our teens love Primark — at these prices, they featured heavily in most answers about clothes. Our teens are especially keen on the brand's range of denim styles, even if they agreed that sizing can be hit or miss.
With that in mind, we did also get some tips from two teens about avoiding an awkward denim fit. Nessa, who said she often found that jeans would sit too tight on her thighs, is fond of the sizing at Bershka, and others said they relied on classic vintage Levi's.
9.
Primark's
loungewear
was
loved,
too
Almost a third of teens rate the snuggly, inexpensive loungewear from Primark. Madeleine finds their loungewear pieces "insanely soft; I think that's so important if I'm just lazing around the house." As with Primark's range of jeans, teens praised the brand for its loungewear price points — and since these items don't have a tailored fit, dodgy sizing was a nonissue. Behind Primark, 12 percent of teens shopped at Nike for their comfies, 9 percent went to ASOS, and 7 percent lounged in the Y2K offerings from Juicy Couture.
10.
When
it
comes
to
headphones,
it's
wireless
all
the
way
They dominated when we asked teens about the headphones or earphones they used. Unsurprisingly, basic Apple AirPods were the clear favourite with almost half of respondents (48 percent) saying they owned a pair. Apple's Ear Pods, the classic wired earphones, were used by 16 percent of the teens we spoke to, while 6 percent said they used Samsung Buds. The most popular pair of over-ear headphones came from Beats by Dre.
11.
Over
in
makeup,
full-glam
makeup
just
edged
ahead
of
'clean
girl'
beauty
From chatting with teens across England, it seemed that Glossier's no-makeup makeup was more popular in the South (with Boy Brow and Cloud Paint frequenting makeup bags), while Morphe's full-glam aesthetic ruled in the North (particularly its lip trios and celebrity-collab eye-shadow palettes.)
12.
CeraVe's
simple
and
affordable
mantra
won
it
the
top
skin-care
spot
Eighteen percent of the teens who were "into" skin care had a CeraVe product in the cupboard — most often its foaming cleanser. As with Primark, teens like that the brand is affordable. They also deemed the brand effective and found that one bottle goes a long way. In second place was Garnier, and every single person I asked about the brand hailed its micellar water as a must-have.
13.
As
you'd
imagine,
the
'For
You'
page
is
the
new
biggest
influencer
The Ordinary was the third-most-popular skin-care brand, and half a dozen teens I spoke to about the brand told me they'd been influenced to try it on TikTok. Over the past year, both the AHA 30 percent and the BHA 2 percent have trended on the app, and teens told me they're far likelier to order a bottle after it's appeared on their FYP repeatedly, including Madeleine, who uses its caffeine solution to add some zing to tired eyes.
But beyond skin care, teens were buying sunset lamps, claw clips, and even books after spotting them on the app. And most teens didn't necessarily remember which creator brought the items to their attention (though Olivia Neill was mentioned by a few).
14.
BookTok,
meanwhile,
is
changing
the
way
we
read
On the topic of books, our surveyed teens' most popular read over the past year was Madeline Miller's Song of Achilles, an adaptation of Homer's Iliad. Other popular titles included Colleen Hoover's It Ends With Us, Adam Silvera's They Both Die at the End, and Sharon Jones's Burn After Writing. One thing these titles all have in common? They're hugely popular on BookTok, where content about The Song of Achilles alone has over 206.8 million views.
15.
You
can't
find
a
cooler
piercing
placement
than
the
septum
According to 18 percent of teens, the septum piercing, worn by the likes of Zoë Kravitz, is coolest piercing of all. It's followed by the nose, helix, earlobe and nipple, all pretty evenly split at around 10 percent of votes.
16.
Mullets
split
the
coolness
scale
vote
…
but
almost
everyone
can
agree
on
Doc
Martens
One item ruled the teen poll: Dr. Martens. Beyond being the highest scorer on the coolness scale, above, Docs were named by four teens when we asked about their biggest splurge of the last year, by two who told us a pair was the one item they were saving up for, by five who called it the item everyone at school was obsessed with, and by one who conscientiously objected to picking a favourite trainer brand. Maisie told us the shoes add an instant coolness factor and loves how they can be dressed down with jeans or dressed up with dresses for special occasions. Two teens mentioned Olivia Rodrigo's knee-high pair, whilst the most popular style overall were the Jadon platform Docs. Most Doc lovers did admit that the boots can be painful and pinching, but all agreed they were worth the pain.
The Strategist UK is designed to surface the most useful, expert recommendations for things to buy across the vast e-commerce landscape. Read about who we are and what we do here. Our editors update links when possible, but note that deals can expire and all prices are subject to change.