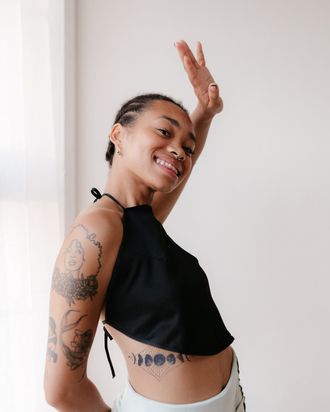 Photo: Image courtesy of InkBox.
For as long as I can remember, I've wanted several tattoos. But as much as I've lusted after them, a tattoo's permanence is something that I've found a little bit intimidating. I love the idea of having a meaningful scribble to always look back on, but if I'd been allowed a tattoo at 16, I would now be sporting an Edward Cullen tramp stamp. When I shared this dilemma with my friend a couple of years ago, she told me she was facing a similar problem: She liked the idea of tattoos, but it was a bit of a sore spot with her parents, so it was something she'd never actually follow through with. She did, however, tell me about InkBox, a company she'd found that made adult temporary tattoos.
A quick scroll through the InkBox site showed me an absolutely massive range of tattoo styles, from tiny Pinterest-like doodles, to larger, more intricate illustrations of animals, plants, and constellations — nothing like the rubbish temporary tattoos from my childhood. The brand also had a range of collaboration collections. These ranged from flash sheets by popular tattoo artists (like Ariana Grande's tattoo artist, GirlKnewYork), illustrations inspired by bands and musicians (like My Chemical Romance), and popular pieces from legendary artists (such as Keith Haring). Starting from £12, each vegan-friendly tattoo (after developing for 24-48 hours) promised to last for up to two weeks.
After scrolling through the site, I was intrigued, but in typical indecisive fashion, I held off, unable to decide which style to opt for. That was until InkBox announced a collaboration with the tattoo artist Yi Stropky in June 2020 (known as ChinaTown Stropky on Instagram). I'd been a long time fan of his work, but as he's based in Vancouver, I figured I'd never actually get a chance to get tattooed by him. When the collaboration went live, I went for a few classic styles in his collection, and giddily waited for the delivery.
A few days later, my tattoos arrived, all pristinely packaged. Each little envelope contained the temporary tattoo, a primer wipe to clear the area, and clear instructions on how to apply the tattoo (from placement advice to development time guidelines). With a lake trip for my friend's birthday coming up, I decided to opt for a doodle of two colouring pencils, carefully sticking it to my skin, and waiting out the 60-minute application time. When I first peeled it off, the tattoo was a greenish-blue colour, but the instructions said to expect this, and that the tattoo would gradually darken over the next 48 hours. By the time I headed to the lake with my friends, the tattoo had turned the intended black, and I was impressed by how remarkably real it looked. My friends agreed — all day long, when the tattoo caught their eye, I'd get questions such as "When did you get that?" or "Wow — did it hurt?" Whilst convincing them the tattoo was real was never my intention, I'm sure if I hadn't explained it was actually a fake, they'd have been none the wiser.
When the tattoo did start to fade (around two weeks later, exactly the longevity promised on the packaging), I missed it with such a pang I decided it was time to get some real ink of my own. And whilst I'd decided on the illustration I wanted, the indecisive portion of my brain still ruled, and I couldn't decide where on my body I most wanted to get marked forever. But then I had an idea — I still had a few of the tattoos from InkBox left, so why not use them to test some placements, and see what I liked the best? I'd always vaguely pictured a tattoo on my upper left arm, so I stuck one temporary tat there, and then in a completely different part of my right arm, just inward above the elbow, for some variety.
After the two weeks were done, I was so grateful I'd done a test run before opting for the real thing. Unless I was wearing a tank top (which I almost never do), the tattoo on my left arm wasn't visible at all. When it was visible, something about it didn't feel quite right. I preferred the subtlety of the tattoo on my right arm — lower down, so in a sense more visible, but positioned more toward the torso, like a little secret doodle you'd need to ask about to see. All the time I'd been pondering what design I wanted tattooed, I hadn't even considered how much a few centimetres between placements contributed to my overall satisfaction with the tattoo. It feels silly to say, but living with a temporary tattoo for two full weeks gives a far more realistic idea of how you'll feel about your tattoo day-to-day. I now have four tattoos, and each one has been meticulously test-placed with an InkBox tattoo before going for the real thing. And should I ever wish to revisit my Edward Cullen tribute, I know that I can order a custom design from InkBox — just for the weekend.
The Strategist UK is designed to surface the most useful, expert recommendations for things to buy across the vast e-commerce landscape. Read about who we are and what we do here. Our editors update links when possible, but note that deals can expire and all prices are subject to change.