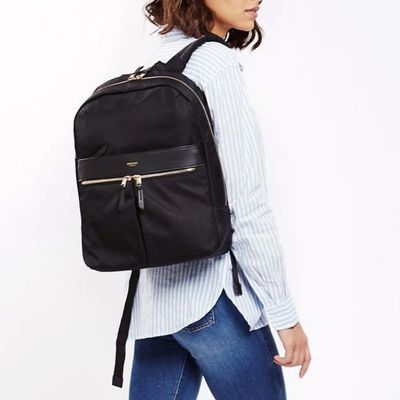 Photo: Courtesy the retailer
As a reporter, it's not very often I get a chance to write about things I enjoy. Usually, I'm writing about social or political issues, interviewing people across the U.K. and the world about their experiences and lives. But here I am, to gush to you about the love of my life: my Knomo backpack. I found my Knomo the way anyone does: through creepily targeted adverts on Instagram. I was clicking around backpacks on other sites, and suddenly Knomo began to appear in my feed. I remember thinking the bags were expensive at first. And it's true, they are, with backpacks costing at least £99, compared to £40 for a Herschel. But when I saw how the Knomo Beauchamp backpacks are designed to fit a laptop, trainers, notepad, and more, it looked like a winner.
Let me explain. I don't carry a lot with me when I report, so you'd think any old backpack would do the job — but I've been through quite a few. I love Herschel backpacks, but the ones with a laptop-holder area are too bulky, and the ones without have no compartments at all — meaning it can cause a total fluster trying to dig to the bottom of the bag, desperately trying to claw around to find my pen.
The Knomo Beauchamp has multiple compartment areas — zips at the front, a laptop area, zips inside for more valuable items, side holders, everything. It's light, durable, and has never let me down. When I was on a bus in Guatemala on a story, I could pull my portable charger out of the front pocket to charge my phone up to rearrange an interview when the bus broke down. And when I sat on a train traveling across Vietnam, I could stash two bánh mìs in my bag along with a ton of other snacks and still had room left. From Hong Kong all the way to the Great Wall of China in Beijing, to my bus through El Salvador up to Mexico, it's been with me on some of my most memorable journeys. My bag — the Beauchamp 14-inch backpack, to be specific — has also shielded my items from the rain with its water-resistant fabric.
This year, now that I'm based back in (and reporting from) London, I am still hopelessly attached to my bag. And when I'm on the tube, I see a lot of other women with a Knomo bag, which suggests it's far from being a bag only for travelers — it's clearly a commuter bag, too. My bag doesn't look like it's traveled the world with me — there are no marks to show where it's been, but I'm glad I had it with me on the journey. And even if I decided to leave journalism tomorrow, I'd still cling to my bag, as it's the only one I've found that fits the items I need on the go in the city (charger, water bottle, book) without the need to cram them in. Plus, it looks cute.
Some other Strategist-approved travel essentials
Travel writer Emma Cooke bought the Trtl pillow after a series of lengthy deep dives on the internet, and says the pillow, which is actually more like a padded scarf, is the comfiest she's ever used.
Contributor Issy Sampson 'borrowed' this leg gel (which eases swelling) from the beauty department at her old job, and is now seldom without it. "I pack it in my hold luggage and take it on weekend trips around the U.K. to use after long drives. I even decant a small amount into a pot for long-haul flights, twisting myself about like a contortionist in the plane toilets to smear it on my ankles so I can fit my feet back into my trainers before landing. Even in a pandemic, where I'm not getting on any planes and my only trip away is to visit my boyfriend's mum in Devon, it's still vital after the four-hour car journey to the South West."
The Strategist UK is designed to surface the most useful, expert recommendations for things to buy across the vast e-commerce landscape. Read about who we are and what we do here. Our editors update links when possible, but note that deals can expire and all prices are subject to change.