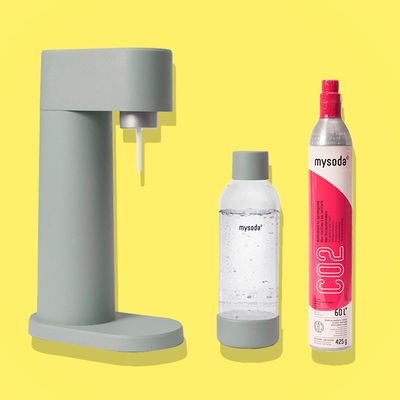 Photo-Illustration: The Strategist; Photo: Retaier
My husband and I developed our penchant for sparkling water concurrently in our mid-20s. In recent years, our sparkling-water obsession seems only to have increased. According to Ocado, our second most-purchased product for 2021 was Perrier, and our third was also Perrier, but in a different size. It's not the most expensive of our shared habits, and it's perhaps one of our healthiest. However, our Ocado reports made us realise that opting to pay for water rather than getting it from our taps certainly adds up. Worse than the extra expense is the heavy glass bottles that need to be disposed of thereafter. Of course, there is sparkling water that comes in plastic bottles, but Perrier has long been a household favourite, and glass bottles have been reported to be better for the environment. For whatever reason, getting a home sparkling water maker never occurred to us before. But all this changed this past Christmas.
Along with the rest of my in-laws, we spent the day at my brother and sister-in-law's recently renovated home, which had a shiny new kitchen that featured tons of shiny new gadgets. Perhaps the most modest of the bunch, yet the one that intrigued me the most was their SodaStream. Sticking to my rule of a glass of water for every glass of wine, I must have drunk at least a litre or two of cold, refreshing sparkling water, made fresh the same day. It was a revelation to me that a home sparkling-water maker hits the spot as much as the store-bought variety. It also dawned on me that there would be no heavy glass bottles to deal with afterwards. I then knew we needed a sparkling water maker for ourselves. We thought about getting a SodaStream, but we weren't fond of copying our in-laws so exactly. Residual middle child syndrome, perhaps? I wondered what alternatives were available, and immediately started shopping around.
I was looking at some Hay crates on a website for Nordic design when I first discovered the Mysoda brand. The design was minimal and unassuming. Each model looked handsome and sturdy, and it came in a range of lovely muted colours. And, to my delight, their Woody model was much less than other brands I had come across. What I was most taken by was that, as the name suggests, it's made of wood and other renewable biocomposites residual from the forest industry, meaning it's more sustainable than plastic models. We ordered our Mysoda in "Pigeon", a greenish-grey colour that fits perfectly with our other kitchen appliances, some of which also have a retro aesthetic and others that are simply old enough to be called retro. The Woody comes with a single reusable water bottle made of durable BPA-free plastic and biocomposite. We ordered an extra set of two so that we can pop a few bottles into the fridge and have chilled sparkling water at our disposal at any time. The machine itself works intuitively without any electricity. You simply attach a bottle filled with water and push the single button for it to start the carbonation. You can tell when it's filled with bubbles as it makes a sound as if air is being leaked out, which usually happens after two or three seconds. In a flash, sparkling water is at the ready.
The resulting water is delicious with the perfect amount of bubbles. Of course, water quality hugely affects the taste, so filtration prior to carbonation is suggested by some. I find the water from my tap quite drinkable, but on occasion, I'll first put a charcoal stick filter into my water before adding sparkles. The sparkling water also works wonderfully with cordials of all sorts, in cocktails that call for sparkling water or juice, or simply with a slice of lemon and ice. When we're entertaining guests, we receive tons of comments about our fancy-looking fizzy-water maker (we are also the first in our friend circle to have branched out into at-home fizzy-water makers). Even friends who prefer still water comment on the gadget — undoubtedly because the Mysoda Woody stands handsomely on our countertop.
Finally, in terms of gas, Mysoda is compatible with all standardised 60-litre CO2 cylinders, including SodaStream canisters. This meant we had the option of ordering a SodaStream canister that can be exchanged at Argos or Sainsbury's. But having neither Argos nor Sainsbury's close by and having no access to a car meant the option to have these cylinders delivered and picked up was important to us. We did a search around to see what our options were, eventually coming across this subscription service that exchanges empty canisters for refilled ones. We ended up subscribing to it — it's still early days, but so far it's proven to have been a good decision.
The Strategist UK is designed to surface the most useful, expert recommendations for things to buy across the vast e-commerce landscape. Read about who we are and what we do here. Our editors update links when possible, but note that deals can expire and all prices are subject to change.