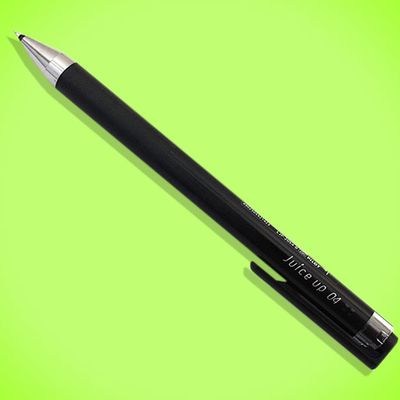 Photo-Illustration: retailer
White Ivy by Susie Yang is out now in hardback (Wildfire).
Ever since a family friend gifted me a diary at the age of 7 and I began a lifelong habit of journaling, I've been a hoarder of all things stationery. Other kids dreamed of getting the golden ticket for Wonka's chocolate factory; I dreamed of being let loose at Staples.
I found my perfect journal while I was in high school: a buttery-soft Moleskine that smelled like wood chips when you ripped off the plastic wrap. But finding the Moleskine equivalent of a pen proved more elusive. So many disappointed me. Initially, I used what my mother bought me at Target, those large bags of Bic pens whose primary function was to serve as chew toys as I mulled over my thoughts, and whose ink would somehow always manage to collect in large concentrated globs at the tip, like some kind of pen excretion. Other pens, clicky pens, gel pens, fountain pens, pens promising to glide and soar and practically move themselves, always failed to deliver on their promises.
On a trip to Tokyo in 2016, I must have gone into every stationery store I saw, and tried every single brand of pen available. It was there that I discovered the Pilot Juice Up gel pen in 0.4mm. The pens are lightweight, come in every colour of the rainbow, and are categorized by something which was novel to me at the time, but which immediately made sense: the diameter of the lead, the same as those mechanical pencils we all used at some point in sixth grade. Instead of the unwieldy thickness of 0.7mm font, I discovered I could be writing in a finer, more precise 0.6mm or even 0.4mm font, which would obviously make my writing more fine and precise as well.
This pen will never smudge unless you deliberately try to do so immediately after writing. The ink is pigmented and uniform without any thin patches no matter which angle you hold it. And yes, of all the pens I've used, this one almost feels like it's writing itself, the pressure on my hand is so negligible even after hours of writing. It comes in wider fonts, up to 1mm for those who prefer the text to have a heavier look, but I prefer the angularity of 0.4mm. For the people who want to squeeze as many letters as possible onto a page, the pen also comes in 0.3mm.
I left Tokyo with three of these pens, in black, blue, and red. In the coming years, I've added purple and green to my collection. My desk contains at least ten refills in every colour at all times: I still journal and outline my novels by hand, using the black and blue pens. For revisions, I use the purple or green. I corrected the proofs for my first novel in the red. The good news is you don't need to go to Tokyo to buy these pens: I now buy mine in bulk from JetPens, which stocks stationery from Japan, or, in a pinch, Amazon.
Some other Strategist-recommended pens
The winner of our (exhaustive) hunt for the best pen.
Contributor Lynn Enright loves this pen so much she bought two. She writes: "It is a ballpoint pen, so there is no risk of the ink blotting on softer paper — you can annotate a book of the flimsiest pages with it, and it's perfect for the crossword. It glides along the page, never snagging."
The Strategist UK is designed to surface the most useful, expert recommendations for things to buy across the vast e-commerce landscape. Read about who we are and what we do here. Our editors update links when possible, but note that deals can expire and all prices are subject to change.