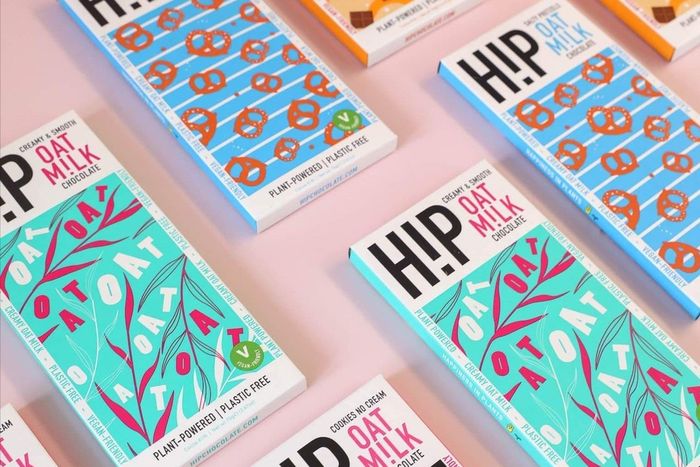 Photo: Oat Milk Chocolate
In a year where fun has been an extremely limited commodity, chocolate has become a luxury experience. "The pandemic has shifted people to start buying chocolate online, rather than just picking something up in the supermarket. As such, it's been great for the smaller, artisan chocolate producers," explained Andrew Baker, Features Editor at The Telegraph and author of From Bean To Bar: A Chocolate Lover's Guide to Britain.
Previously, chocolate may have been an add-on to your weekly supermarket sweep or the occasional splurge on a box of Prestat or Charbonnel et Walker. Now, you can pick up a bar of Green & Black's at your local deli along with your Monmouth coffee beans. But which is the next chocolate bar of note? And where can you find it?
From chocolate that tracks its provenance to modern vegan options, we asked nine food writers, chefs and buyers to recommend their favourite cult offerings. Read on for the best vegan, luxury and ethical options.
The Next Status Chocolate
Tony's Chocolonely was mentioned by almost everyone we spoke to. The Dutch-owned brand can be found everywhere from independent delis to Sainsbury's, and first started selling in the U.K. in 2019. "It's the bar of choice for any chocolate lover," said Gabriele Lampis, General Manager and Buyer at Harringay Local Store. "We really thought we'd seen it all in terms of chocolate, but Tony's clever mix of ethically sourced cocoa, delicious modern flavour combinations and the colourful, eye-catching packaging has proven to be unmatched. They are flying off our shelves!" Baker agreed, adding "The anti-slavery stance they're taking is really rattling the cages of some of the big producers, especially because you can buy Tony's in supermarkets." Tony's Chocolonely source their cocoa from Ghana and the Ivory Coast and pay extra premiums to their farmers with the ultimate goal of ending slavery in chocolate.
Annalisa Barbieri, The Guardian Weekend Magazine's advice columnist and chocolate critic noted that the wide availability and lower price point no doubt helps their popularity, saying that while their cocoa solids were perhaps lower than artisan makers, "people go mad for it." Abisola Omole, CEO of The Apārtment and creative director of Arva said "A couple of years ago, I was working on a supper club series and a bodega section for Arva, and I came across them while trying to find some fair trade options. They definitely weren't as popular then, but they're huge now! I really appreciated their transparency and the affordability." Omole's favourite is the Milk Chocolate Caramel Sea Salt ("It has visible flakes of sea salt in it, so good.") while Barbieri said the Dark Milk Toffee Pretzel was especially moreish. "The seasonal specials are usually so in demand that they're really hard to get!" added Lampis.
More Notable Chocolate Bars
Alternative milks are no longer just for your flat white. "Oat milk is becoming incredibly popular for vegan chocolate. It has a wonderful creaminess and sweetness that's perfect for chocolate," said Kara Nielsen, Director of Food & Drink at WGSN. "The rise in and flexitarianism means that people simply want more choices without cow's milk," said food consultant Laura Eastwood. Both Nielsen and Eastwood mentioned oat milk chocolate brand HiP. "The brand was founded by John Cadbury's great-great-great grandson," explained Nielsen. "Even though it's vegan chocolate, it's not abstemious at all. The flavours are very indulgent and there's no compromise on taste," she said. Eastwood also tipped the brand for success, saying that while they've only just launched, she expects major retailers to pick them up soon. "My favourite is the Salty Pretzel Oat Milk. It's so good!" said Eastwood. At £3 a bar and with an anti-slavery promise backed by exclusive use of a family-owned Colombian cocoa business, it's an affordable and ethical luxury.
The chocolate industry has long been rife with unethical practices. At the mildest, this means that mean many people in nations that harvest cocoa can't afford to eat it, and at the worst, include child labour and modern slavery. There's little transparency to be found, but as chef Zoe Adjonyoh explained, it's not impossible, giving the example of Ghana. "Ghana has a long history of making delicious cocoa beans but exporting the beans to be produced elsewhere. But there are so many beautiful, really high-end Ghananian owned brands, finally owning their cocoa and selling it to other Ghananians and around the world." Adjonyoh tipped Niche Cocoa, Rokbar and Ohene Cocoa as some of her favourite Ghanian-own brands that she'll be stocking from April – the first time some of these brands have been available in the U.K. In the meantime, you can shop Rokbar's Netherlands site.
[Editor's note: Please note that prices are in euros, shipping is not included).
Chocolarder was name-checked by Barbieri and Baker. "They use sailboats to ship as much of their cocoa beans as possible," explained Barbieri. Sailboat shipping minimises environmental impact, and Chocolarder are small-batch, artisanal producers located in Cornwall. "They make the best looking chocolate bars you will ever see. The chocolate is shiny and beautiful," said Baker. "They taste fantastic. The Wild Gorse Flower bar is a particular delicacy. Gorse is a flower picked from the Cornish coast that has a slightly coconut-y, grounded taste with a hint of floral. They're huge favourites among people in the know and I'd say they are definitely one to watch."
Willie's is a favourite of Brindisa founder Monika Linton and Holly Sands, Buyer at Sous Chef. "My family and I love the Venezuelan & Peruvian Dark Estate Bars. Willy bought his cocoa farm decades ago and has been brave and determined to make it work and it's so amazing to see what he has achieved," said Linton. Sands said that Willy's are also helping to spearhead a trend in white and blonde chocolate; "White chocolate is usually heavily flavoured with vanilla, but Willie's Cacao El Blanco Pure White Chocolate 50g are so confident in the quality of their chocolate that they've left it completely pure."
Omole said she discovered Casa Bosques while browsing the luxury gift shop La Gent online. "The packaging caught my eye immediately, and La Gent always has the most amazing curation of stuff so I was sure it would be good," she explained. While Omole said she's not usually a fan of intense dark chocolate, which Casa Bosques use relatively exclusively, the blends they have with the likes of cardamom and pink pepper were enough to pique her interest. "It's also a great brand to give as a gift," said Omole. "They're just so cool to look at."
Glaswegian brand Bare Bones is another favourite of Barbieri and Eastwood. "They make some really wonderful stuff and it's all bean to bar in Scotland, which is very unique," said Barbieri. The micro-batch producers have a small range, but this reflects the long process they have from bean to bar, and the miniscule size of their kitchen. "Also, the founders designed their packaging themselves, and it's made from recycled coffee cups," added Eastwood. The Strategist's Chris Mandle is also a fan, saying "I was tipped off by master chocolatier Paul A. Young, who told me they were his favourite chocolate - I was immediately intrigued. I have tried two bars - Madasgascan dark chocolate and the Dominican salted chocolate (the latter is my favourite). They're decadent and fancy, but they're inexpensive enough that you don't feel bad wolfing down a bar in an afternoon. A bar costs about £6.50 which is really good value - they make really great presents because everyone is immediately taken by the tasteful packaging and the fact it's still a bit of an in-the-know brand."
Linton also recommended Pump Street Chocolate, saying that their Grenada 70% Dark Chocolate is "incredibly fruity" and that she and her family often treat themselves to a square after dinner. Pump Street Chocolate's website allows you to view where the beans for each bar are sourced, with provenance information available with the names of the growers, any accreditations they have (organic, for example) and the so-called 'bean character', just like wine or coffee tasting notes. All the chocolate is made into bars in the U.K by hand in small batches.
The Strategist UK is designed to surface the most useful, expert recommendations for things to buy across the vast e-commerce landscape. Read about who we are and what we do here. Our editors update links when possible, but note that deals can expire and all prices are subject to change.