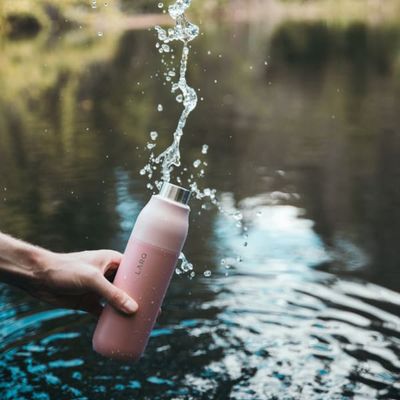 In the past, a water bottle was a water bottle. You might have thrown a bottle of Buxton in your car ahead of a long drive, and you'd surely have a sports bottle in your gym bag, but things have changed: it's now rare to meet someone who doesn't have an opinion on a Chilly's bottle versus a S'well. And as places like Pret offer free water refills (in fact, Pret has its own Chilly's collab), water bottles are increasingly a way to flex your taste. For example, Finsbury Park restaurant Top Cuvee released a Top Cuvee Nalgene – which can fit a bottle of house wine – just last month.
But what's the next Nalgene, Chilly's or S'well? Even the experts are divided. Allyson Rees, senior lifestyle-and-interiors strategist at WGSN, thinks that water bottles will continue to skew toward fitness in 2021. "There's a real push to create these small moments of health and mindfulness against the busyness of modern life. So when it comes to water bottles, consumers are looking for something more performance-based than ever before." Meanwhile, Savannah Scott, creative researcher at the Future Laboratory, thinks that form is going to win out over function. "Water bottles are not just a functional object now: They're also an expression of personal style and an accessory, and they're becoming an extension of our values."
To try and track down the status water bottle at this summer's park picnics, we asked seven experts. We polled trendspotters, athletes, and models on what they think the next status water bottle will be. Read on for their picks.
The next status water bottle
Three of our experts named the LARQ bottle as one to watch. The bottle uses UV and LED light to clean and purify water, meaning that not only is the bottle self-cleaning, it also eradicates up to 99.9 percent of bacteria and viruses from the water without the need to change a filter. "I used to own a Chilly's bottle, but quite quickly, it just stopped feeling clean," said Scott. The brand guarantees no funky smells or tastes from your water as long as the water you fill it with is clear, with no visible sediment.
"The interior of the bottle is always clean, and the water itself is purified," explained Rees. "Lots of water bottles aren't dishwasher-safe, or have to be disassembled in a way that's really complicated, or you have to purchase a special brush to clean them. This is just so much more seamless." As long as you keep the bottle charged (via a USB lead), it never needs washing. There are two kinds of LARQ bottle — the PureVis, which has hot and cold temperature-regulation capabilities, and the Movement PureVis, which doesn't have temperature control but is lighter. Both purify water in less than 60 seconds and come in a range of pleasing pastel and muted hues. Model and content creator Simone Murphy agreed, praising the sleek, minimal design of the bottle. "It's one of those things that as soon as I heard about it, I wanted one," said Murphy. "It's pricey, but it's going that extra mile for you by cleaning the water and making it feel more elevated than just tap water."
Some other bottles of note
Three of our experts also mentioned Hydro Flask. According to communications director and yoga teacher Emily Draves, it has "L.A rich-mom energy." "Water flavour is a big thing for me, and this bottle keeps the taste fresh. I also prefer my water chilled, and this bottle keeps it crisp all day," said Draves, noting that Hydro Flask offers a number of options such as sports cap and flip-up straw. "Hydro Flask is very much a status symbol in outdoorsy sports communities," said Rees. Rees adds that the bottles are incredibly well made: "They really perform. You could throw them off the roof and drop them a million times and they're going to last. They also have great vacuum sealing." They're in a sweet spot between aesthetics and functionality – Scott said, "There's a real desire for products that are highly functional, and I feel like it's almost the North Face of water bottles — it's got a cachet attached to it, but it's still got huge reliability."
Slimline water bottles are also popular. Murphy said that she often sees fellow models at castings with the Hydrte Bottle. "It's an unusual shape because it's rectangular, but it's much easier to slip in your handbag," said Murphy. "There's something really unique and sleek about the shape. It's super minimal." It's also more ergonomic to carry alongside a folder or a laptop.
Running coach Dora Atim also likes the Hip Bottle. Shaped like a big hip flask, the Hip Bottle has a flat base that makes it hard to knock over and easy to grab. "It's got good grip on the base, the shape is easy to fit into your bag, and I've never been concerned about leaks," Atim said.
Collapsible bottles are also on the rise. Atim said that while she doesn't take a bottle of water for training sessions, for an endurance run, collapsible bottles are really handy. "I do a lot of multistage races, and they have points where you can get water, but I always had to just bring a cup. My collapsible bottle is so much more lightweight and easier to use. When it's flat, it just looks like a small coaster," said Atim. "It really doesn't take up too much space: You can attach it to a key chain, throw it in your bag, or drink from it," she added. "There's a lot of brands doing interesting things in this space, like DiFOLD," said Scott. "Their bottle is origami style and is 80 percent smaller when flattened down. It becomes so much more functional and convenient, which is what consumers are actually looking for."
Rees also suggested the Stojo bottle, which folds flat, comes in a rainbow of colours, and, the brand claims, is totally leakproof. It's a much more sustainable option than buying a plastic bottle whenever you're thirsty but doesn't entail lugging around something huge.
"Coloral are doing really interesting things in terms of sustainability and ethics, but they're also pushing it a bit further in terms of technology and personal style," said Scott. "They've taken a design from the 1700s and re-engineered it to be lighter and have a filtration system. It's a really interesting mix of old and new in that sense," she added, also noting that the Coloral bottle is plastic free and that it uses some of its proceeds to donate bicycles. "They're creating a multifunctional water bottle that incorporates a higher level of technology while also having this charitable element, which in itself is a luxury," explained Scott. Billed as "the original cycling bottle," the Coloral is currently totally sold out, but the brand is taking preorders for later in the year.
The Strategist UK is designed to surface the most useful, expert recommendations for things to buy across the vast e-commerce landscape. Read about who we are and what we do here. Our editors update links when possible, but note that deals can expire and all prices are subject to change.